1998 North America Speedway History
Part 1
1998 Speedway History - Part 2
Our newest USA Speedway site is just starting up in KANSAS. Check out Speedray Racing(Ray Schwellenbach). He is helping start up motorcycle speedway racing at Kartwheels Speedway in Norfolk, Nebraska. The track will host six events from April 26th though to Sept. 19th 1998.
---
Canadians Len Dillon and Patrick Ahlund have returned from Australia where they competed in Ivan Mauger's Long Track Series in Feb. 1998 and Peter Hendersen reports:
"You may have seen my results emails on the longtrack meets held here recently. While trying to get results, I finished up talking to the man himself, Ivan Mauger. I mentioned to him that there are people who are interested in how the Canadians were going down here, and he had quite a bit of praise for Len Dillon in particular. He mentioned that without the bad luck he had, Len would have been right there with Loram and Dunker and Co. He really did seem impressed with Len."
---
On Sunday March 8, E.E. "Bud" Ormiston of Denver, Colorado died of a heart attack while on his way home from Tucson. Bud was not only one fine speedway engine builder and sponsor, he was a great ambassador for speedway and one of the best friends I have ever had. Bud had friends all over the United States and Canada.
Jim Jaudon
Bsaclter@aol.com
---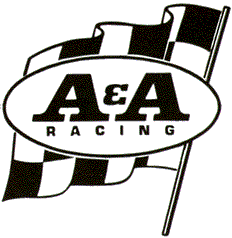 A & A Racing Service Inc.
933 American Street
San Carlos, CA 94070

A & A Racing Service Inc. is very pleased to announce that we will be administering Speedway Tire Contingency Programs on behalf of Continental General Tire Corp. (U.S. importer of Barum Tires) and Kenda U.S.A. Tires will be awarded as contingency prizes at selected events in California, Oregon, and New York. We have been working closely with both tire companies and the promoter(s) in your area to ensure the success of these programs.
---
Sponsorship contract for riders / sponsors.
---
Speedway on TV!



ESPN2 : Rev-it-up! will be showing the 1998 World Cup ICE Speedway Series Grand Finale from this February in San Diego. It aired on Friday, April 3 @ 6:30pm. It was rerun on Mon. 4/6/98 @ 12;30 am. 'CHECK' it OUT- HOCKEY RINK come ICE SPEEDWAY/QUAD -FULL TILT ALL OUT ACTION!!! Plus interviews with some of the Canadian guys, ala Gary Hesmer/Jeff Orosz. It will more than likely repeat again. View the MotoWorld Schedule after the 4/6/98 broadcast!
- Michael DeChamplain Moxy@Klondyke.Net
---
ESPN2 :MotoWorld will be showing highlights of the Spring Classic from Costa Mesa Speedway on Saturday March 28,'98 2:00pm length 0:30.
---
SpeedVision ran the Hancock-Hamill-Maely 101 series on Tues. 24th at 6:30PM. Good News though, it will be Re/Broadcast this Sat. March 28th at 10AM. This is the Show that Tim was ranting about, with due cause, because it really is worth "Checking Out", and Rolling the tapes for! Speedvision will run this particular segment throughout the year, you just have to get the series # and watch for it. Example: Bike Week #23.
- Michael DeChamplain Moxy@Klondyke.Net
---
If you can't find a track on The Track Page that is near you, check out The Speedway Track List. It has almost every race track in the country that Motorcycle Speedway SHOULD be run at. Call your local track and ask to see it there!
---
Tim Mathewson has over 200 on his mailing list for his Speedway newsletter. The first issue is in the mail and Tim is looking for sponsors / advertisers, to offset the mailing costs. If you would like to receive the newsletter, or advertise in it, contact Tim. E-mail : LGEK77A@prodigy.com or write to:

East Coast Speedway News
PO Box 634
Owego, NY. 13827

Cycle News had a article in this(last?) weeks issue "Speedway 101". It had CN editors Paul Carruthers and Scott Rousseau along with Speedvision Bike Week's Larry Maiers. They were taking a speedway lesson from no other than Greg Hancock and Billy Hamill! It's supposed to be included in a segment of Bike Week sometime. I don't know when though so keep your eyes open! Cycle News has been doing some pretty good speedway articles so if you don't subscribe you will be missing out. - Tim Mathewson
---
Indoor ICE Speedway + Unlimited/Outlaw Quads
"The ICE Men invade California"
Friday February 20, '98
1998 World Cup ICE Speedway Series Grand Finale
San Diego Sports Arena, San Diego, California
See the ICE page for current point standing in this series.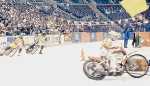 Race Results:
Speedway ICE Racing World Championship VI
The Cow Palace, San Francisco, California. Sat. February 14, '98
- Californian Charlie Venegas wins the World Championship!

- American Robert "Kid" Curry wins the Canadian ICE Championship!
- Canadian Jeff Orosz wins the USA National ICE Championship!
Watch 'TNN Motor Madness' on a Friday evening (8pm EST)
in February for race highlights!
Outdoor Motorcycle Ice Races in Colorado
February 1 and February 8 - '98 Colorado State Championship - Outdoor Motorcycle Ice Races in Repentigny, Quebec
( near Montreal ) 10:30 am - 6 pm, Sunday Feb. 8,'98
Includes Ice Speedway, Quads and Pee Wee
Admission $10, Student 11-17 $6, 10 and under FREE
Contact: Buddy Ford (514) 654-8193
- Ice Speedway Race Results
Race schedules are in now for the 1998 season:
Costa Mesa - California
'Sideways Saturday' Dixon Speedway - California
Fast Fridays Speedway - California
Champion Speedway - Owego, New York. + Jason's newsletter - just in!
Lawrenceburg Motorcycle Speedway - Lawrenceburg, Indiana
Niagara Raceway - Welland, Ontario
IMI Motorsports Complex - Erie, Colorado
Paris Speedway - Paris, Ontario
---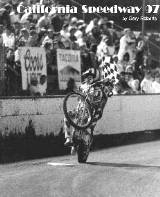 Check out Gary Roberts' new book : California Speedway 97
The book is now available for purchase at 27 locations!
"I received the book by Gary Roberts, 'California Speedway 97'. This is a must have book! It's fantastic. It should be required reading by all new fans, riders and any other interested parties." "The AMA should include it with every speedway riders renewal or new license."
- Travis MacDonald
"We bought Gary Roberts book ( The first one ) hot off the press, Gary even signed if for us. Does that make it worth more? Ha, ha! Everyone that reads it loves it. This Guy "Gary" is quite the Speedway Enthusiast. This book is a must for anyone that enjoys Speedway!!"
- Eric + Kevin + Steve Carrillo.
Take a look at the riders index page. Gary has sent in another thirty photos from California.
For other books on speedway, go to the Amazon.com Bookstore and enter "speedway motorcycle racing" in the search box.