2018 California Speedway News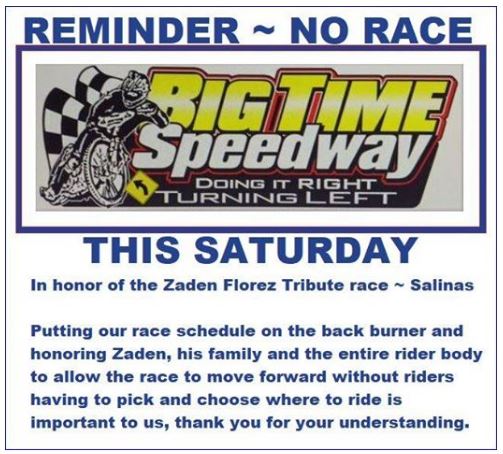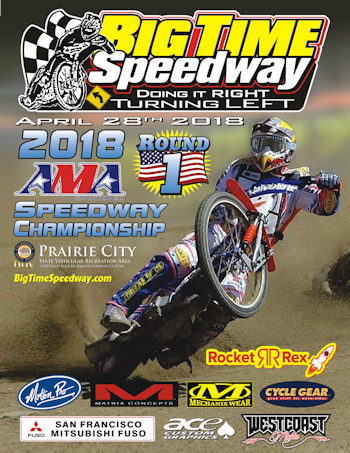 ---
Perris Raceway
Supplementary Regulations
2018 AMA Speedway National Championship Qualifier
April 21, 2018, Perris Raceway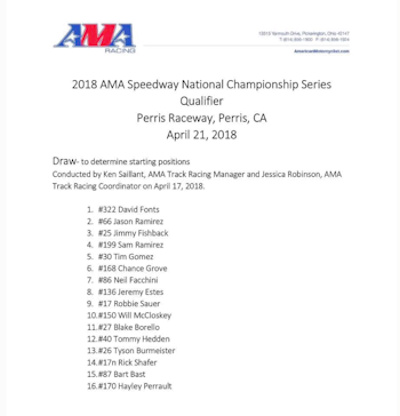 ---
Santa Maria Raceway
Santa Maria Speedway Opens its bike season in two weeks. Here are the purses for 5 May. Division 1 $2,000 (top 8). Support $400 (top 4). Vintage $125 winner take all. Sign ups OPEN!!!! Only race before AMA Round in July.
We are looking at running a team race here that includes all divisions and juniors.
There will be a practice at 3pm with races at 5. Note on AMA National night there will be no practice aside from two hot laps per National rider around 5pm.
The track is under new ownership with a fantastic three-year plan which includes a sizable financial investment which will upgrade the venue after this year. Though multiple motorsports will run at the venue there are some fantastic potential opportunities for speedway.
Steve Evans
dreamteamspeedway@sbcglobal.net
Quick report on Santa Maria Speedway Test 15 April, debrief from Aaron Fox.
"The track is much,a much closer to race condition for an AMA National than previous. There is a lot of effort by track staff prepared to have ideal surface conditions during the AMA National round. Myself along with Tyson Burmeister and Eddie Castro had a productive test session and some very helpful discussions with track maintenance staff. Everyone ended up on the same page and were in agreement of what is to be expected. I'm certain that come race day, the 16 competing riders are going to be able to race flat out and produce some bar to bar action. Looking forward to it." Aaron Fox
Steve Evans
dreamteamspeedway@sbcglobal.net
---
Perris Raceway
Additional Perris Raceway 2018 Dates Confirmed!
June 30: Team Races (All Star D1 team race and a team race for D2/3 & possibly juniors in support)
August 4: AMA National Best Pairs Championship
September 15: Classic Old Skool Handicap & Scratch Racing
Nov 3 or 17: Reserved for possible Team USA International event
December 8: Winter Invitational 7pm. (Supporting Program will run 4-6pm).
June - September races will start 6pm with Support and Junior Heats. D1 program and Mains for other divisions will start 7:15pm. There will be an awesome halftime show during each of the summer races.
December race is currently listed as 'Winter Invitational' but there is a much bigger event in the works to run on this date, more on that when we have it.
We have enjoyed tremendous rider, fan and sponsor support in what has truly been a breakout winter series. We will need more of the same to ensure success of the expanded schedule! So thanks for helping us expand, because of this we are giving you more!
Steve Evans
dreamteamspeedway@sbcglobal.net
---
Santa Maria Raceway
RAINED OUT -- Practice is rained out for Santa Maria this Sunday April 8. It is rescheduled for Sunday the 15th from noon to four.
Santa Maria Raceway is holding a public practice for Speedway and Flat Track on Sunday April 8 - noon to 4pm.
Improvements have been made to the track and several AMA National Series riders will be in attendance as we continue the improvements.
Cost is $40 per rider, all others in pits $5. Stands are free to spectators.
As a reminder, Santa Maria has a motorcycle race on May 5th. This and the practice next week will be the only opportunities ahead of the AMA National Round July 28. Note on National day there will be no afternoon practice session, each National Contender will be allowed 2 hot laps at 5pm two hours ahead of the race.
The May 5th race (And Ventura on May 19) will feature team racing for the 101 Freeway Cup. We plan to include speedway divisions in the team racing.
Steve Evans dreamteamspeedway@sbcglobal.net
---
2018 AMA National Championship
With the 2018 AMA National Championship series qualifying round at Perris on April 21st coming up quick, the AMA is still accepting entries from Division 1 riders, entries can be found on SpeedwayBikes.Com
Top 6 from Perris qualifier join the 8 seeded riders from 2017 series, and make up the 14 permanent in the series.
2 wildcard spots available at each round, either promoter pick, or a "race off" before the event.
Reserves for each round will be chosen by that particular track.
2018 AMA Speedway National Championship Series:
Qualifying Round - Perris Raceway - April 21st
Round 1 - Big Time Speedway - April 28
Round 2 - Ventura - June 23
Round 3 - Santa Maria Raceway - July 28
Round 4 - Industry Racing - August 11
Round 5 GRAND FINAL- Fast Fridays - September 29
PER AMA / Ken Saillant:
The AMA will review all entries, and submit the list of most qualified riders (in no specific order) that will compete in qualifying round.
Entry / LOI does not guarantee a spot in the D1 program.
So far, entries include:
17 Sauer
25 Fishback
26 Burmeister
27 Borello
30 Gomez
40 Hedden
66 Ramirez
86 Facchini
87 Bast
136 Estes
150 McCloskey
168 Grove
170 Perrault
199 Ramirez
322 Fonts
Few notes/ bullet points for all involved, also PER AMA:
AMA has appointed Steve Lucero as referee at all rounds of 2018 Speedway National Championship Series.
All rounds shall run National event as its own event, and may include Juniors. Any additional support / back gate classes will be run earlier in the day prior to National event show, with sufficient time given for complete track prep.
All rounds will be subject to any track / event safety measures, or any needed improvements, as discussed previously by all promoters and D1 racers in the series, to be approved by AMA to run the event.
Any questions / concerns can be directed to any series promoter, Steve Steves, Steve Evans, Steve Elstins, Kelly Inman, David Joiner, or AMA Rider Rep Aaron Fox, or direct to Ken Saillant of AMA (Ksaillant@ama-cycle.org)
More details to be released soon.
__._,_.___

Posted by: Kelly Inman
---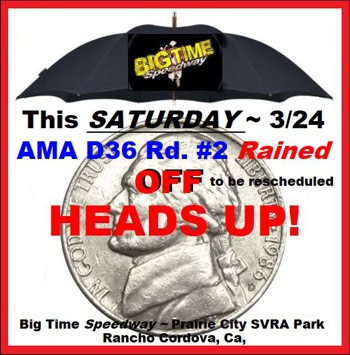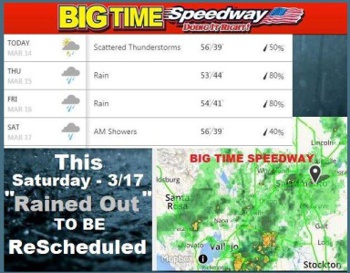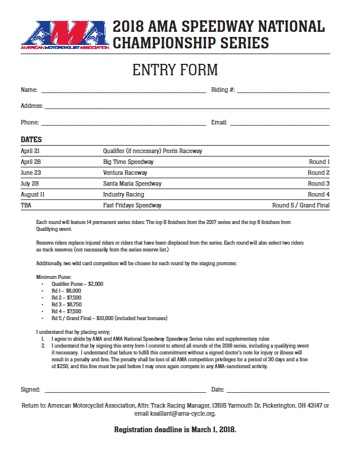 ---
Industry Racing
2018 "ONLINE" Industry Track Rider license applications deadline is Thursday March 8, 2018, at 12pm.
PLEASE do the online version, as it will help speed everything up Friday night, as there is ALWAYS a long line of everyone that chooses to do it last minute at the track.
All forms done online, and up until about 8pm Friday night on site, will include a FREE dinner.
Also, ALL Industry PAID track license rider paperwork completed by Saturday night sign ups will include 20 Complimentary passes for 2018 season. After Saturday, no passes will be included with forms turned in after Saturday March 10th.
Please remember, when submitting Industry track license applications , you MUST include a valid AMA card, or proof of current AMA membership to be able to turn in application.
We will also honor Nor Cal track licenses, so you do not have to pay, but still MUST complete, and turn in Industry license packets.
PLEASE avoid creating long lines and waiting, by doing everything online.
Thank you, and we look forward to seeing everyone!!
EVERY rider that pays, and does their track license ONLINE, by Thursday at 12pm, will be entered into a drawing to win their track license fee back! Drawing Friday night during awards.
Thank you, Kelly Inman
---
Gumball Rally
The world famous Gumball Rally is Industry March 9-11th is right around the corner.
Please make sure you RSVP to the office if you are attending the Dinner and Awards on Friday night.(626) 330-0324 talk to Maria, so we have enough food for everyone PLEASE!
Also, avoid long lines and download your track license applications from our website and return. You MUST have a current AMA card and supply the #,to be able to turn in track license paperwork - NO EXCEPTIONS.
ALL must fill out and turn in track license applications, and we will still honor all Fast Fridays licensed riders / mechanics - so no fee. MUST show proof. Look at the schedule for weekend plans.
Plan to camp at the track? call Maria at the office (626) 330-0324 to reserve
Any questions, please feel free to call me, we look forward to seeing everyone!!
Thank you, Kelly
(626) 393-3876
Kelly@IndustryRacing.com
speedwaykelly@yahoo.com
---
Perris Summer Schedule!
Perris Speedway will be running 1-2 summer events.
Saturday August 4th will be the AMA National Best Pairs Championship. 7 teams, 23 heats using the race format from the New 'Speedway of Nations' World Championship. The first invited riders will be the 14 permanent riders in the 2018 AMA National Championship Series. Riders will be allowed to choose their own team mate. The championship will come down to the very last heat.
This race will start at 7:30pm and will be run with no other classes in that part of the program. We will run a Pre show for Support and Junior riders from 5-7pm.
We have reserved 30th June as a second date. We will 100% confirm this date ahead of our April 21 winter series finale!
Steve Evans
dreamteamspeedway@sbcglobal.net
---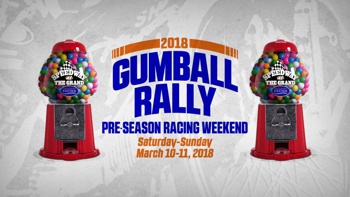 ---
2018 Big Time Speedway Schedule