North American Indoor Ice Racing Championship Series
Round 3 - Syracuse War Memorial
Syracuse, New York
Bully Dog North American Indoor Ice Racing Championship Series
Dave Clark wins at the War Memorial - Round 3 - Syracuse War Memorial
By Jason Bonsignore - Eastern Speedway Promotions
Photo by John Zachary
December 27, 2009 - Syracuse, New York
Round Three of the Bully Dog North American Indoor Ice Championships in Syracuse kicked off with Dave Clark taking the first heat win. Tuff McBride was in second until the last corner when Aaron Hesmer got into him and took him down. Josh Carr was right behind them. McBride was awarded second place. After a gnarly first corner pile-up where all four riders went down, race two was completed with Russ "Doctor Dirt" Cornell scoring the win and three points. Gene Bonsignore was second with Gary "The Hitman" Hesmer third and Shawn "Steamboat" Engel fourth. Current East Coast Speedway Champion, Adam "The Missile" Mittl, made an excellent start off the outside to take first place in the final heat of the first round. Mikey Buman rode well for a strong second while Jerry "Beufford" Harman was third and Corey Brookes fourth.
In the second series, Mittl would suffer a rare defeat to Aaron Hesmer but still took second followed by Harman and G. Hesmer. Josh Carr would then go onto a victory with Bonsignore second again and Clark behind them. Engel was last. McBride was back on winning form in the next outing with Buman again second. This time Brookes grabbed third and Cornell was fourth.
A. Hesmer stayed strong in the last heat racing round with an opening win. Clark could not catch him and settled for the two spot. Buman collected third with Harman fourth. Bonsignore and McBride were in one and two until the last lap in the following event but McBride caught too much grip and caught Bonsignore's rear wheel and went down. Bonsignore stayed in front with Brookes taking second and Engel third.
In the C-Final it was young Brookes, who was starting to look more comfortable, who could not be beaten. He rode off with it while Harman nailed down second and Carr was third. Engel closed it out. Buman, in his best ice race performance yet, won the B-Final despite heavy pressure from McBride who would stay in the two position. Cornell ended up third, Gary Hesmer fourth.
"Jammin" Jeff Garlinghouse, in his first ice race, went undefeated in the support speedway division and Spencer Portararo took top honors in junior speedway.
Former National number flat-tracker, Craig Estelle, won the Mad Dog Flat-track class over 11 other competitors.
Clark started on the pole in the Speedway Main with A. Hesmer in two, Bonsignore in three and Mittl in four. On the first try it appeared Hesmer took down Clark. On the second try there was more guys going down and on the third attempt Clark was able to establish a lead and never relinquished it as he won his first main even ever. Although Hesmer was second, Mittl took third and Bonsignore was fourth in the end the race was close between all and was more exciting than it sounded as they swapped positions a couple times.
A-Final
1. Dave Clark
2. Aaron Hesmer
3. Adam Mittl
4. Gene Bonsignore
B-Final
1. Mikey Buman
2. Tuff McBride
3. Russ Cornell
4. Gary Hesmer
C-Final
1. Corey Brookes
2. Jerry Harman
3. Josh Carr
4. Shawn Engel
Support Main
1. Jeff Garlinghouse
2. Brian Bailey
3. Don Wheeland
4. Chuck Podany
Junior Speedway
1. Spencer Portararo
2. Roger Roberts
Mad Dog Flat-Track
1. Craig Estelle
2. Andrew Miller
3. Shane Livingston
4. Cam Rafferty
5. Conrad Parshall
6. Jay Shelton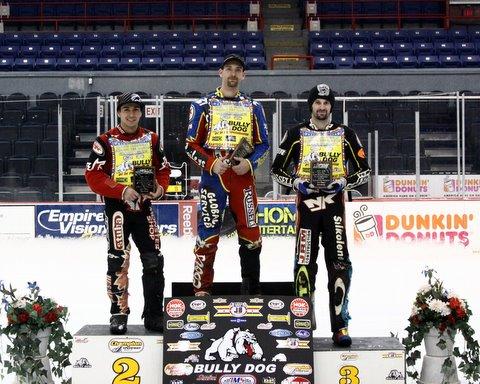 Dave Clark 1st, Aaron Hesmer 2nd in red, Adam Mittl in black third
Photo by John Zachary