Champion Speedway
Owego, New York
Champion - Owego, New York - August 1, 2009
By Jason Bonsignore - Eastern Speedway Promotions
East Coast Speedway Series
Mittl doubles down at Champion!
Photo by Jody Garris
Handicap heat racing on August 1, 2009 at Champion Speedway began with Jerry "Buford" Harman taking the win from the 30 yard marker over Adam "Missile" Mittl who came all the way from the 50 yard disadvantage. Keith Hawkins was third with Dwight Basa fourth. Mark "Battlescar" Bradley won the next heat race from the tapes as Shawn "Steamboat" Engel was second and Josh Carr third. Tuff McBride, nursing a leg injury, was last. Russ Cornell won his heat with Corey Brookes second, Mikey Buman third and Ray Barondick last.
In the first handicap semi it was the young Brookes who stole the win. Hawkins rode confidently to second on the pole while Harman transferred in third. Barondick was fourth with Cornell fifth. Mittl was dominant in the second semifinal while taking the first spot with Dave Clark in second. Engel held onto third for a transfer position. McBride, who struggled with a leg brace on, just missed out on third near the end to end up fourth with Carr fifth and Bradley sixth.
McBride took off the brace for the scratch heats and was looking real good. He and Buman had a great battle back and forth that Buman came out on top of. Clark was third with Carr fourth and Engel fifth. Mittl was in control once more in his scratch heat taking top honors over second place Brookes, third went to Hawkins and fourth to Cornell.
Mittl beat out Harman in scratch semifinal number one with Buman third and Engel fourth. Cornell was last. McBride was back to himself now and easily won the other semi from Brookes. Clark would go to the last chance with his third place finish as would fourth placed Carr. Hawkins was last.
Clark won the last chance over Carr, Engel and Buman who had bike problems.
The scratch main was all Mittl as he outgated the field again on his Polito/Justice Bros/Oury/K&N/Red Line Jawa and rode off with the victory. McBride chased him hard but had to settle for second with Harman third. Clark was fourth with Brookes fifth.
Mittl was bound to take a double on the night and did so in great style as he passed everyone from the back with some great moves to score the handicap main win as well. Runner up was Hawkins with Harman third. Brookes was fourth and Clark fifth. Engel rounded out the field.
Scratch Main
1. Adam Mittl
2. Tuff McBride
3. Jerry Harman
4. Dave Clark
5. Corey Brookes
Last Chance
1. Dave Clark
2. Josh Carr
3. Shawn Engel
4. Mikey Buman
Handicap Main
1. Adam Mittl
2. Keith Hawkins
3. Jerry Harman
4. Corey Brookes
5. Dave Clark
6. Shawn Engel
Support B
1. Don Wheeland
2. Brian Bailey
3. Bob Silvestri
Support A
1. Ray Barondick
2. Jeff Garlinghouse
3. Mark Bradley
4. Dwight Basa
ATV Pro
1. Payne
2. McCracken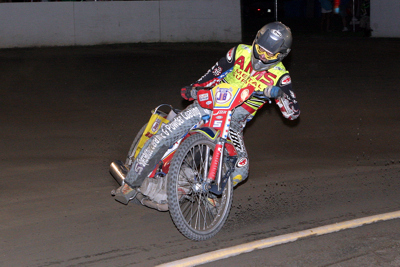 Adam Mittl
Photo by Jody Garris