Champion Speedway
Owego, New York
Champion - Owego, New York - August 15, 2009
By Jason Bonsignore - Eastern Speedway Promotions
East Coast Speedway Series
McBride Marches to Handicap Main at Champion
Photo by Jody Garris
Lightning fast youngster, Corey Brookes, opened up the handicap heats at Champion Speedway on August 15, with a win. Second place went to Mikey Buman with Keith Hawkins in third and Cole Farwell in fourth. Adam "The Missile" Mittl, who has been on fire lately won his heat race from the 50 yard line with Andy "Crawfish" Crawford second, Josh Carr third and Ray Barondick fourth. Local legend Tuff McBride took the win in his heat followed by Russ "Doctor Dirt" Cornell, Dwight Basa and Shawn "Steamboat" Engel.
In the semifinals it was McBride winning the first one with Brookes second and Carr third. Out of transfers were Crawford, Engel and Cornell. Mittl won the other semi with Buman second. Taking the final transfer was Hawkins with Farwell breaking down and Basa taking fourth. Barondick was fifth.
Buman was top dog in his scratch heat race as he handed McBride a defeat. McBride was second with Hawkins taking third over Engel. Track promoter, Jason Bonsignore, came out of semi-retirement to take part in the scratch program but drew gate five for his heat and got stuck back in third place behind winner, Mittl, and second place Brookes. Fourth was Carr and fifth was Cornell.
Buman looked sharp in the first semi when he beat out Mittl. Brookes was third and would have to go to the last chance with Hawkins. Carr snuck out into the lead in the second semi for a brief moment but McBride passed him up the inside eventually and Bonsignore, who came off gate five again, made an exciting race to pass Carr on the outside on lap two to take the second transfer position. Carr was third and Engel fourth.
Carr went on to win the Last Chance with Brookes just behind in second. Cornell was third and Engel fourth.
McBride drew the pole in the scratch main with Bonsignore in two and Buman three. Mittl was in four with Carr in five. McBride made an average start but Bonsignore got caught off and Mittl exploded into the lead. McBride got into second with Buman third but there was no catching Mittl on his Justice Bros/Polito/NGK Spark Plugs Jawa as he rode off for his 5th scratch main in a row, not including the one he won at Action Park in RD 1 of the King of Speedway on July, 26. McBride was second, Buman third, Carr fourth and Bonsignore fifth.
It was the McBride show in the handicap main as he used his 30 years of speedway experience to weave through the pack on his Polito/Skylark Diner/Baby Fox/Justice Bros/NGK Spark plugs Jawa from the 50 yard line to take home the win! Mittl was second with Buman third. The next two races at Champion are Sunday the 23rd which is the NY State Finals and August 29, which will be the Omar Lightner Cup Championship.
Scratch Main
1. Adam Mittl
2. Tuff McBride
3. Mikey Buman
4. Josh Carr
5. Jason Bonsignore
Handicap Main
1. Tuff McBride
2. Adam Mittl
3. Mikey Buman
4. Corey Brookes
5. Josh Carr
6. Keith Hawkins
Support A
1. Cole Farwell
2. Dwight Basa
3. Ray Barondick
Support B
1. Bob Harris Jr
2. Brian Bailey
ATV Pro
1. Carl Bartlett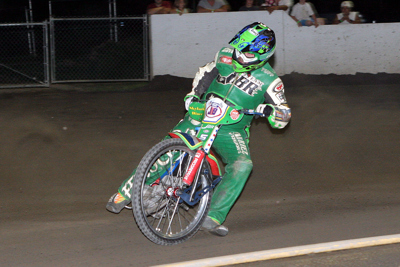 Tuff McBride
Photo by Jody Garris