2010 Champion Speedway
Race Results
Champion Speedway
Owego, New York
Mittl and Diem for the win at Champion
By Jason Bonsignore
Champion Owego, New York, USA - June 5, 2010
Eastern Speedway Promotions
Photo of Adam Mittl by John Zachary

The event on June 5th at Champion Speedway looked doubtful early on as showers hit the Southern Tier earlier in the afternoon but by race time the track surface was fine and skies were clear.

The first handicap heat race was who by Tuff McBride with Adam Mittl close behind in second. Keith Hawkins looked solid as he took third with Shawn Engel breaking down behind him. Dave Clark also took a win in handicap action from the 40 yard marker with young Jesse Diem grabbing second from the 30. It was "Jammin" Jeff Garlinghouse in third and Casey Donholt ending up fourth. Before the heats had finished, Jerry "Buford" Harman had come through traffic from a 40 yard disadvantage to score victory over Josh Carr, Russ Cornell and Brian Bailey in that order.

In the tough six rider semis, Clark kicked off a win with McBride just behind and Harman in third for the last transfer. Cornell would take fourth, Carr fifth and Engel sixth. Donholt, Diem and Mittl scored transfers as well with Garlinghouse, Hawkins and Bailey out with that order of position for fourth, fifth and sixth.

Donholt made a great start to win his scratch heat with Mittl and McBride in close range. Diem was fourth. Hawkins was real strong next time out and beat Harman and Clark with Carr having a DNF. Bailey would end up winning the final scratch heat while Cornell was second, Engel third and Farwell last.

The first scratch semi was a good race with Mittl taking the lead and not looking back but with Clark and Harman dicing for second. Clark won out and got a transfer to the final. Diem was fourth and Carr fifth. McBride was hot and got the best of Donholt in his semi. Donholt kept second and a direct transfer though to the Main. It was third and fourth placed Hawkins and Cornell who would transfer to the last chance while Engel was last and out.

Hawkins was on fire in the last chance and blasted out of the start and went on to win. Harman fought hard but had to settle for second!

Fans expected a tough Scratch final but Adam Mittl gated like a GP rider from gate three and was gone on his JBR/Justice Bros/Polito/Oury/NGK/Boyz Racing Jawa. His win marked his second Scratch Main of the year. McBride had second until hitting a hole on lap 4 and getting wide enough for Donholt to move by for a place. McBride was third, Clark fourth and Hawkins fifth.

Young Diem stole the show in the Handicap Finale as he held off the heavy hitters who came from the 50 yard line. He rode off his 30 yard mark and got out front and stayed there for a full six laps to take top honors. Clark was second, Donholt third, Mittl fourth, McBride fifth and Harman sixth.
Scratch Main
1. Adam Mittl
2. Casey Donholt
3. Tuff McBride
4. Dave Clark
5. Keith Hawkins

Handicap Main
1. Jesse Diem
2. Dave Clark
3. Casey Donholt
4. Adam Mittl
5. Tuff McBride
6. Jerry Harman

Support
1. Cole Farwell
2. Jeff Garlinghouse
3. Dan Horengic
4. Brian Bailey

Juniors
1.Spencer Portararo

Dirt Bikes
1. Roger Roberts
2. Spencer Portararo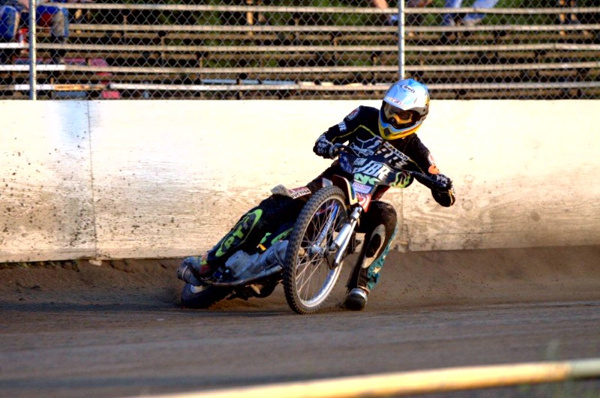 Photo of Adam Mittl by John Zachary