2015 Fast Fridays Speedway
Race Results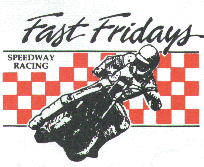 Fast Fridays Speedway
Gold Country Fairgrounds
Auburn, California
Fast Fridays Track Championship
Fast Friday's Motorcycle Speedway, Gold Country Fairgrounds
By Michael Kirby (Story & Photos)
AUBURN, CALIFORNIA, September 11, 2015
YouTube Video - by Anthony Bernardi
After a patriotic remembrance on the 14th anniversary of the attack on the World Trade Center and a touching tribute to members of the military that protect our country, the Fast Friday's Motorcycle Speedway Track Championships got under way at the Auburn Gold Country Fairgrounds Friday night.
After 18 weeks of racing the top 16 Division I riders and the top eight riders in Division II and Division III rode for the Fast Friday's Track Championships, one of the top honors of the season. Only one rider in each division would come away a champion at the end of the evening. In an early start time the races were run in conjunction with the Gold Country Fair 2015 in an all scratch format. The Division I champion was determined in a points system after 20 races, three points for a win, two points second and one point for a third place finish. The Track Champions in Division II and Division III would be the winner of their main events.
In Division I at the start of the evening all sixteen riders had a clean slate and the Championship was there for whoever could take it. It was not much of a surprise that Billy Janniro who led in points going into the Championship had little trouble coming away the Fast Fridays Division I Track Champion. After racing to a perfect night with a score of 15 points and never losing a race Janniro added another title to his ever growing racing resume. Wildcard Charlie Venegas, who has struggled this season but was last year's Track Champion, put in a great performance just missing a perfect night with 14 points and picked up and second place. Auburn's Bart Bast scored 12 points and placed third.
Eight riders in Division II raced in two heat races with the first and second place finisher of each heat advancing to the main event, then it was winner take all. Nick Dion and Michael Achilles transferred from their heat race and Eddie Marsalla and Shawn Eldredge transferred from their heat race to the main event. Scrappy Nick Dion fought to a first place finish leading most of the race for the Track Championship. Shawn Eldredge was second, Michael Achilles finished third and Marsalla was fourth. Dion riding in both Divisions I and Division II for most of the season had finished third in the Division II season points standings. "I've made the Championship main the last two years but was excluded for touching the tapes, this is my first Track Championship win," Dion said. "I believe this is my last division two race, I am looking forward to racing division one next season."
Division III was the same format as Division II with John Peters and Harlan Bast transferring from their heat race to the main Championship event. John O'Leary and Cameron Beck also transferred to the main event as first and second place finishers in their heat race. As the Championship event got going there was a three rider pile-up in turn three involving Beck, O'Leary and Harlan Bast which caused a restart. It was determined the crash was caused by O'Leary and he was excluded from the restart. After the restart Peters, who finished third in season points, led and was crowned Track Champion. "This is probably the best season I have had out here so far," Peters said. "I'm hoping to make some advancement next season maybe riding in division two." Beck was second and the seventy-nine year old Bast, capping a terrific racing season finished third.
For Division II and Division III riders it was the last race of the season, but for the top 16 Division I riders in the country the final round of the 2015 AMA USA National Speedway Championship will take place next week September 18 at the Gold Country Fairgrounds Fast Friday's track. Leading in points and a strong favorite, Billy Janniro is racing for his sixth national Championship. Janniro won national Championships in 2008, 2010, 2011, 2013 and 2014. Janniro has 57 national Championship series points and leads eighteen-year old Max Ruml who in second place has 48 points after three rounds. "I feel fairly confident going into next week, we have to switch to a fresher engine this week and we'll be back ready for some more," Janniro said. Janniro should be hard to beat but it is Championship racing and anything could happen as all the riders bring the best they have to the track.
Results from Fast Fridays Track Championships 9-11-15
Division I Track Championship
1-Billy Janniro 15, 2-Charlie Venegas 14, 3-Bart Bast 12, 4-Daniel Faria 12, 5-Bob Hicks 10, 6-Tommy Hedden 10, 7-Luke Becker 8, 8-Tyler Warren 7, 9-Ryan Bast 6, 10-David Mersaroli 6, 11-Louie Mersaroli 5, 12-Thomas Reich 4, 13-Gage Geist 4, 14-Jamison Dilkey 3, 15-Shawn Eldredge 2, 16-Eddie Marsalla 2.
Division II
1-Nick Dion, 2-Shawn Eldredge, 3-Michael Achilles, 4-Eddie Marsalla
Division III
1-John Peters, 2-Cameron Beck, 3-Harlan Bast, 4-John O'Leary
Photos By Michael Kirby
| | |
| --- | --- |
| | The start of Heat 17 (left-right) Tommy Hedden, Gage Geist, Billy Janniro and David Mersaroli. Janniro won this heat race and wrapped up the Track Championship. |
| | Adding to his long list of riding accomplishments, Billy Janniro won the Division I Fast Fridays Track Championship Friday night. |
| | Last year's Fast Fridays Division I Track Champion Charlie Venegas turned in another fine performance finishing in second place with 14 points-one off a perfect night. |
| | Division II Track Champion Nick Dion stands on the winner's podium. |
| | The start of the Division II main event. These riders qualified for the main event by finishing first or second in their heat races (left-right) Michael Achilles, Shawn Eldredge, Nick Dion and Eddie Marsalla. Dion won the race and the Championship. |
| | John Peters (205) mixes it up in his Division III heat race. Peters won his heat race, transferred to the main event which he also won along with the Division III Track Championship. |
| | Fast Friday's Motorcycle Speedway co-owner David Joiner stands as a World Trade Center - 9/11 anniversary remembrance was presented before the races began. |