The John Cook Speedway Academy
Rider training was an important part of the California Junior Speedway program of the early 1980s. The popularity of the program, like the popularity of Speedway, went up and down over the years. Earlier programs had produced such riders as Lance King and the Morans. But then there was a lull. In 1979 Greg Hancock's Dad, Bill Hancock got the program back on track. The program was fun for some, serious for others. Some riders dropped out while still Juniors, some graduated and rode 500s for a while, some still do, and a couple went on to become World Champions. Internationally, the best know students of that program still around today are Greg Hancock, Billy Hamill, Ronnie Correy and Josh Larsen. But there were plenty more, still around. Bart Bast, Bobby and Tommy Hedden, Jason Chism, Scott Brant to name but a few. One of the most popular of the trainers in those early days was at that time an up and coming Speedway star from Roseville, CA, called John Cook. John went on to make an international career in Speedway. Today he lives in Sweden and rides for Smederna, along with team mate Billy Hamill. Small world, isn't it?
Cancellation of School and Practice Session.
Due to a problem with the Fairgrounds, the practice at Fast Fridays, Sunday November 28, 1999, has been cancelled. They hope to arrange practice sessions for future dates, throughout the winter. I will post future plans when available. - Gary Roberts
Watch for an upcoming John Cook Speedway Academy to be announced soon. The school session will run from 8am to 2pm, followed by an open practice from 3pm to 5pme. The $125 cost for the school includes the practise session. Price for the practise is $20 per rider. Students for the school must register before hand by contacting Dave Joiner at 530 878 7223 or E-Mail him at fastfriday@aol.com. This is obviously contingent on suitable weather.
Fast Fridays promotion has worked with John Cook to resurrect rider training. The John Cook Speedway Academy had its first training session at Fast Fridays Speedway at Auburn California on June 12 and 13. The purpose of the school is to train the next generation of Speedway riders. The plan is for John to come back and give further training sessions later in the season and if other top riders can be made available, they will do the same. Having spent time with Billy Hamill and Greg Hancock I know that both these guys are not only willing but also extremely enthusiastic to help put their experience and expertise back into the sport. I am sure that they will welcome a structure such as the one that John Cook has set up, to do it. All places for this session were filled some time ago and there is no shortage of other candidates that are eager to be trained.
The session was not limited to Juniors. A more diverse collection of riders, one could not find! Ages ranged from 11 years old to 67 years old. Skills ranged from 5 riders who started a month ago to one who started 14 years ago.
The two day course started with machine preparation, maintenance and set up and for the brief duration I was present included instruction on how to make a start from the tapes. John is an entertaining and extremely energetic instructor, passing over his knowledge in a very effective manner.
Professor Cook conducted some lectures in the pits
others on the center green.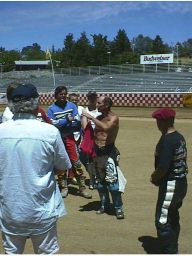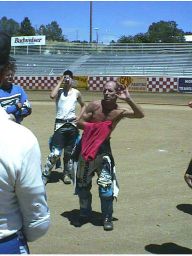 Holding a training class during the day (as opposed to at night) in the summer, in California, is not easy. There are environmental challenges. The heat dries out both the riders and the track. Dave and Mark Joiner, the promoters, were on hand with track watering equipment and cold drinks.
Back row: Tom Adams, Jon Curry, John Knapp, Don Webster, Danny Easley, Mike Douglass, and Rich Mignano, Front row: Vince Bertolucci, Don Chipman, Matt Browne, Dave Joiner (promoter) John Cook, Mike Browne, Scott McNeil and Mark Woodward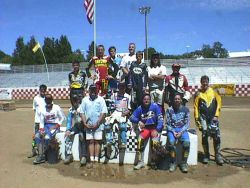 John gave a demo, making it all look easy. John is an absolute master of balance. During the demo laps he put in the night before, in front of the crowd he cornered with both feet in the air, off the ground, off the pedals. In these shots, all students look to the front on the front straight, all to the back on the back straight.
The most immediate improvement that John made to everyone's riding was having them feather the clutch coming out of the gate. Here John demonstrates a start, feathering the clutch to provide maximum power without lifting the front too much. After showing how it should be done each student had half a dozen or so shots at making starts, with John raising his hands as tapes. Each rider trapped from various gate positions.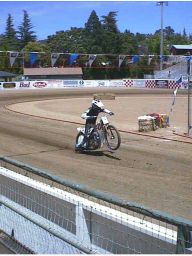 Don Webster, Division 3 rider making a start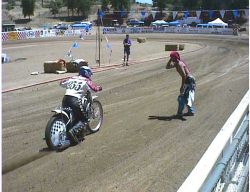 Mike Douglass, Division 3 rider making a start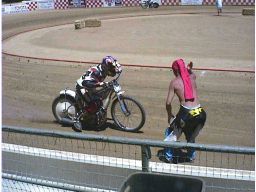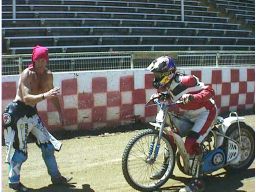 Matt Browne Division 2 rider doing a start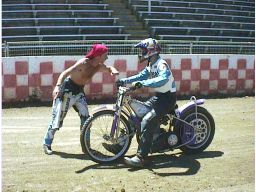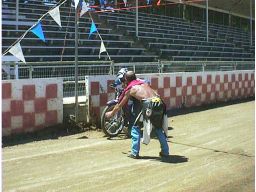 When putting together my book, Hamill and Hancock, World Speedway Champions, Both Billy and Greg continued to tell me how much admiration they had for John Cook. Junior riders Jon Curry and Danny Easley found him the same way. I had watched him many years ago but I met him for the first time this weekend, and have to agree. John Cook is helpful, knowledgeable, a good communicator and extremely easy to get along with. All the qualities required for a first class teacher.
As a final word, I did learn an amusing story of a training session that was set up at Auburn a decade or so back. First of all, it should be understood that most American Speedway tracks are owned by the local Fairgrounds, which is managed by the local Fairgrounds Board. Their mission is to make as much money out of the Fairgrounds as possible, so the lease on a Speedway track always makes it clear that the facility can be used for other functions, a number of times a year. This usually involves having to tear down the crash walls and resurface the track, if a tractor pull or rodeo is run at the facility. This particular training session was set up, but an error in scheduling caused an overlap with a circus. When the Speedway students arrived, they found the crash walls missing and a large elephant sitting in the middle of the center green!
For more information, contact:
Gary Roberts - E-Mail: gary_rob@ix.netcom.com
or
Dave Joiner at 530 878 7223 - E-Mail: fastfriday@aol.com