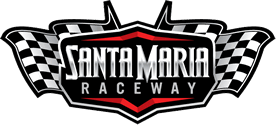 Santa Maria Raceway
1900 Hutton Rd
Nipomo, CA 93444
Information Line: (805) 922-2232
2018 Santa Maria Raceway
April 9 – Practice and test day TBC - Speedway & Flat Track (Sunday)
May 5 – Speedway & Flat Track Racing (Saturday)
July 28 – AMA National Championship Series Round 3 (Saturday)
August 25 – Team Speedway (D2 / D3 riders), Vintage Speedway Championship + Flat Track (Saturday)
2017 Santa Maria Raceway
April 15 - Spring Classic (Speedway and Flat Track)
July 29 - AMA Speedway National Championship Series Round 2
August 26 - Flat Track Championship
September 23 - Harley Hooligan Night and Flat Track
Santa Maria Raceway has expanded its bike schedule to four events for 2017 after a successful 2016. The schedule includes a round of the AMA National Speedway Championship Series on July 29th.
The season opener on April 15th will mirror the 2016 races of a mix of Speedway and Flat track and a $2500 speedway purse. The August and September races will more be slanted to flat track (no pro speedway classes planned as of now), but we will still run Vintage, Support, Youth and Sidecars in those dates.
2016 Santa Maria Raceway
Motorcycle Races Provisional Schedule (Featuring Speedway & Flat Track)
Saturday Nights
April 23
July 3 - American Independence Invitational (Team Racing)
September 3 - Track Championship
Speedway bikes will run on a 300 meter (approx) purpose built European sized track inside the main car track. More details will be issued shortly. The July and September events are great to combine with a weekend getaway to the nearby beaches of Pismo Beach, Morro Bay and others.
The track promoter is very excited to run these events and I am thrilled about this new venue!
Santa Maria Raceway is visible off the 101 Freeway just North of Downtown. It offers fantastic spectator viewing and will be a massive asset to American Speedway.
Santa Maria Dirt Track Schedule
Steve Evans - dreamteamspeedway@sbcglobal.net