USA Speedway Motorcycle Racing
St. Alex Speedway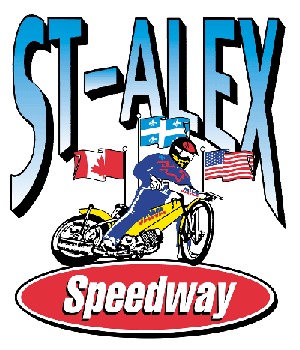 St. Alex Speedway
Saint-Alexis-des-Monts, Quebec, Canada
1/6-mile oval dirt track
Circuit ovale, 1/6 mille-terre battue
Located in Quebec's beautiful Laurentian Mountains vacation area.
Contact St. Alex Speedway owner/promoter Michel LeMay at:
1735 Pins Rouges, St. Alexis-des-Monts, QuebecJ0K1V0
Phone: (819) 265-2238
E-mail:stalexspeedway25@yahoo.ca
Directions:
From Montreal:
Take 40 EAST, up to Louiseville (exit 166);
In Louiseville, on the third light, turn left;
Continue about 15 km (10 miles) to St. Paulin;
At the stop, turn left to St. Alexis (10 km / 6 miles);
Pass in front of the church and the lake (towards Parc Mastigouche);
After 8 km (4 miles), you should see the St-Alex-Speedway sign.
Track Photos... Track owner Michel Lemay packed grandstands at the 2003 Can-Am Championship racing action at St. Alex in 2003.
2004 Can-Am Speedway Championship is scheduled for JULY 3, 2004.
Purse is Can $4,500! Plus...earn points in the 2004 East Coast Speedway Series!
Bienvenu a tous!. . . All are welcome!
Ice Racing in Quebec
Michel Lemay promotes an ice race in St. Alexis-des-Monts every winter. Check out the action from 2004!
Bienvenu a tous!. . . All are welcome!