Bear Creek Speedway
Ohio - USA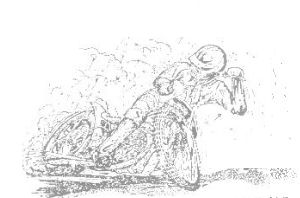 Closed at the end of the 1996 season.
Saturday Night Racing
Flat Track Motorcycles & Knobby Bikes
Speedway Motorcycles
Racing Go-Carts
Quad Racers
Micro Sprints
Click here for Photo of the track
Race Dates, 1996
April 27 Pre-Season Warm up
May 11 Season Opener
May 25 Quad Championship
June 8 Top Gun Shoot-out (Karts)
June 22 Top Gun Shoot-out (Karts)
July 6 Ohio State Speedway Championship
July 20 Micro Sprint Championship
Sept. 14 Season Final - CANCELED
Speedway Jam - Sept. 22,'96
Sponsored by: Applied Innovation - Jawa Dealer
Interested in riding speedway? Speedway riding, instructions and picnic, starts at 12 noon. FREE ADMISSION, a covered dish is optional
"Jam" report by Kim Gregory - I drove through 6 hours of rain from Canada to Ohio, and when I got there, the track was bone dry. It was a great afternoon of riding! Scotty had five reconditioned Jawa and Weslake speedway bikes at the track for sale. There were about eight of the seasoned riders there, and about six beginners that borrowed bikes and steel shoes. "Passing" Pat Reynolds even came up from Lexington, Kentucky to be there. John Busler said the track was smoother that it has ever been. One rider was 58 years old! We got a downpour at 4:15. That muddied the track enough that it would take an hour before we could get back on it. So I headed home.
All Classes Will Be Racing Every Night
Racing Action Starts at 6:30 p.m.
Adults $5, Under 12 $3, Under 6 Free
Directions:
Take I - 77 to Fohl Road Exit 99, South of Canton,
Go East and follow the signs.
(1 mile, turn right, 4 miles, turn left into the track)
Gates open 4:00, registration 4:00 - 6:00
Hot Laps from 5:00 - 6:00
Information: Track - KOA Campground - (216) 484-3901
Scotty Brown (PR)
(old) (330) 837-5694 Fax. (330) 837-4146
(NEW) (216) 484-3907 (216) 837-5694