RC Jones
Editor/Owner
SpeedwayBikes.com
E-mail rcjones@SpeedwayBikes.Com or rc_jones99@yahoo.com. My Speedway Programs Website is: URL: Speedway Programs

RC Jones has contributed to this speedway site since 1997 by providing the site with information on Northern California Speedway. He has continued to support Speedway by updating results, schedules, track information, rider profiles and other pages here. He is now the owner, editor and webmaster of SpeedwayBikes.com

"In the 1980's when I lived in Sacramento, California I was the track photographer and journalist for Auburn, Cal Expo and Napa. I was fortunate to work at the same time as Scott Daloisio was writing and doing photos in Southern California. Between the two of us we were able to get the results, and most of the time a photo, of every California speedway race posted into Cycle News. My first speedway race was in 1972 at the famous cement walled Cal Expo in Sacramento. I was able to met Barry Briggs, Ivan Mauger and Ole Olsen while they were racing in Europe in the 70's. I do not have a real favorite rider some are just more fun to watch than others, but having said that some of my favorites are Eddie Ingels, John Cook and Bart Bast. I grew up in Southern California (Buena Park), traveled around the world with the Army for twenty years. After Sacramento I moved to Seattle, Washington in 1999 and in then in 2009 moved to Tucson, Arizona. Now maybe, just maybe, I might settle down. Now that I am a little closer to the tracks I will be able attend more often."

Here is a link to my trips to Bonneville Salt Flats to see Land Speed Records being set. Not a spectator sport...

Here is the link to my trip to Hangtown and Big Time Speedway, Prairie City, California - May 17-19, 2012.

"I love speedway..."

S
I have to confess that I try to stay in the background and use the thank you's from the speedway community to keep me going on this website. I have in reality put a lot of hours in working on the site, updating, adding and just normal maintenance.

Now I would like to personally thank Big Time Speedway, Industry Racing and Ventura Raceway for recognizing me by making me the Grand Marshall at their tracks. It was a shock and great honor for me, I can not thank them enough!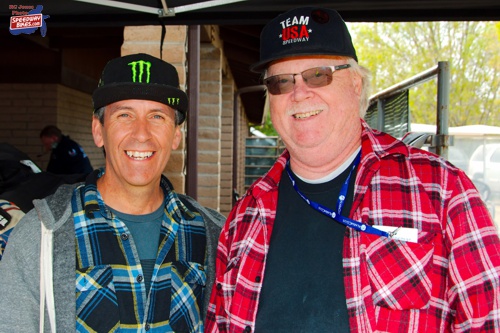 I always feel privileged to have a visit with World Champion Greg Hancock when he makes a rare appearance in town.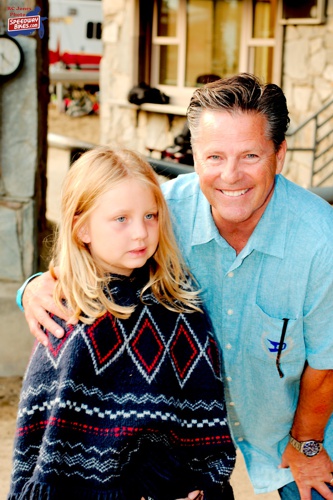 Hailey and Bruce Penhall at Industry May 31, 2017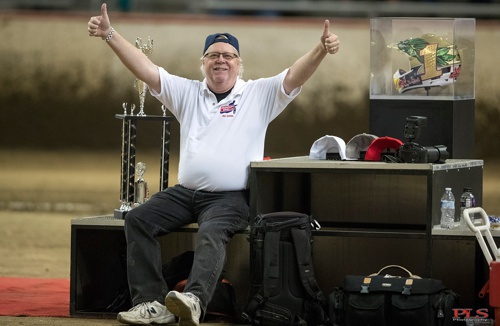 Having survived the worst crash of the evening, RC Jones salutes the crowd with a two thumbs up in appreciation of their support...
Steve Shambeck Photo - May 31, 2017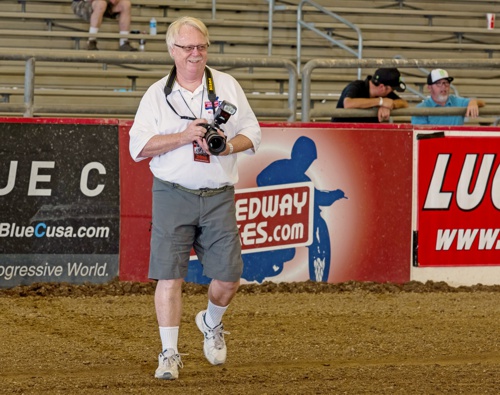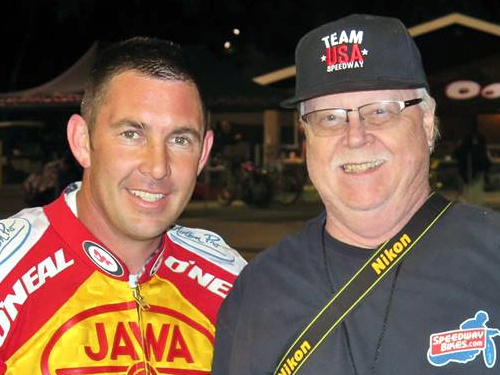 Billy Janniro and RC at the 2016 Gumball Rally
Paul Flanders Photo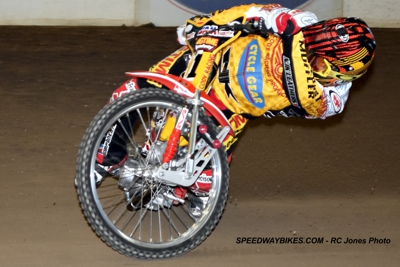 One of my favorite photos of Billy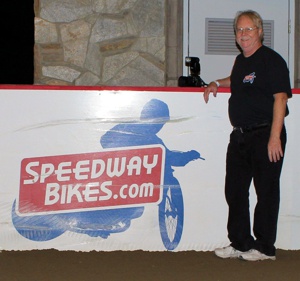 Oh the abuse my sign takes at Industry Racing
2014 Dorcey Wingo Photo

This is my Speedway Programs Web Site that I started in 1999