2003 North America Speedway History
East Coast
2003 Southern California - 2003 Northern California
Estelle Wins in NC, Takes 2003 East Coast Speedway Series Crown
November 12, 2003 The official results of Round Five of the East Coast Speedway Series on November 8 at Hammerdown Speedway (Red Springs, NC) are as follows. A five-round championship format was run with D, C, B and A main events deciding the overall and payout. A full $2500 purse was in place for D-1.
A Main
1. Craig Estelle
2. Kyle LeGault
3. Nick Fafard
4. Jeremy Parsons
All four riders were tied at 13 points after the heats. Normally, high points gets choice of starting position but in the case of a four way tie, we drew.

B Main
1. Cam Rafferty
2. Brian Hollenbeck
3. Jerry Harmon
C Main
1. Adam Mittl
2. Josh Carr
3. Marc Gauthier
There was no D Main because we only had 12 D1 riders.
D2 Main
1. Derek Spencer
2. Dave Richards
3. James Langston
4. Henry Hanzo
Dave Richards was undefeated through the heats only to drift on the second lap and lose the lead to newcomer Spencer.
2003 EAST COAST SPEEDWAY SERIES FINAL STANDINGS (after five rounds.)
1. Craig Estelle
2. Kyle Legault
3. Nic Fafard
4. Jerry Harmon, Jr.
5. Brian Hollenbeck
6. Jeremy Parsons
7. Marc Gauthier
Thanks to all who made the inaugural season of the ECSS possible: Michel LeMay, Welland County Motorcycle Club, Square Deal Riders, James Berry and Roosevelt Locklear in North Carolina.
Most of all, I would like to thank the riders and staff who supported this effort. I think we accomplished what we set out to do and can count on additional rounds/venues in '04.
Thanks to Lupo's for giving us 40 pounds of spiedies at their cost for our after-race party. Word has it that this might become a regular thing in 2004. Don't forget to log on to www.spiedies.com and thank them for their support of the North Carolina Speedway event.
-- Tim Mathewson
---
Bobby Schwartz Takes 2003 U.S. Open Crown
(September 8, 2003) The quality of New York speedway has improved dramatically since the sport returned in 1997, but when the Californians come to town, it's time once again for a reality check.
The 2003 U.S. Open not only offered a predictable East Coast-versus-West Coast story line, it also showcased the Old Guard against the New School. This year, the old guys came out on top. Californians Bobby Schwartz (46 years old) and 44-year-old Shawn McConnell both dominated throughout the two-day series. They were joined by fellow West Coaster Dukie Ermolenko, who was perfect through all of his heats in the final round on day two.
In the final round, Californians and New Yorkers alike were challenged by the Champion Speedway surface. Loads of new dirt had been added to the racing strip and it became a game of controlling traction out of the gate and into turn one, and then finding a clean line out of turn two. The night was punctuated by several wild crashes, but everyone involved walked away on their own power.
If the locals weren't crashing, they were being taken to school by McConnell, a rider with uncanny control of a speedway bike. Owego, New York's Brian Hollenbeck was the first recipient of McConnell's patented "nudge and go" move. With Hollenbeck leading for most of heat one in the finals, McConnell patiently stalked in second, then closed the gap in turn three of the final lap. The Costa Mesa veteran drew alongside Hollenbeck, made just enough contact to nudge him off his line and then rocketed out of turn four to take the win. Later in the evening, New Yorker David Oakden was on the receiving end of another McConnell love tap. Oakden gated sharply and took the lead, with McConnell looking for a passing lane. With no way around Oakden, McConnell employed the old "nudge and go" again, taking Oakden down completely on turn three of lap three. Rough riding or just one of them racin' deals? In this case, the referee let it slide and McConnell cruised home for an easy win.
Along with McConnell's roller derby riding and his irresistible showtime wheelies, the crowd also got plenty of entertainment in heat 13, when Nick Fafard put on a display of over-the-top riding trying to pass leader Jeremy Parsons. As the duo exploded out of turn four on the final lap with Parsons leading, Fafard tried to wheelie across the line to force a photo finish. He lost control and crashed hard, only to watch in horror as his bike suddenly bounced up and tore off on a 60 mph ghost ride across the Champion infield and then a sickening head-on collision with the backstretch crash wall.
Against the backdrop of these fireworks, Schwartz and Ermolenko were quietly going about their business, with Ermolenko perfect through the evening. The New York contingent was led by local star Tom Sephton and the always-dangerous Jeremy Parsons. Defending 2002 U.S. Open champ Cam Rafferty was also impressive over the course of the day two final round but missed making the main.
Before the evening's main event could get underway, though, the supporting players took center stage. Motocrosser-turned-speedway rider Adam Mittl won the Division III crown, using a weirdly effective riding style that was half 1920s leg trailing and half modern speedway technique, with a touch of MX berm railing thrown in for good measure.
In the Division II main, super junior Mikey Buman put in a beautifully patient ride aboard his 250 Jawa, tracking Mike "Razor Sharp" Gillette (aboard a 500) and finally passing him underneath on turn three of lap three. Because of scoring anomalies, Buman and Gillette then met in a run-off, which Gillette won by half a bike length to be crowned U.S. Open Division II champ. A clearly disappointed Buman showed good sportsmanship by congratulating Gillette with a handshake, and Gillette returned the compliment by noting, "I'll take it, but he [Buman] really deserved it more than I did."
The Division I final consisted of four events, contested in a round-robin format. Ermolenko, Schwartz, Sephton, McConnell and Parsons faced off in the four-race finale and none of the point totals they'd accrued earlier in the evening counted in this final round. Lulls between each of the final events meant that some of the night's earlier intensity began to fade and what could have been a blockbuster finale was instead a bit anticlimactic.
In the first main, Ermolenko continued his winning streak even under intense pressure from Sephton. The second main saw Schwartz break free of a tightly bunched pack in the second lap, then stretch his lead for the win. The same scenario was repeated in the third main, with the checkers again going to Schwartz. The fourth and final main was marred by a hard crash in lap two, as Ermolenko hooked up in the backstretch, lost control and collected Sephton in a tangle. Everyone made the original restart, with Sephton shaking off the effects of the wreck to win.
With two of four mains to his credit, "Boogaloo" celebrated his 2003 U.S. Open victory -- a nice bookend to his first U.S. Open win way back in 1977 -- while Ermolenko took the checkers in a runoff with Sephton that determined the final podium positions.
---
PHOTOS
Below: Cam Rafferty (r.) locks horns with Bobby Schwartz in heat action from Round Two.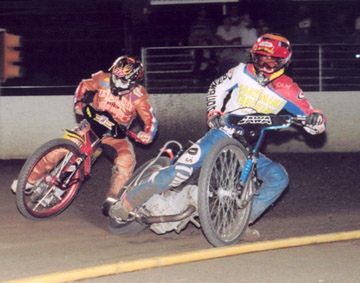 Below: New York's Tom Sephton (r.) rides the pipe, while Dukie Ermolenko looks for an outside line.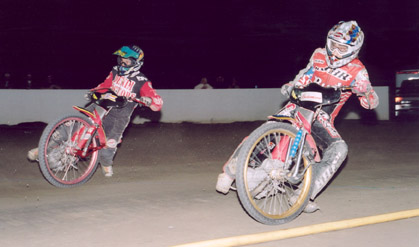 Below: Dukie Ermolenko was dialed in, smooth and confident in Round Two at Champion Speedway.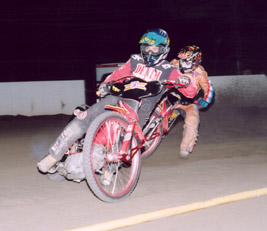 ---
2003 U.S. OPEN
RESULTS

Division I
1. Bobby Schwartz
2. Dukie Ermolenko
3. Tommy Sephton
4. Shawn McConnell
5. Jeremy Parsons
6. Cam Rafferty
7. Gene Bonsignore
8. Nick Fafard
9. Tom Burge
10. George Lazor
11. Mike Robinson
12. Chris Strong
13. David Oakden
14. Kelly Moran
15. J.J. Martynse
16. Merle Craven
17. Brian Hollenbeck
18. Lee Bailey
19. Keith Hawkins
20. Marc Gauthier
Division II (Support A)
1. Mike Gillette
2. Mikey Buman
3. Casey Donholt
4. Bob Bruzek
Division III (Support B)
1. Adam Mittl
2. Eric Leinbach
3. James Rogers
4. Derek Spencer
5. Heber Belles
Juniors
1. Jessie Diem
2. Katelyn Davis
---
Rafferty in Winner's Circle at East Coast Speedway Series Round 4
(August 19, 2003)Round Four of the East Coast Speedway Series at the quarter-mile Square Deal Riders Raceway was one of those nights where the main event just couldn't live up to the standard set by the heat racing.
Coming off two stellar rounds in Canada, the expectations for the New York stop of the ECSS were high, especially with a field that included two-time U.S. National champ Kelly Moran; 2003 Canadian National champ and World Under-21 selection Kyle Legault; indoor I.C.E. champ Nic Fafard; 2003 U.S. National championship competitor Cam Rafferty and former Grand National pro flat tracker Craig Estelle.
The action got wild early, when Legault faced off with Fafard and New Yorkers Josh Carr and Jerry Harman Jr. in heat four. Legault gated alertly and was gone, leaving Fafard to tangle with Harman for second. In lap three, Fafard pulled an aggro 70-mph wheelie alongside Harman, who went wide on turn four in the final lap, allowing the gutsy French-Canadian to sneak underneath just in time to take second.
As the heats progressed, it was clear that Fafard was in the zone. The proof came in heat 18, when he nailed an outside line holeshot. Local hero Craig Estelle out-dragged him down the backstretch to take the lead on lap two, but Fafard broke inside and re-asserted command in the later stages. Three lead changes in the first two laps of a speedway race--the crowd was loving it.
Moran, ever the wily veteran, elected not to practice earlier that afternoon on a track he'd never ridden. It didn't matter--he went out looking like he owned the place, handling traffic and riding the deep outside stuff with ease to eventually make the main. The dream heat of the night found "The Jellyman" battling Legault, Rafferty and Brian Hollenbeck, with Rafferty gating alertly for the lead. Like Fafard and Harman earlier, Moran and Legault staged a battle Royale for second with the tough young Canadian finding a good inside line under Moran in turn three of the second lap to assure his own place in the main.
But the main was anticlimactic: Moran, Fafard, Legault and Rafferty faced the starter, and Legault crashed heavily in turn four of lap one. He didn't make the restart, in which Fafard crashed in turn two, leaving Rafferty and Moran to cruise around in a "so what?" processional.
RESULTS
Division I
1. Cam Rafferty
2. Kelly Moran
3. Nic Fafard
4. Kyle LeGault (fell, excluded)
Nick Fafard was the top ECSS finisher with LeGault second.
Division II
1. Casey Donholt
2. Adam Mittl #29
3. Dave Richards
4. Jeff Romig
Junior
1. Mikey Buman
2. Jessie Diem
3. Katlyn Davis
Pee-wee
1. Kayla Broom
---
Cam Rafferty, class of the field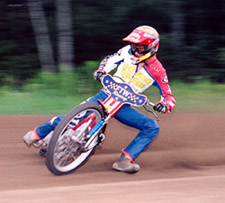 Moran (l.) duels with Estelle.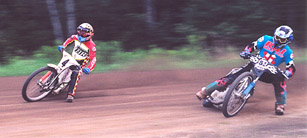 Fafard (l.) won the battles, but lost the war.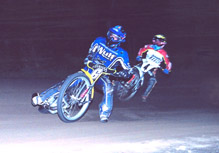 ---
Fafard, Hollenbeck Shine at Champion on August 10
(August 15, 2003)After an excellent night of racing at the New York State Championship on Saturday, August 9, the action continued at Champion Speedway on Sunday night.
In the D-1 main, it was Parsons in gate 1, Sephton in gate 2, Farfard in gate 3, Moran in gate 4 and Rafferty in gate 5. Off the start, it was Sephton and Fafard into turn one with Fafard coming out on top. An awesome race for second between Sephton and Moran followed, first with Sephton leading then with Moran leading, then side by side in the down the back straight away. It was Farfard first, Sephton second, Moran third, Parsons fourth and Rafferty fifth. Great racing, guys!
-- report by Gail Rafferty
Scratch
1. Nick Fafard
2. Tom Sephton
3. Kelly Moran
4. Jeremy Parsons
5. Cam Rafferty
Handicap
1. Brian Hollenbeck
2. Gene Bonsignore
3. Kelly Moran
4. Mike Robinson
5. Chris Strong
6. Tommy Sephton
Juniors
1. Jessie Diem
2. Corey Brookes
3. Katelyn Davis
Support B
1. James Rogers
Support A
1. Mikey Buman
---
Rafferty Takes New York Championship at Action Park
(August 15, 2003)We got the show in with a reasonable crowd, considering how awful the weather was. The racing was really good; Kelly Moran was undefeated in the heats, as was with Tom Sephton. He seemed head and shoulders above the field but made a poor start in the final. Sephton had it in the bag on the first start with Moran second and Lazor third but it got called back and Cam Rafferty made a good start from gate one and never looked back.
-- report by Jason Bonsignore
ADDITIONAL NY STATE CHAMPIONSHIP REPORTING BY GAIL RAFFERTY...
Yes, there was action at Action Park on Saturday night, August 9, for the NY State Championships. In the main event, it was Cam Rafferty in gate 1, George Lazor in gate 2, Tom Sephton in gate 3, Kelly Moran in gate 4 and Nick Fafard in gate 5.
At the start, riders rolled in this order: Lazor, Sephton, Rafferty, Moran and Fafard. On the original re-start, it was Rafferty, Moran and Sephton, in that order going, into turn one. On lap 2, Moran went wide and Sephton shot by him. It was Rafferty and Sephton the rest of the race, with Rafferty winning, Sephton second, Fafard third.
MAIN
1. Cam Rafferty
2. Tommy Sephton
3. Nick Fafard
4. George Lazor
5. Kelly Moran
Support A
1. Casey Donholt
2. Marcus Cole
3. Mikey Buman
4. Bob Bruzek
Support B
1. Andy Pandich
2. Shawn Engel
3. Mike Gillette
4. Derek Spencer
5. Chad Crawford
6. Scott Swinehart
Junior Speedway
1. Jessie Diem
2. Corey Brookes
3. Katelyn Davis
---
East Coast Speedway Series Round 4 Hits Square Deal on August 16; Veteran Division to Debut
(August 8, 2003) The bell will sound for Round Four of the 2003 East Coast Speedway Series on August 16 at Square Deal Riders Raceway, Harpursville, NY.
After a soggy start in North Carolina in May, the Series has had two great rounds in Canada in June and July. Now the fireworks come stateside again as the Northeast's best riders face off against all comers.
The program will also feature the debut of the new Veterans speedway division for riders 40 and up. There are a bunch of riders out there who want to get back into speedway, and this is a class that's all about having a good time. So dust off that old two-valve and cinch up those sausage-skin leathers...it's show time!
Gates open at 4:00 pm, practice is at 5:30 pm and races start at 7:00 pm. Admission is $8 and kids 12 and under are FREE!
DIRECTIONS: Take NY route I-88 to exit 5 to Route 7 east. Go one mile to Spear Road, then go left on Allen Road.
For more info on the Veterans class, call (607) 651-1252 or (607) 693-2634.
---
Quick Results from Square Deal Riders' Aug. 2 Event
(August 3, 2003)Race results from Square Deal Riders' August 2 event...we made it before the rain!
-- Kelvin Herrala, referee
D1 Main
1. Cam Rafferty #427
2. Craig Estelle #51
3. Jeremy Parsons #16
4. Lee Bailey #227
#38 Jerry Harman, Jr. 7 pts.
#93 Chris Strong 5 pts.
#171Brian Hollenbeck 3 pts.
#44 Marc Gauthier
D2 Main
1. Casey Donholt #97
2. Adam Mittl #29
3. Dave Richards #4a
4. Kendall Brookes #70
#80 Rick Dehart 6 pts.
#208 Derek Spencer
Youth class had no entries.
---
Kyle Legault Claims 2003 Canadian Championships, Round 3 of ECSS
(July 30, 2003) The phrase "wicked fast" accurately describes the silky smooth quarter mile of Niagara Motorcycle Speedway in Welland, Ontario. Add 25 methanol-burning speedway bikes and the best riders from Canada and the eastern U.S. all gunning for the 2003 Canadian National speedway title, and you've got the makings of a first-class night of racing.
Hosted by the Welland County Motorcycle Club, the 2003 Canadian National on July 26 was the model of a well-organized championship event. A packed house (which included Stan Bradbury, the father of Canadian speedway), television coverage by COGECO-TV and riders from Ontario, Quebec, New York, Pennsylvania, Michigan, Wisconsin, and Maryland all combined to put a real charge of electricity into the atmosphere.
The Canadian National -- which was also Round Three of the 2003 East Coast Speedway Series -- featured a unique six-round format developed by the Canadian Speedway Racing Association. Riders were seeded in the first round so that each heat contained a Division One rider, as well as several DII riders. The first round set up the program for the rest of the evening by allowing each rider to find his own level of racing ability. A rider's results in the first round determined where he rode in round two and, in turn, a rider's results in round two determined where he rode in round three and so on. Results were based on total points scored over the night, meaning that the winner of the National title wouldn't necessarily be the winner of the main event.
As the action got underway, it was clear that the local riders had a home court edge handling the high speeds of the Welland track. Veterans John Kehoe and Jeff Orosz were standouts, consistently finding the smoothest, fastest lines around the D-shaped Welland strip. The young guns of Canadian speedway -- Kyle Legault, Drew Kehoe (John's son), Nick Fafard, Aaron Hesmer and Joe Heye -- were also charging hard to win early heats.
Yet even as they dominated the early rounds, the top locals soon found themselves as supporting players within the evening's main drama: the developing rivalry between Kyle Legault and New York's Craig Estelle. At Paris, Ontario the night before the National, Legault and Estelle electrified the crowd with a main event head-to-head battle won by Estelle. At the National, Estelle and Legault met several times in the early rounds, and their duels set the standard for high speed, hair's-breadth racing.
Every championship program has a "dream heat" and at Welland, it came in heat 20, comprised of John Kehoe, Jeff Orosz, Craig Estelle, Kyle Legault and Joe Heye. You knew something had to give, and as Estelle and Orosz battled for the holeshot into the apex of turns one and two, they got too close for comfort. Orosz, on the pipe, straightened up slightly and he and Estelle both executed synchronized 60 mph low-side slides into the bales. Both riders were uninjured and were sent back to the 10-yard line for the restart. Incredibly, Estelle fought back from this handicap to take second to Legault.
After 20 heats were in the books, semi number one rolled to the line, with New York's Jerry Harman, Jr., Drew Kehoe, Craig Estelle, John Kehoe and Nick Fafard facing off. Drew Kehoe nailed the holeshot, but Estelle stalked and passed him on turn three of the first lap and took the win, followed by Fafard, John Kehoe, Jerry Harman, Jr. and Drew Kehoe (who fell on lap three but remounted to finish).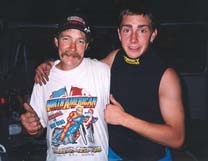 Semi number two saw Jeff Orosz, Kyle Legault, Joe Heye, Canada's Rob Dixon and Pennsylvanian Marc Gauthier face the starter. The wily veteran Orosz gated alertly and went wire-to-wire, with a game Kyle Legault glued to his rear wheel. At the checkered flag, it was Orosz, Legault, Heye, Gauthier and Dixon.
Heading into the final, Legault and Estelle were both tied with 29 points; Nick Fafard had 23, Jeff Orosz, 22 and Joe Heye, 21. These five riders lined up for their introductions, with the crowd thundering its support for Orosz and Legault.
Off the start, Estelle executed a brilliant pass on Legault in turn one, taking the holeshot from the two-path, as Orosz, Fafard and Heye gave chase in that order. Estelle slowly stretched his lead over the young Canadian and appeared to have the title in hand when disaster struck on lap three: his motor blew on turn four and Legault and the rest of the field left him in their wake. At the flag, it was Legault, Orosz, Fafard and Heye.
Estelle was philosophical after the race and took his misfortune in stride. Legault, meanwhile, was ecstatic, crowning a season that began in the World Under-21 championships in England with a National title before his home crowd. In speedway, as in life, some things are just meant to be.
(Photo above left: Kyle Legault, right, celebrates his National win with dad Fred.)
2003 Canadian National
Niagara Motorcycle Speedway
Welland, Ontario, Canada
Semi One:
1. Craig Estelle; 2. Nick Fafard; 3. John Kehoe; 4. Jerry Harman, Jr. 5. Drew Kehoe
Semi Two:
1. Jeff Orosz; 2. Kyle Legault; 3. Joe Heye; 4. Marc Gauthier; 5. Rob Dixon
Main:
1. Kyle Legault; 2. Jeff Orosz; 3. Nick Fafard; 4. Joe Heye; 5. Craig Estelle
Overall:
1. Kyle Legault (35 pts.); 2. Craig Estelle (29 pts.); 3. Jeff Orosz (27 pts.); 4. Nick Fafard (27 pts.); 5. Joe Heye (24 pts.); 6. Drew Kehoe (17 pts.); 7. John Kehoe (16 pts.); 8. Marc Gauthier (14 pts.); 9. Rob Dixon (14 pts.); 10. Jerry Harman, Jr. (13 pts.); 11. Aaron Hesmer (8 pts.); 12. Brian Hollenbeck (8 pts.); 13. Fred Legault (8 pts.); 14. Michel Lemay (8 pts.); 15. Biff Waczynski (7 pts.); 16. Phil Small (7 pts.); 17. Phil Lemay (4 pts.); 18. John Perry (4 pts.); 19. Dave Richards (3 pts.); 20. Andy Delimat (2 pts.); 21. Lee Charland (2 pts.); 22. Shawn Morrison (2 pts.); 23. Greg Starcevic (1 pts.); 24. John Bennett (1 pts.); 25. Jeffrey Romig (0 pts.)
---
Estelle and Legault, dueling at speed.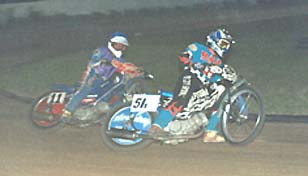 Wily veteran Jeff Orosz finished third overall.
Drew Kehoe is part of Canadian speedway's youth movement.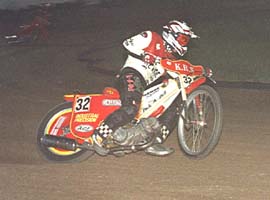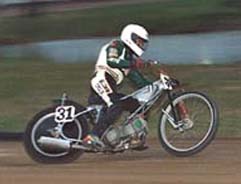 ---
Welland Set to Host 2003 Canadian Championships, Round 3 of ECSS
(July 20, 2003)The famed Welland quarter mile will host the 2003 Canadian National Speedway Championships on Saturday, July 28. The event will also be Round 3 of the 2003 East Coast Speedway Series (ECSS).
The event features a hefty Can$3,500 purse, which translates into approximately US$2,500. No CMA license is required, since the event is NAMU sanctioned. (Note: Leathers or kevlars required...no MX gear!)
Coming on the heels of the successful 2003 Can-Am Championship in Quebec, the Canadian Nationals will allow riders to really stretch their legs on Welland's famous quarter mile.
For more information including a map to the track, log on to the Welland page on speedwaybikes.com or check out the contact names and numbers listed below:
Welland Speedway
603 Netherby Road
Welland, Ontario L3B 5N7
Contacts
Fred Legault: (905) 227-5776
Jamie Schooley: (905) 685-0225
Wes Pierce: (905) 835-2754
Jack Doan: (905) 835-2937
Clubhouse (905) 734-7058 (Wednesday night after 8:00 PM and event nights) ACCOMMODATIONS<
Ramada Inn Welland
1030 Niagara Street, Welland, Ontario
Toll-free: (888) 298-2054
(905) 735-6666
---
Huge Crowds, Great Weather as Estelle Wins 2003 Can-Am Championship
(July 1, 2003) The story line for East Coast speedway fans so far this summer can be summed up in one word: rain. Amazingly, in late June the heavens finally cleared and the 2003 Can-Am Speedway Championship at St. Alex Speedway in St.-Alexis-des-Monts, Quebec on June 28, was run under perfect conditions. The event was Round Two of the Northeast Speedway Racing Association's East Coast
Speedway Series, and the good weather was a welcome sight after Round One in North Carolina was cut short due to rain.
The Can-Am Championship attracted a top-quality field of riders that included former U.S. speedway champion Kelly Moran; 2003 Under-21 contender Kyle Legault; New York top gun Craig Estelle, and former indoor I.C.E. champ and crowd favorite Nick Fafard. While the competitors were top notch, the most impressive aspect of the event was the knowledgeable and passionate crowd; paid attendance was well over 1,200 thanks to the efforts of track owner-promoter Michel LeMay.
The St. Alex track is a compact bullring with tight corners, and early heat action saw a number of riders experiencing difficulties adapting to the technical nature of the strip. Fafard put his years riding on hockey rinks on the indoor I.C.E. circuit to good use and emerged as the points leader heading into the main, followed by Estelle, Legault and Jeremy Parsons. Although Moran so far has raced well on the East Coast in his comeback, at St. Alex he appeared to dislike the surface and was never in contention to make the main.
The Division One main was an all-star affair, with the crowd imploring local boy Fafard to deliver the win. A first turn fall by Kyle Legault put him on the 10-yard line for the restart, with Estelle grabbing the holeshot. Fafard was in hot pursuit, desperately seeking drive only inches off Estelle's rear wheel. At the checkered flag, it was Estelle, Fafard and Legault, with Parsons falling in the late going.
Division Two action was highlighted by the rising star of East Coast speedway, Mikey Buman, who both met a determined foe in Canada's "Big John" Perry. In the Division Two main event, a rider hooked up wildly at the start, allowing Perry to nail the holeshot. Buman pressured Perry intensely, but "Big John's" flat track technique through the turns shut off the inside line. At the flag it was Perry, Buman and Quebec's Jacques Gagner.
RESULTS
D-1 Main: 1. Craig Estelle; 2. Nick Fafard; 3. Kyle Legault; 4. Jeremy Parsons.
D-1 Consi: 1. Brian Hollenbeck; 2. Aaron Hesmer; 3. Gary Hesmer; 4. Michel LeMay.
D-2 Main: 1. John Perry; 3. Mike Buman; 4. Jacques Gagner.
D-2 Consi: 1. Jocelyn LeSieur; 2. Philip LeMay; 3. Lee Charland; 4. Shawn Morrison.
ADDITIONAL ST. ALEX REPORTING BY TIM MATHEWSON OF THE NSRA...
Many thanks to Michel LeMay for putting on an excellent event. Other than some loose ends organizationally and a rather "technical" track early on, the 2003 Can-Am Speedway championship went off without a hitch. Estimates put the crowd at 1,500 people. There were 23 speedway riders, 13 quads and at least 5 pee-wee riders. A total of 41 events were run and the event was finished at 10:30 pm.
Many thanks to Duncan Luke of the Canadian Speedway Racing Association for being prepared at all times. The "minor" detail that the NSRA would be setting up the program got lost in the organizational details of the event. Blame it on the language barrier. Duncan informed us about an hour and a half before race time that he usually sets up the St. Alex program and wondered if we would be doing it as part of the ECSS -- a detail that we were unaware of. Luckily, Duncan had his format sheets with him and we simply sat down and plugged in the riders' names.
Any time the phrase "hacked out of a pine forest" is used to describe a racing venue, you know a lot of effort and love went into it. Most of the lumber that went into building the crash walls and grandstands was actually trees that were cut when clearing for the track. Anyone who thinks location is the key to drawing a good crowd should check out this venue. If the crowd were much bigger, the forest would have to be pushed back another hundred meters to make more room. For anyone who has never had the opportunity to attend this event, I would like to suggest that you plan to attend next year. If you want an example of the kind of hard work and love that will save the sport, all you have to do is look at the St. Alex facility.
Thanks again and congratulations to everyone associated with the event, with special thanks to all of the riders who made the 8-9 hour trip. The ECSS point standings will be updated ASAP. --Tim M.
---
Craig Estelle added another "road win" to his resume.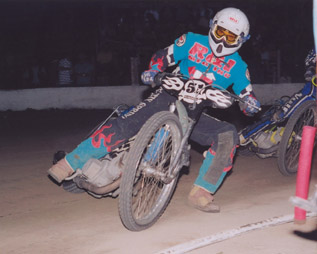 Kyle Legault, Canadian star on the rise.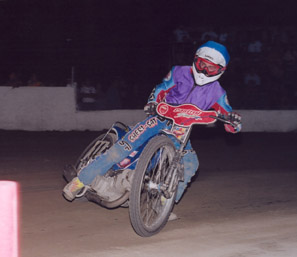 Kelly Moran, the Comeback Kid, kept it rolling in Quebec.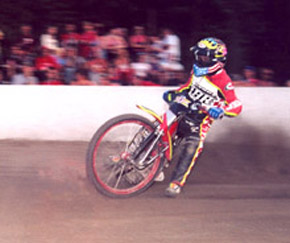 ---
Sephton in Omar Lightner Cup Winner's Circle
(July 1, 2003) Sunday, June 22 saw the annual running of the Omar Lightner Cup at Champion Speedway. The prestigious event is the equivalent of Southern California's Jack Milne Cup and honors the memory of former track worker and Vestal, NY police officer, Omar Lightner.
The program is always a scratch championship featuring four rounds of heat racing with the top two points scorers transferring directly to the Main. The next 8 in points go to the semis with the semi winners ending up in the Main and 2nd and 3rd transferring to the Last Chance race. The Last Chance victor rounds out the Final.
After suffering mechanical problems in both events so far this season, East Coast Points Champion Tommy "The Gator" Sephton returned to form and went undefeated all night to lay claim to The Omar Lightner Cup for the third year in a row! The JBR-Silent Sport-Southern Tier Insulations-Sliderz Bar & Grill-sponsored Sephton was absolutely impeccable as he won from start to finish and from all different gates in his races.
Sephton and "Mean" Gene Bonsignore top scored after the heat rounds and transferred directly to the final. The Budweiser- Silent Sport-NJK Leathers-Progressive Suspension-mounted Bonsignore scored a second in his first race followed by three heat wins to earn his berth. It was a strong showing for Bonsignore who turned 55 years the next morning.
In the semis, Poorman's Trucking-FTW Racing's Cam "The Kid" Rafferty scored a win along with "The Dark Horse", Jeremy Parsons. Parsons is one rider who deserves some praise, as he has been making some great starts and is beating some big name riders regularly.
The last chance was won by George Lazor who has really rolled back the years and looks so smooth. Lazor and Kelly Moran again had a spectacular race with Moran pulling an awesome crossed-up wheelie across the finish line in an effort to catch Lazor earlier.
The Main event was all Tommy Sephton as he made a "Gator" start from gate four and never looked back. As he was presented with the trophy by Omar's wife Connie, he joked that he has to keep the trophy because it is his! It was fitting, as Sephton was around in the early days and was a friend of the Lightners.
Main Event
1. Tommy Sephton
2. Cam Rafferty
3. Gene Bonsignore
4. George Lazor
5. Jeremy Parsons
The Support A win went to all-round good guy Bob "Badger" Bruzek who earlier in the night had sponsored the Junior and PW 50 divisions with trophies and along with JBR presenting Gumball machines, the kids had their own Gumball Championship.
Support A
1. Bob Bruzek (0)
2. Merle Craven (50)
3. Mikey Buman (20)
4. Mike Rought (20)
5. Marc Gauthier (50)
6. Casey Donholt (40)
In The Support B Main, it was great to see that all 6 riders were brand new to the sport. James Rogers, who is showing great promise, won with a strong showing.
Support B
1. James Rogers (0)
2. Rick Dehart (0)
3. Mike Gillette (20)
4. Andy "Moto Boy" Pandich (0)
5. Shawn Engel (0)
6. Jeff Romig (0)
PW 50
1. Brock Post / Brandon Bruzek
Junior
1. Corey Brookes
2. Katelyn Davis
Quad AM
1. Charlie Johnston
Quad Pro
1. Ed Riley
---
Can-Am Championship Set for June 28; Will Be Round 2 of East Coast Speedway Series
(June 18, 2003) Round Two of the 2003 East Coast Speedway Series will be contested on Saturday, June 28 at St. Alex Speedway, just outside St.-Alexis-des-Monts, Quebec. The event will be the '03 Can-Am Speedway Championship and track owner-promoter Michel LeMay is offering a purse of Can$4,500 -- equivalent to about $2,500 U.S. dollars. No CMA license is required and sign up is at 3:00 pm.
THERE IS NO SPEEDWAY RACING SCHEDULED AT ANY TRACK IN NEW YORK ON JUNE 28!
In the past years, this event has drawn huge crowds (in excess of 1,000 spectators) since it is part of the annual speckled trout fishing festival held every year in St.-Alexis-des-Monts. Thousands of Canadians make the trek to St. Alexis and many of them are motorcyclists out for a tour, so a speedway show fits perfectly into their Saturday evening plans.
A note to U.S. riders planning to participate: If you don't have a passport, bring a copy of your birth certificate and valid driver's license with photo. This will be necessary for the border crossing.
Directions: Take NY Thruway I-87 to Montreal. From Montreal, take Route 40 EAST up to Louiseville (exit 166). In Louiseville, at third light, turn left, go about 10 miles to town of St. Paulin. At the stop, turn left to St. Alexis-des-Monts (6 miles). Pass in front of the church and lake (towards Parc Mastigouche direction). In 4 miles, look for the St. Alex Speedway sign.
For more information: Call Michel LeMay at (819) 265-2238, or "Ti Guy" at (450) 836-7870. E-mail Michel LeMay at stalexspeedway25@yahoo.ca. More info and photos of the track are also available at www.speedwaybikes.com/tracks/alexis.htm
Don't miss the major event in front of what could potentially be the biggest crowd this year on the East Coast!
---
Burge is Big at Champion's June 8 Event
(June 18, 2003) 1987 U.S. Open Speedway Champion Tommy Burge made a triumphant return to the winner's circle on June 8 at Champion Speedway in Owego, NY. The Southern Tier Harley-Poormans Trucking-FTW Racing sponsored Burge made a great gate and lead the Scratch Main from start to finish. Burge, who has been one of the East Coast's top riders for years, was a popular choice with the fans. East Coast 2002 Points Champion Tommy Sephton held second place for 3 laps until his bike quit, allowing 2003 U.S. Open Champ Cam Rafferty and Smith Racing's Jerry Harman, Jr. to move up into 3rd and 4th, respectively.
Two-time U.S. National Champion Kelly Moran suffered bad luck in his Scratch semi. After bumping into Rafferty and being penalized, Moran was trying to make up ground when two bolts fell out of his front end, causing him to abort the mission. In the Last Chance, he made a bad start but passed everyone but the leader to wind up second. A fall on the slick part of the track while coming from the 70-yard line ended his Handicap hopes in the semi.
The Handicap Main was dominated by "The Flying Frenchman" Nick Fafard of Quebec. Fafard came off the 60-yard line and made several nice passes to get the win. The former U.S. I.C.E. Champion also pumped up the crowd with an awesome wheelie display after the victory. Fafard is one of several Canadians, along with Gary Hesmer, who have made the effort to travel to race at Action Park and Champion Speedway and it has paid off for him. He has improved greatly the last several years.
Tom Burge rode a smart Handicap Main and put himself into second while Cam Rafferty made up ground to snatch third followed by a good match between Joel "The Bull" Parsons and his older brother Jeremy "Dark Horse" Parsons for fourth and fifth. Poorman's Trucking's Chris Strong rounded out the field.
The Support A Main Event was one by Mike Buman, Jr. and the crowd and those who were in the pits couldn't have been happier. Mikey is a great kid who along with his pit man dad, are two of the nicest guys you'll meet. Mikey won the all scratch format on a 250cc junior bike. Casey Donholt who continues to improve each week, grabbed second followed by Bob "Badger" Bruzek.
Holden's Disposal-sponsored Mike Gillette made it two for two with a win in the all scratch Support B program.
Quite a few names were missing on this race night including George Lazor, Dave Oakden and Gene Bonsignore. Lots of guys had vacations, injuries or work commitments. The good news is the program was quite full and most of those guys will be racing this weekend. 1985 U.S. Open Champion Bruce "Mongoose" Nelson was in attendance and it looks like
---
Wisconsin's Greg Comstock Takes "Crystal Helmet" Veteran Title in Slovakia
(June 4, 2003) Wisconsin speedway campaigner Greg Comstock recently checked in with the following impressive race report:
"I'm sure you have heard of the Golden Helmet events in Europe -- those are for the young guys. The Veteran speedway riders get a crystal helmet with gold inside. I've just returned from this Veteran event in Jarnovica, Slovakia with the helmet in hand -- actually both hands -- it's quite heavy!
I am the first American to win the event. The final was exciting; Laszlo and I were side by side for the first lap and a half with me on the outside. I finally got ahead of him and pulled away some. On the last lap in turn 3, my bike started to slow and got worse as we approached the line. I pulled the cord in turn 1 after the finish, thinking I had a blown motor but discovered the rear tire was absolutely flat."
Check out the photos below, and for more information on this Veteran championship event, check out the host club's web site at www.speedway.sk.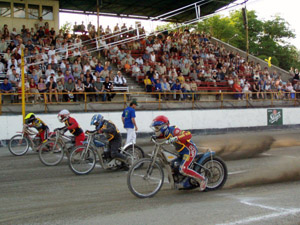 Greg Comstock lined up in Gate Number 4 in the Crystal Helmet "A" final.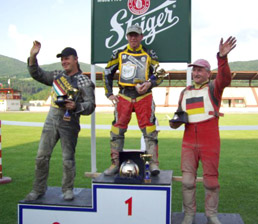 Comstock on top of the podium in Slovakia.
---
Action Park and Square Deal Rained Out; Champion Opener to Rafferty
(June 1, 2003) While the New York speedway season got off to a rainy start, with Action Park's May 24 Opener and Square Deal Raceway's May 31 debut rained out, The East Coast Spring Classic at Champion Speedway on Sunday May 25 went off well, with Cam Rafferty winning the event and taking home the inaugural Patrick Ahlund Memorial Trophy as the overall champion.
The Champion racing surface was in immaculate condition, probably the smoothest track ever at the Owego, NY oval. Unfortunately, with all of the rain over the May 24-25 weekend and wheel packing, the surface was quite slick, making for limited outside passing. It was amazing, though, that the track was as super-smooth as it was with over 110 tons of fresh dirt being laid down only 6 days earlier. Many thanks go to track man Russ Cornell for a job well done!
The event started and concluded in a timely fashion and the racing was quite good. Many new riders were on track and many of last season's riders have shown big improvement.
Although he didn't reach the Main event, "King" Kelly Moran made a successful comeback to speedway after an 11-year layoff. Moran -- wearing new NJK leathers reminiscent of his famed "STP suits" -- won his first 3 races in convincing fashion hanging off the bike and looking like he didn't break a sweat. The JBR-Gene the Machine-Arai-Kelly Inman Race Paint-sponsored Moran caught traction in his fourth heat and looped the bike, costing him his chance to transfer directly to the Main as the evening's top point scorer. In his semi, Moran was surprised by a rejuvenated George "Lazor Beam" Lazor. Lazor was spectacular on the night, winning against Moran and also scoring a heat win over Cam Rafferty. Lazor is back and looking to continue his run as one of the East's all-time greats! Moran had one more opportunity to transfer to the final but was outgated in the Last Chance by Gene Bonsignore, who was in gate four, and softly fell down in the first turn. Although it would have been great to see Kelly in the final, it was quite apparent to all who watched that he is back in a big way and hasn't lost a step. It was unbelievable how good he looked after 11 years off and I would go as far to say that if he was on a Costa Mesa track with some dirt, you would have guessed it was 1984. He will be a threat when he returns for the fall races in California.
The other semi-final saw the ageless "Mean Gene" Bonsignore leading Tom Burge and Jeremy Parsons for 3 laps and on the final turn Burge made a nice pass to get a spot in the Main. Parsons won the last chance making it Rafferty, Tom "The Gator" Sephton, Burge, Parsons and Lazor in the Main. They finished in that order.
Casey Donholt put in a great ride to win his first Division Two (Support A) Main and newcomer Mike Gillette won his first Division Three (Support B) Main on his first night of speedway racing!
2002 New York State Quad Champion Chris Knolles took home top honors in the Quad Division.
-- report by Jason Bonsignore
---
Chrisco, Barlow Star on Indy Opening Night
(June 1, 2003)Saturday May 24 saw near-perfect weather for our opening event in Indy. As always, we need to thank our sponsors for making this all possible--Steel Horse / UPN Indiana and Pedigo Chevrolet on this particular night.
This meeting attracted several Michigan flat track riders who also run speedway. In Division One, Russ Crawford had great rides all night until a run-in with the wall in turn 2 left him unable to continue. In addition, we had the first appearance of Anthony Barlow (3-time I.C.E. Champion) who had impressive rides all night. The D-1 main event saw Keith Chrisco in gate 1 with a perfect score all night, followed by Barlow, Michigan's Steven Glaslow, Joey Brock and Morgan Hedrick. As the tapes went up, it was a Chrisco show all the way, followed by Barlow, Glaslow, Hedrick and Brock. Considering this was Barlow's first race on Indiana dirt, we expect him to improve dramatically in the next few races as he gets adjusted to the new facility.
The Division Two main was won by trials rider-turned-speedway racer Eric Miller, followed by Dave Weicht, returning Lawrenceburg rider Joe Gray, Dan Crawford and Lee Bailey.
Division Three proved a great race, as all the riders shared one common factor: their first night of speedway racing ever! Jim Terchila won cleanly followed by Roger Luckhardt, Bob Smith, Chris Hathaway and Mike Smith.
All in all, a great opening night in Indy...leaving everyone looking forward to the June 7 Flat Top's & Willie's Patio night event.
Thanks for everyone's support,
Jon Ard
Indianapolis International Speedway
---
Indy Star Keith Chrisco Returns for '03 Campaign
(May 21, 2003) Good news for Midwest speedway fans: Keith Chrisco will return to speedway action at Indianapolis International Speedway for the 2003 season, riding a Team JKR Jawa.
According to Team JKR principal James Kitasaki, Team JKR has just brought Simpson Race Products on board as a product sponsor. Along with Simpson, Team JKR sponsors include Frank Weiss Racing Components, manufacturers of components for NASCAR and IRL teams (and lately Harley and speedway bike exhausts in stainless and inconel for street and racing), as well as Kenny's Components, manufacturers of carbon fiber racing components for NASCAR and the IRL, who are now offering carbon fenders and wheel disks for speedway bikes. (Don't forget to check out the new Kenny's Components Web site.)
The crew remains the same as it was in 2002, with Jim Kitasaki, Jimmy Pinkley, and Bob Murden spinning wrenches.
Team JKR would like to thank all of Keith's sponsors and fans for their support last year and look forward to a successful 2003 season.
---
Indianapolis Gearing Up for 2003 Season
(May 21, 2003)Coming on the heels of a breakout 2002 season, Indianapolis promoter Jon Ard has been working overtime to prepare Indianapolis International Speedway for an even bigger and better session in 2003. Following is 2003 schedule information for Indianapolis:
May 24
PEDIGO CHEVROLET NIGHT
June 7
FLAT TOP'S & WILLIES PATIO NIGHT
June 21
BLOOMINGTON H-D NIGHT
July 12
SPEED CITY CYCLE NIGHT *
July 26
REEVES CYCLE NIGHT **
August 2
INDY CYCLE & SKI NIGHT
August 16
SOUTHSIDE HD & BUELL
August 30
NATIONAL SPEEDWAY ALLIANCE NIGHT
September 13
DYRER MOTORSPORTS NIGHT
September 27
2003 MID-AMERICA SPEEDWAY SHOOTOUT *** Greenwood Honda/Kawasaki Night
October 11
UNITED SPORT BIKE ASSOCIATION NIGHT
* (Intermission: OUTLAW SCOOTER RACE)
** (Intermission: STREET BIKE RACE)
*** Non-points race, SPEEDWAY ONLY
Pit gates open at 4:00 pm; all riders must be registered by 6:00 pm (NO EXCEPTIONS!)
Spectator gates open at 5:00 pm; Racing starts at 7:00 pm sharp...most events will be over by 10:00 pm.
Call: (317) 545-1239 for track closings, etc, due to weather. Rain dates will be in October.
FREE PARKING, GENERAL ADMISSION
Adults: $8.00
Children (7-15): $4.00
Children 6 and under: Free!
Pit Pass: $12.00
---
Round One of ECSS Does Rain Dance in North Carolina
(May 11, 2003) In speedway racing (as in life), sometimes even the best-laid plans can be sabotaged by Mother Nature. That was the case on May 3 as Round One of the 2003 East Coast Speedway Series (ECSS) kicked off at Hammerdown Speedway in Red Springs, NC.
The ECSS was developed by the Northeast Speedway Racing Association (NSRA) to bring speedway to a wider audience on the East Coast. Having hosted the 2001 Mid-Atlantic Speedway Championship, the 1/5-mile Hammerdown oval was a logical venue at which to launch the new series -- that is, until North Carolina's fickle spring weather was factored into the equation. Torrential downpours plagued the event, and only a lucky break in the weather and hard work by local promoter James Berry and his support crew from the NSRA and presenting sponsor Cape Fear Harley-Davidson allowed for an abbreviated 11-heat program to be run.
Despite the uncooperative weather, a high-quality field of riders was in attendance. Former Grand National flat track campaigner Craig Estelle, indoor I.C.E. speedway champ Ronny Kemp and 2003 I.C.E. Rookie of the Year Chris Strong were among the 20-plus riders looking to score points in the ECSS.
Two of the standout performer of the evening, however, was the competitor barely into junior high school New York's Mikey Buman were on the gas and absolutely fearless as they tackled the elders on the slippery Hammerdown strip. Buman has a maturity in the saddle beyond his years, and both have benefited from racing on the high-speed Square Deal Riders quarter-mile track in Harpursville, New York.
Organizers had hoped to run three rounds of racing, but were only able to complete two Division One rounds and one Division Two round. After a second wave of downpours forced the organizers to call off the rest of the racing, Estelle and Kemp were the top Division One competitors based on their point totals at that stage of the evening.
Round Two of the ECSS will be contested at St. Alex Speedway in St. Alexis-des-Monts, Quebec on June 28.
RESULTS
Division One
1. Craig Estelle; Ronny Kemp (6 points)
2. Jerry Harman, Jr.(5 points)
3. Eric Sherwood; Chris Strong (4 points)
4. Lee Bailey; Alex Heath; Brian Hollenbeck (3 points)
5. Josh Carr; Marc Gauthier; Jeremy Parsons, Morgan Hedrick (2 points)
6. Mike Buman (1 point)
7. Merle Craven (0 points)
Division Two
1. Mikey Buman; Rick DeHart (6 points)
2. Mike Williams; Chris Smith (4 points)
3. Dave Richards; Robert Lewis (3 points)
---
Kelly Moran Will Return to Competition This Summer
(April 23, 2003)Jason Bonsignore Racing (JBR) has announced that former three-time World Number Four, World Team Cup Champion and two-time U.S. National Champion Kelly Moran will be making his return to speedway this summer.
Moran rode 13 seasons in the British League and was rated as the 38th best rider of all-time by Speedway Star magazine. He will be relocating to Rochester, NY in May and will be racing the majority of the season at Action Park East in Greene, NY and Champion Speedway in Owego, NY. Moran will also be conducting a series of training schools.
Californian speedway fans of "The Jellyman" should get a chance to see him as well, since Moran intends to return to California for several big events.
Moran, who has not ridden since 1992 with Swindon, will start his comeback May 24 at The East Coast Spring Classic (Round One) at Action Park.
JBR principal Jason Bonsignore stated, "Both Kelly and JBR would like to thank all of those who are assisting us in making this possible. We are still seeking additional sponsor support for Kelly's 2003 comeback. We welcome any other potential supporters or well-wishers. Contact us at the following address."
Kelly Moran
c/o Jason Bonsignore (manager)
2152 Edgemere Drive
Rochester, NY 14612
(585) 723-9746
JBR also advises fans to watch for a full release of its 2003 East Coast speedway schedule in the next week or so.
---
New East Coast Speedway Series Will Launch This May
(April 2, 2003)The 2003 East Coast Speedway Series (ECSS) is scheduled to debut May 3, 2003 with its inaugural event slated for Hammerdown Speedway in Red Springs, North Carolina. (see following item)
The ECSS has been developed by the Northeast Speedway Racing Association (NSRA) to bring speedway racing to a wider audience on the East Coast and Canada. According to the NSRA, the goals of the ECSS are:
Increase the popularity of speedway over a wider geographical region
Enhance value to speedway sponsors by offering a widely-distributed, high-quality series
Better utilize the existing rider base on the East Coast, Midwest and Canada
Reward the dedication and effort of traveling speedway riders
Give every participating venue/promoter a "National" caliber event.
The following races have been set as Series events:
Hammerdown Speedway, Red Springs, NC - May 3
St. Alex Speedway, St-Alexis-des-Monts, Quebec - June 28 (2003 Can-Am Speedway Championship)
Welland Motorcycle Club, Welland, Ontario - July 26
Square Deal Riders, Harpursville, NY - August 16
Hammerdown Speedway, Red Springs, NC - October 4
The NSRA has announced a $2,000 points fund for the 2003 series, with $1,000 already committed by sponsors. In addition, NSRA will provide logistical and promotional support for participating tracks. The NSRA also provides promoters with mailings to riders and fans, with pre-race publicity, and with coverage in Cycle News of all Series races. Updated Series scores and news will be posted.
Registration: To participate in the Series, riders can register at any Series event. No fee is required. To be listed in the Series program, riders should complete a Series info and registration form. Riders will be asked to fill out the standard liability waiver at each Series event. Series riders will also be required to pay the standard entry fee each individual event.
Scoring: The same number of Series points will be awarded at every Series event based on the rider's final standing at the end of the event, using the following 32-rider format as a rough guideline:
Division I:
100-95-90-85-80-75-70-65-60-55-50-45-40-35-30-25
Division II:
24-21-18-16-14-12-11-9-8-7-6-5-4-3-2-1
Divisions: Participating Series promoters and/or the NSRA will make a determination of a rider's Division level as necessary.
Discard Rule: Each rider will be allowed to "discard" his results from one round of the Series, enabling a rider to throw out their worst score and thereby miss one event due to long-distance travel considerations.
For more information on the 2003 East Coast Speedway Series, call the NSRA at (607) 687-6345.
---
North Carolina's Hammerdown Speedway Will Host ECSS Round One
(April 2, 2003) The Northeast Speedway Racing Association (NSRA) has announced that plans for speedway's return to North Carolina have been finalized. The first annual North Carolina Spring Fling will take place at Hammerdown Speedway on Saturday, May 3 in Red Springs, NC. The race will be Round One of the new East Coast Speedway Series.
This event will be sponsored in part by Cape Fear Harley-Davidson, Berry's Landscaping, Dennis Thurlow Racing and Hammerdown Speedway. There is a guaranteed $2,200 Division One purse. The support class will be offered a $300 purse. There will be a $25 pre-entry fee. (This fee will be returned riders day of the event at sign-up.) Anyone who chooses not to pre-enter will pay a $25 sign-up fee at the track. Please note: All riders and pit people will be asked to pay admission.
This will not be an AMA sanctioned event, but AMA rules will be used. The event will be staffed and scored by the Northeast Speedway Racing Assn. A five-round, scratch format scored 3-2-1-0 for both divisions will be used. Heat totals will determine places in one of four main events. Payout will be determined by finishing order in the main events.
(Contact the NSRA at (607) 687-6345 for purse payout and race format details).
The number of support class entries will determine the support class purse breakdown and number of support main events.
Hammerdown Speedway is a nice, safe, 1/5 mile track with a clay-sand surface (see photos below). The facility has bathrooms, lights, and power supply poles in the pits. The track will be available for practice Friday evening. Camping is allowed at the track and local promoter James Berry is also working on a block of discounted motel rooms.
This event is being held in conjunction with Cape Fear Harley-Davidson's annual Spring Open House. A number of people are working on additional sponsorship and contingencies in North Carolina. Additional details will be available at the event. The local Red Springs community has shown a lot of interest in supporting speedway and there is a good chance that this event will become an annual fixture for East Coast speedway and will continue to grow.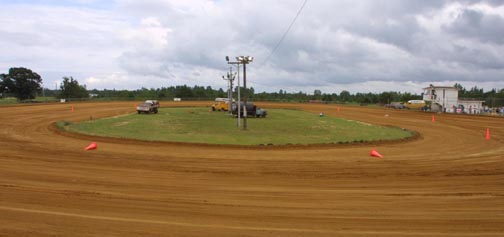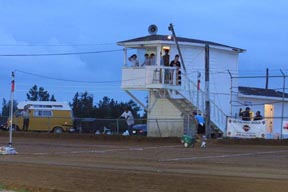 ---
Hamill and Cook Go Prime Time at Daytona Short Track, 2003
(March 23, 2003)International speedway stars Billy Hamill and John Cook put on a successful speedway demo at Daytona's Municipal Stadium before the 2003 Daytona Short Track race.
Speedway rider Ronny Kemp of North Carolina provided the bike for Hamill and reports that NASCAR technical chief Gary Nelson (who is a strong speedway supporter) provided Cook's machine.
Kemp characterized the demo as "very successful", especially considering the waterlogged and rutted track conditions. In addition, a TV announcer asked the short track crowd if they wanted a speedway event at Bike Week, 2004 and "they went NUTS!"
Thanks again to Billy Hamill (shown below), John Cook (bottom), Ronny Kemp, and Steve Peterson for taking the time and making the effort to put speedway "center stage" in one of the world's most visible motorcycle events.
Photos by Dave Hoenig / Flat Track Fotos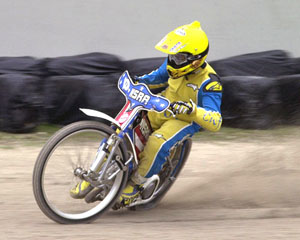 ---
New York's Chris Strong Honored as 2003 I.C.E. Rookie of the Year
(March 2, 2003)Congratulations go out to Binghamton, New York's Chris Strong, who finished third at the indoor I.C.E. event in Trenton, NJ on February 21, 2003. This was Strong's second podium finish in the 2003 series, having nailed third place in day one of the I.C.E. tour's two-day stop in Johnstown, PA.
Sponsored by Team Poorman's Trucking and FTW Racing, Strong competed in only three rounds of the six-round 2003 I.C.E. series, but his excellent performances earned him 2003 I.C.E. Rookie of the Year honors.
According to Team Poorman's Trucking, the 15-year-old Strong is the youngest rider ever to compete in an I.C.E. World Cup event.
---
Results from 2003 Quebec Outdoor Ice Speedway Series
(March 2, 2003)The 2003 Quebec Ice Speedway Championship Series was a success, thanks to the efforts of Michel LeMay and his brother Phillip.
Quebec's top gun Nick Fafard was the Division One Champion.
Our thanks to Gaetan Garignan for providing these results.
ROUND ONE (at St. Come, Quebec; February 2, 2003)
Division One
1. Nick Fafard
2. Michel LeMay
Michel "Electric Man" LeMay was on his game and fast Round One, winning his first two heats over Fafard. In the Division One final, however, Fafard was the winner in a very close one.
Division Two
1. Phillip LeMay
2. Jocelyn Lesieur
3. Jessy Carignan
ROUND TWO (at St. Zenon, Quebec; February 8, 2003)
Division One
1. Nick Fafard
2. Michel LeMay
3. Gary Hesmer
4. Martin Lefevre
5. Gaetan Carignan
Division Two
1. Phillip Lemay
2. Jocelyn Lesieur
3. Maxim Legault
Division Three
1. Jacques Gagne
2. Jessy Carignan
ROUND THREE (St. Alexis des Monts, Quebec; February 22, 2003)
Division One
1. Nick Fafard
Division Three
1. Jessy Carignan
Rider Phil Small posted this positive report about Round Three:
"The St. Alexis meeting was unbelievable with a huge spectator and rider turnout. Full credit should go to Michel Lemay for making this a great success. For those of you riders who haven't tried this yet, don't miss out on at least giving it a go. Get up there next year and make it bigger than ever!" Phil Small #21
---
Rafferty Takes Third at Syracuse Indoor I.C.E.
(February 2, 2003)It may have been 10 degrees outside the Onondaga County War Memorial in Syracuse, New York on Thursday evening, January 30 but the racing inside was hot and intense.
Local New York riders including 2002 U.S. Open champion Cam Rafferty; FTW Racing's Tom Burge; Poorman's Trucking Chris Strong and FTW Racing's Dave Oakden made the journey to Syracuse to compete against the I.C.E. touring pros in the third installment of the seven-round series.
Rafferty, riding a stock Jawa supplied by Rick Dehart's FTW Racing and tuned by Team 427, won his first and second heats while finishing third in his last heat, earning him enough points to transfer directly to the main and a front-row start alongside Anthony "The British Bulldog" Barlow from Merseyside, England and James "Manny" Mann from Bolton, England.
While mechanical gremlins kept former I.C.E. champion Tom Burge pit side for the Last Chance Qualifier race, Dave Oakden and Chris Strong made the call to the tapes. Oakden, who looked to have finished in a transfer position, was disqualified after the race for contact with another rider in what could have been considered a questionable call. Strong moved into the last spot available to transfer to the main.
The six-lap main found Barlow, Mann and Rafferty pull away from the field at the tapes. Mann set up Barlow for a pass through turns 1 and 2 of the second lap, and the finishing order stayed the same, as current world I. C. E. points leader Mann captured the win, while three-time world and current 2002 defending I.C.E. champion Anthony Barlow settled for second. Representing the United States, the AMA/SDR Raceway 2002 track champion Cam Rafferty (competing in his first ever indoor I.C.E. race) took the last podium spot of third place.
Congratulations to all the riders who participated in this event. (Our thoughts and prayers are with Carl Belfield and his family from England. Carl severely broke his leg in the first heat of the evening's program. Our best wishes for a speedy recovery.)
We would like to thank the following people; without their help, this would not have been possible or such a success!
Rick Dehart's FTW Racing
Bruce & Connie Strong's Poorman's Trucking
Kelvin Herrala
Four-Time World ICE Champion Charlie Venegas
Bill Cody / Cody Racing
Chuck Barnes
Matt Skinner
Our Sincerest Thanks,
Team 427
Cam Rafferty
Mike Doty
Dave Rafferty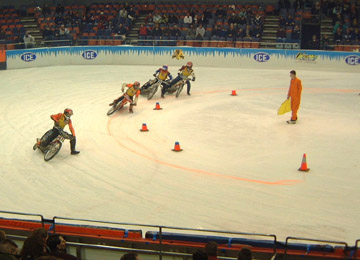 ABOVE: Cam Rafferty in the lead in early heat action at the Jan. 30 indoor I.C.E. race in Syracuse, NY. ( photo courtesy of I.C.E.)
---
Square Deal Riders Announces 2003 Speedway Schedule
(January 9, 2003)The following are Square Deal Riders' AMA sanctioned race dates for 2003:
SPEEDWAY - May 31, June 14, July 19, August 2, August 16, and September 20.
DIRT TRACK - May 10, June 7, July 12, August 9, September 13, and September 27.
The following events do not start from the club grounds, but are promoted by SDR:
TWO-HOUR HARE SCRAMBLES - June 29 and October 12
POKER RUN - May 4
you can e-mail me at craig@estelleracing.com for more information.
Thanks, Craig Estelle
---
I.C.E., Quebec and Colorado Series Launch Ice Speedway Season, 2003
(December 8, 2002)The ice racing season is upon us and the schedule offers plenty of action for fans and racers alike.
Gary Densford's indoor I.C.E. tour will be kicking off its 27th season on December 26, 2002 in Greensboro, NC. New York fans will also have a chance to catch the I.C.E. action in 2003, as the tour makes a stop in Syracuse on January 30.
The outdoor ice speedway offerings also look good, with the four-race Quebec Championship getting underway in February, 2003 and the venerable Colorado State Ice Speedway Series - organized by Harry's Roamers MC - launching on January 5 and running for six weeks.
Below is schedule and contact information for the I.C.E., Quebec and Colorado series.
2003 I.C.E. SERIES
OPENING ROUND
Location: Greensboro Coliseum, 1921 W. Lee St., Greensboro, NC
Event Date: December 26, 2002 8PM
Tickets On Sale: Nov. 16th
Tickets Available At: Coliseum Box Office & Tickets.com
Ticket Info/Order By Phone: (336) 852-1100
Ticket Order On Web: www.greensborocoliseum.com or www.tickets.com
Location: The Family Arena, 2002 Arena Parkway, St. Charles, MO
Event Date: December 28, 2002 8PM
Tickets On Sale Nov. 20th
Tickets Available At: Family Arena Box Office, Famous Barr, Streetside Records, Select Schmucks Stores, All Other Metrotix Locations
Ticket Info: (636) 896-4242
Ticket Order By Phone (314) 534-1111 Metrotix
Ticket Order On Web: www.metrotix.com or www.familyarena.com
Location: Midwest Wireless Civic Center, One Civic Center Plaza, Mankato, MN
Event Date: January 2-3, 2003 8PM
Tickets Available At: The Midwest Wireless Civic Center Box Office or at any Ticketmaster Location. To Purchase Tickets By Phone Call (507) 625-7919.
Location: War Memorial At Oncenter, 800 S. State St., Syracuse, NY
Event Date: January 30, 2003 7:30PM
Tickets Are On Sale
Tickets Available At: Oncenter Complex Box Office, Kaufmanns, Ticketmaster
Ticket Info: (315) 435-2121
Ticket Order By Phone: (315) 435-2121 or (315) 472-0700
Ticket Order On Web: www.oncenter.org or www.ticketmaster.com
Location: War Memorial Arena, Johnstown, PA
Event Date: February 14-15
CHAMPIONSHIP FINALE
Location: Centurytel Center, Bossier City, LA
Event Date: March 1
THE 2003 QUEBEC ICE RACING CHAMPIONSHIP
A four-race outdoor ice series for the Quebec Championship in February, 2003.
There will be a doubleheader on the first weekend of February, 2003 with the opening round scheduled for Trois Rivieres on the Saturday (February 1) and a second race at St. Come on Sunday, Feb. 2. The following weekend action moves to St. Zenon on the Saturday (Feb. 8) with the Sunday held open as a reserve date for the St. Come meeting in case the original has to be postponed for weather. Two weeks later the series ends with a race at St.-Alexis-des-Monts on Saturday, Feb. 22.
The speedway purse will be a minimum of $1,100 for each event with $25 travel money paid to the riders. The number of classes (D1 / D2 / D3) to be run will be determined by the number of competitors at each race.
For more information, contact Philip LeMay at speedwayman15@yahoo.com.
2003 COLORADO ICE RACING SERIES
Dates: January 5, January 12, January 19, February 2, February 9
Location: Rainbow Falls Park, Colorado. Ten miles east of Woodland Park, CO on Highway 67
Contact: Harry's Roamers MC or club member and ice racing coordinator Dave Ranum at (303) 798-3195.