Batavia Motor Speedway
Batavia, New York
Batavia Motor Speedway
Batavia, New York, USA
September 9, 2005
It took East Coast Speedway Legend, Tuff McBride only several weeks into a comeback from 11 year retirement to get back up to speed but it took him till the last two weeks of the season to capture Main Event wins again. After winning one of the four Main Event Finals at The US Open Championships in Owego, NY the weekend before, the 43 year old Windsor, NY resident won his first Scratch Main of the Season at Jason Bonsignore's New Batavia Motor Speedway.
The Scratch Semifinals began with McBride facing Mike Robinson, Adam Mittl and Pat Cliff. McBride got the gate and led while a great battle took place between Robinson and Mittl for second with Robinson winning over Mittl by inches. McBride stayed out front for the win while something spectacular took place at the back. As Pat Cliff came through turns 3 & 4 of the last lap his front end broke in half and separated from the machine causing Cliff to face plant hard onto the BMS surface. Luckily Cliff was uninjured much to the relief of the crowd.
Semifinal number two saw Gene Bonsignore, David Oakden, Andy Crawford and Jim Pierce line up. Bonsignore made a nice start with Oakden in second. Crawford, who had been promoted into the D-1 program when there was a last minute cancellation, got a break when Oakdens motor locked up. Crawford grabbed the last transfer spot to the Main while Pierce struggled with bike problems.
The Last Chance scratch race had everyone excited as it was bound to be an exciting race with Oakden and Mittl taking on each other along with Pierce and Robinson. Mittl was able to get past Oakden on the first lap along the outside and never relinquished his lead while Oakden searched for traction in second. Robinson passed Oakden in the end who edged out Pierce for third.
As the riders walked out for the Scratch Main it looked to be a battle between Bonsignore and McBride. Both veterans had a couple of good races with each other earlier in the night with both beating each other once each. Bonsignore may have had an advantage as he drew an inside gate on McBride but he got caught rolling backwards at the line when the tapes flew and McBride burst out into first seemingly determined to win on the last night of the season. Adam Mittl made an unexpectedly good push from the gate five position and chased hard for the lead while in second but was unable to catch the JBR, Justice Brothers, K&N, NGK sponsored McBride who thrilled the fans with several awesome victory wheelies! Bonsignore was third while Robinson and Crawford were fourth and fifth.
The Handicap Semis went off smoothly with Robinson scoring a win over Mittl, Oakden and Cliff in the first event.
Bonsignore was able to take the checkers in Semifinal Two over McBride, Crawford and Pierce.
Mike Robinson was looking to use his 30 yard handicap to his advantage in the Handicap Finale as three other riders were coming off higher marks with only one ahead of him and the sixth rider, Adam Mittl, unable to make the start due to mechanical gremlins. Robinson entered the first corner in second but quickly passed Pat Cliff for first while Bonsignore worked to get by Cliff into second from the 50 yard line. Going into lap two McBride who came from the 50 along with Oakden, had passed a couple riders and was now in third. Oakden was in fourth by lap three and as the freight train railed around the inside blue groove nobody was making any mistakes and the order remained unchanged. The Ricks Service sponsored Robinson, kept a smooth fast inside line going and took home the bacon with the Red Line, Regina Chains, Oury Grip, Progressive Suspension sponsored Bonsignore second, McBride third, Oakden fourth and Cliff fifth.
In the Support Division, 12 year old super-sensation, Corey Brookes, defeated a tough field of adults on his Gene The Machine, Allan Harmon, Amazing Glass JAWA 250.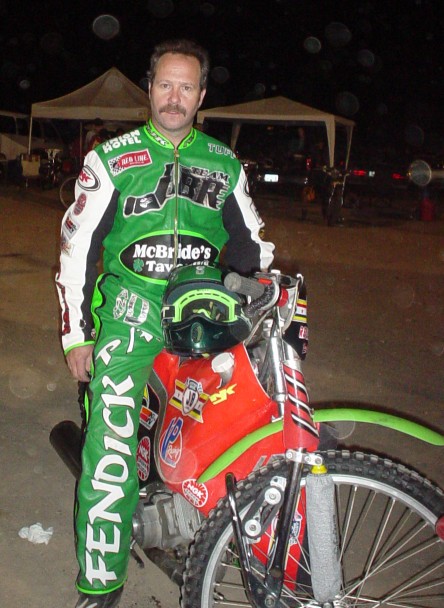 Tuff McBride
Larry McBride Photo
Scratch Main Event
1. Tuff McBride
2. Adam Mittl
3. Gene Bonsignore
4. Mike Robinson
5. Andy Crawford
Handicap Main
1. Mike Robinson
2. Gene Bonsignore
3.Tuff McBride
4.Dave Oakden
5. Pat Cliff
6. Adam Mittl - dns