Howie Oakden
December 9, 1952 - June 8, 2014
---
The Speedway Community has lost an irreplaceable friend ... #50 Howie "The Hammer" Oakden has passed after a long battle with cancer. Howie was a good division one rider in the 70's and 80's back here, an important part of the group from Rochester and Robinson Cycle Sales that brought speedway back to the East Coast in the mid 70's. He made a comeback in the late 90's when I got things going again and rode into the 2000's with his son, Dave, and even when Dave took a break up until last year, Howie could be seen many nights in the grandstands with his brother, Don, and family, enjoying and supporting his favorite sport! News of Howie having several forms of cancer came last year and while it would have been totally understandable if he were to be bitter and negative about it, that was the amazing thing about him ... he battled on and remained upbeat and positive to all of us! He spent the whole season last year supporting and enjoying the races as he watched Dave make a comeback and watched his Grandson, Dan, make him proud, while wearing his old leathers, and winning Division 2 at one of the first events last season! The drive to Owego for all of us from Rochester is nearly 3 hours, one way, and race nights are already a grind ... on the road, fast food, late night, little sleep and Howie did it while going through chemo treatment and I can only imagine how lousy he was feeling! Howie even was helping in the pits a couple nights! Howie never seemed to complain and always had a smile on his face. He was truly one of the nicest and most well-liked people in the sport! I always tell people how I loaned him a bike for a few weeks one year and got it back in nicer condition than I gave it to him and that is very rare! That was just the way he was! I remember as a little kid at the races, all the guys were good to me but there were a couple who I vividly remember as paying a little more attention to me, or having more interaction with, and Howie was one of them, along with George "Lazorbeam" Lazor, "Rowdy" Rick Stone, who used to let me spray him with a fire extinguisher!, and "Marvelous" Marv Decker, who used to talk to me on the road to the races on the old CB radios! It is strange the things you remember ... Howie was the one who told me Dale Earnhardt had been killed. We all knew the outcome for Howie was not good but you just always think or hope there will be a next time or one more time ... Howie texted me 3 weeks ago on Sunday, the day of our Spring Classic, to ask me what time the races were? I was swamped as usual, stressing to get ready, and said quickly 6pm. He shot me one back saying ok great, see you then! I replied ... awesome! I was surprised to hear he was coming because Dave and Dan could not even make it that night and Dave had told me Howie had not been feeling well, but then again knowing Howie's character and love for speedway, I was not really that surprised! I thought to myself, oh that is so cool Howie is coming down, can't wait to see him! I went through that whole evening never seeing Howie there and assumed he ended up not feeling up to coming ... I got a note from Don the next day saying what a great time they had at the races and how it was really good for Howie!! I was really bummed I never got to speak to him and am even more bummed now that I never saw him there that night but that was the way Howie was ... very humble and knowing him, he probably just thought I was too busy and didn't want to bother me! Don sent me a message yesterday saying there will be no services for Howie at Howie's request ... I am not sure, but am guessing knowing Howie that he just didn't want people to be sad or make a fuss over him or be bothered! He must have assumed he was an average person, when really, he wasn't! He was a pretty special guy!! Of all the criminals and low life people in this world you wonder why something like this has to happen to such a good person? Howie's family has already had their share of tragedy too, his sister lost in an accident years ago, his brother also lost to cancer young, but I guess the answer is the best are needed sooner for more important duty! I will miss my friend Howie, we all will! Even though we won't be able to speak to him, I will know every time I look over in the grandstands in the top of turn one, he will be standing there!
Jason Bonsignore - eastcoastspeedway@hotmail.com
---------------------------------
I would like to thank Jason Bonsignore for all he has done for our family in the last couple of weeks. First he wrote a mind-blowing story about our brother Howie, I've read it a hundred times and still can't believe how it captures who Howie was to a tee. I couldn't be prouder to have him as a brother!
Next he wanted to include a celebration of Howie's life in the program last Saturday. We had a large crowd who wanted to come down in the early afternoon to start the celebration and he made sure we all could get in the track before the gates normally open. We had a great before the race party to reminisce about Howie and all the fun times we had at the races over the last 35-40 years.
We thought Howie would get mentioned a few times throughout the night and that would be that. But Jason had other ideas and brought our whole group to the infield and again said a lot of very nice things about Howie and even presented our family a couple really nice plaques.
As is tradition at Champion there is always an after party also, and even after 2 day's with hardly any sleep, Jason still came up to our fire and spent time with all of us til 2-3 in the morning.
So again, Thanks for everything Jason, I'm glad you were my brothers friend.
Don Oakden
---------------------------------
So very sorry to hear this. All the best at this sad time to Dave and Don and the entire Oakden clan. I met Howie a few times back there and he and Don made it out to California for the Nationals a few years back. He was a fighter and fought this battle long and hard. Sad day for speedway in general and East Coast Speedway in particular.
Steve Graham - stephenagraham@hotmail.com
---------------------------------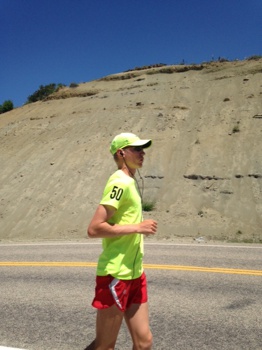 Frank Watsons son, Garth, is running across the Country for cancer
he sported a number 50 for Howie yesterday! (June 2014)
---------------------------------
Jason,
Thanks very much for keeping us informed. It's a dark, gloomy day here in Wakefield on account of this news. I was hoping to catch up with the Oakdens on our trip north this year, especially on the 28th. Could you please send me contact details for Don and Dave?
I remember back in the late 70's when Howie first started riding speedway Norm told me how much he liked Howie and having him around the speedway scene. Most of us that were trying to figure out how to ride those bikes had prior experience on flat track or MX or enduro or trials bikes or some mix of the above. I don't Howie did any other racing first. I can just picture him sitting in the stands saying: "that looks like fun. I want to have a go at that". There is no doubt in my mind that his presence was a valuable contribution to the sport. His cheerful attitude brought some new spirit and the fans seemed to sense it. The fans loved him.
See you on the 28th.
Thanks again, BR
Bob & Joyce Robinson - 7171br@gmail.com
---------------------------------
#50 RIP and may the track always be just right !
Joe - largo1_2000@yahoo.com
---------------------------------
Them photos of Howie are great, as was the write up. Speedway is the kind of sport you would meet someone like Howie, the most down to earth racing and the most down to earth folks.
Thanks for sharing. R.I.P. # 50
Robert Bruzek - guildorf9@yahoo.com
---
Howie Oakden
Nickname: "The Hammer"
Rider Number: 50
Hometown: Hamlin, New York - USA
Date of Birth: December 9, 1952
Occupation: Supervisor
Marital Status: Married
Children: Dave Oakden
Relatives in Speedway: Son Dave Oakden - Grandsons Danny Oakden and Dalton Oakden
Goals or Ambitions for Speedway:
Speedway Heros: Mike Bast and Bruce Penhall
Photo: Dad: Howie Oakden (right), Dave in leathers, Matt Otto center.
---
Bike: Jawa 898
Tracks Ridden:
USA: Bear Creek Speedway, Ohio - Champion Speedway, Owego NY - Batavia
Canada: Niagara Raceway - Paris Speedway - Eagle's Nest Raceway
Achievements:
1998 - 9th Place Quebec Championships
1998 - See the Paris and Champion Tracks for race results.
Events:
2005 - Batavia Speedway Event Aug 12
2000 - Alexis Speedway Event Jul 1
2000 - Champion Speedway Event Jul 22
1999 - Champion Speedway Events Jun 19, Jul 24
1998 - Quebec Championship Aug 1
1998 - Paris Speedway Events Jun 12, Jun 26, Jul 10, Sep 5, Sep 6
1998 - Champion Speedway Events Jun 27, Jul 11, Jul 25, Aug 30
---
Photos courtesy of Jason Bonsignore