New Champion Speedway
344 East River Drive
Owego, New York 13827
Speedway
July 24, 1999 Champion Speedway
From: Tim Mathewson
Warren Diem takes the Scratch, Handicap and the "Dash for Cash"!
Another interesting night of racing at in upstate NY. Mother nature once again toyed with us, giving us a MAJOR rain shower in the middle of the afternoon. Luckily track prep man Kelvin Herrala DID NOT water earlier in the day so the racing groove was salvageable though pumping and grading was required.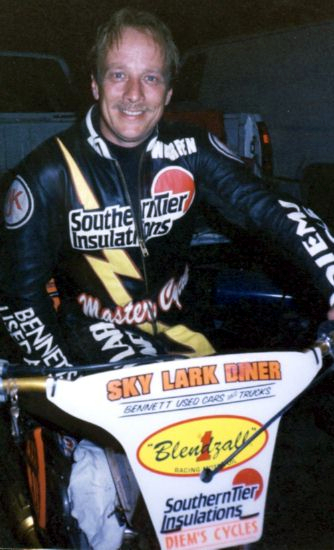 The only major problem was the water and mud on the outside of the racing groove but still inside the wall. They tried to move it around and drain it as best as they could but still ended up with a pile of GOOP on either end of the track. One poor Division 3 rider, in his first ever race, got together with another rider off the start and planted his borrowed two valve in the pile on the pit end! The bike was left standing when he got off and they needed two people to extricate it from the muck!

In Division 1 action it was Warren Diem taking Scratch, Handicap and the "Dash for Cash". Cam Rafferty had problems in his handicap heat and semi and did not make the transfer.
Results:
Dash
1) Warren Diem
2) Jerry Harmon Jr.
3) David Oakden
4) Jeremy Parsons
Division 1 Scratch
1) Warren Diem
2) Tom Sephton
3) Craig Estelle
4) Cam Rafferty
Division 1 Handicap
1) Warren Diem
2) David Oakden
3) Dave Smith
4) Gene Bonsignore
5) Howie Oakden
6) Jerry Harmon Jr.
Division 2 Handicap
1) Jeremy Parsons
2) Jerry Harmon Jr.
3) Kendall Brookes
4) Joe Green
5) Joe Veninski
6) Mike Robinson
Division 3 Handicap
1) Joel Parsons
2) Joe Burris
3) Jay Casselbury
4) Jeff Houston
5) Tony McElroy
6) Jim Hass
7) Chris Strong