Alexis Speedway
Saint-Alexis-Des-Monts
Quebec, Canada
July 1, 2000
By Duncan Luke luke99@idirect.com
Speedway returned to Quebec on Saturday night with the opening of a new track, St. Alexis Speedway, near Trois Rivieres. The track is about 180 yards in length and is reached by a winding trail through the woods. A great deal of hard work has gone into the creation of this latest attempt to get a permanent home for the sport in Quebec with the track having been literally hacked out of a pine forest.
Everything, including a good crowd, seemed to be set for a good night's racing when the heavens opened and the rain poured down about an hour before the scheduled starting time. Fortunately the track had not been watered prior to this but the clay based track surface was quite wet. Sand was added to sop up the excess water, the track wheel packed and some of the wet top layer blown off by quad racers. The result was a track surface which could be ridden but which proved to be difficult for most of the riders to handle. They are all to be commended for giving it their best shot and entertaining the crowd with an interesting night's sport in which genuine racing was at a premium but spills, 360' turns and other misadventures were common.
Only two riders Warren Diem and Nick Fafard seemed to be really comfortable on the track and they met in the first race which Diem won. They both won all their other races and it was too bad that the luck of the draw had them meet so early in the program. Diem's experience showed in the manner in which he adapted to the conditions. He reveled in the heavy going and was loud in his praise of the track. His display has won him another batch of fans particularly when he and Nick Fafard entertained them with a demonstration after the meeting of lap after lap of blasting around the boards in the heavy dirt there and doing wheelies the length of the straights.
Bruce Nelson took third place and earned this with the only two genuine racing passes of the meeting. To complete a good night for the local fans veteran Quebecers Gaetan Carignan and Guy Fafard and Gaetan Carignan shared fourth place giving Quebecers three of the top five finishes.

Results were:-
1/ Warren Diem 15 points
2/ Nick Fafard 14 points
3/ Bruce Nelson 12 points
4/ Gaetan Carignan & Guy Fafard 10 points
6/ Gary Hesmer & David Oakden 9 points
8/ Chris Hesmer 8 points
9/ Michel Lemay 7 points
10/ Joel Monnel points
11/ Howie Oakden & Aaron Hesmer 5 points
13/ Joe Greene, 2 points
14/ Joel Parsons (res) 1 point
Div 2 : Kim Gregory 11 points, Joel Parsons 7 points, Joe Burris 1 point

Div 3 : Buddy Ford 12 points, Philip Lemay 6 points, Jacques Gagner 5 points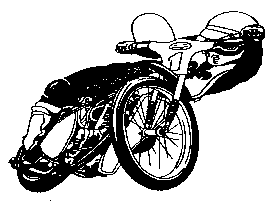 1/6 mile oval dirt track
Circuit ovale - 1/6 mille-terre battue MICHEAL LEMAY
125, Notre-Dame, Saint-Alexis-Des-Monts, (Trois-Rivieres) Quebec