North American Indoor Ice Racing Championship Series
Round 2 - Utica Auditorium
Utica, New York
Bully Dog North American Indoor Ice Racing Championship Series
Adam Mittl Take Two on Ice - Round 2 - Utica Auditorium
By Jason Bonsignore - Eastern Speedway Promotions
Photo by John Zachary
December 20, 2009 - Utica, NY
Round Two of the Bully Dog North American Indoor Ice Racing Championships was sponsored in part by the local to Utica BRP/Ski Doo and Can Am dealers and featured some hot ice racing action.
The first heat race saw a spectacular tangle between Adam "The Missile" Mittl and Jerry "Beufford" Harman as both riders went down hard and it took several minutes to untangle the bikes! On the restart it was Tuff McBride who rode off with the win followed by Mittl and Corey Brookes while Harman was out with machine damage from the first incident. Dave Clark then went on to win heat two with Aaron Hesmer second. Taking third was former ICE veteran, Gary "The Hitman" Hesmer, who was making a return from a long injury layoff. Josh Carr was fourth. "Mean" Gene Bonsignore took a convincing win to close out the round over second placed Shawn "Steamboat" Engel, and third place went to Andy "Crawfish" Crawford. Russ Cornell fell on the first turn and was last.
McBride was strong again as he burst out of the start and won the opening ride of round two. Clark took two second place points while Aaron Hesmer and Cornell were third and fourth. Mittl was too fast for G. Hesmer, Carr and Crawford in that order in the next outing. Bonsignore, who was looking to be one of the faster on the night, won again with Harman second, Engel third and Brookes fourth to finish the second heat series.
The third set of heats began with McBride going undefeated. Harman was right behind him and Clark was third with Gary Hesmer fourth. A. Hesmer then got himself into the winners circle with Cornell second, Brookes third and Crawford not far off in fourth. Bonsignore was leading the last heat down the back straight but got pushed wide and off the race line by Engel and dropped to fourth. Mittl then passed Engel up the inside and went for the win. Engel would steamboat his way to second with Carr third. This forced a runoff for last spot in the A Final between Bonsignore and A. Hesmer. Bonsignore led the runoff until the last corner when he hit a patch of concrete and moved over too much, setting up a drag race to the finish that Hesmer won by inches.
Bunk Harris took the win in the support speedway division while Roger Roberts won the Junior class. Jay Shelton scored the top honors in the Mad Dog Flat track class sponsored in part by Kold Kutter.
Cornell was back on his form which makes him a top contender in American Ice racing when he won the C-Final. Carr was just behind him with Brookes third. Crawford had a flat tire and did not ride. Bonsignore won the B-Final from start to finish with G. Hesmer taking a solid second. Harman was third and Engel fourth.
McBride seemed destined to take the A-Final as he was leading for the first couple laps but then hit the same patch of concrete Bonsignore did earlier and moved wide allowing Mittl to come through on his Bully Dog/Justice Brothers/Oury/NGK Jawa for his second victory in a row! McBride recovered for second, Clark was third and A. Hesmer fourth.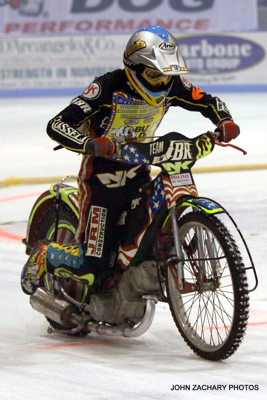 Adam Mittl
Photo by John Zachary