Industry Racing
The Grand Industry Hills Expo Center
City of Industry, California
California State Championship
August 29, 2012 - Industry Racing
By: Ryan Evans and Tim Kennedy
Photos By: Paul Flanders
Photos from Howie Zechner Facebook Photo Album
A look at Braydan Galvin 200cc California State Champion - By Howie
California State Championship - City of Industry, CA, USA - August 29 - By Ryan Evans
Billy "The Kid" Janniro made his only appearance of the season at Industry Racing memorable by winning his third consecutive California State Championship.
Charlie "The Edge" Venegas entered the Final as the only undefeated racer which afforded him first choice of starting position. After carefully observing each gate, the three-time State Champion selected gate one. Janniro had stated before that he would take gate four and he stuck to his word by picking that gate. Jimmy "Little Animal" Fishback chose gate two which left Tyson Burmeister with gate three.
Janniro exploded to the front when the tapes went up and led into turn one. Venegas hugged the inside line through the first bend but Janniro found plenty of traction on the outside and quickly opened up a comfortable lead. Venegas switched his path to the outside in an attempt to gain ground but couldn't gain any ground. Janniro maintained a safe distance between himself and Venegas and was first to the checkered flag. Venegas had to settle for second, Fishback was third, and Burmeister finished fourth.
Janniro's victory made him just the third racer, along with the iconic speedway brothers Steve Bast and Mike Bast, to claim the title three years in a row.
Venegas kicked off the heats by roaring to victory over Burmeister. Tommy Hedden led the second heat before going wide and handing the lead and victory to Russell Green. Fishback had a brief side-by-side battle with "Fast" Eddie Castro before pulling away for the win. Janniro began his evening with a win over John Marquez in event four. Four-time State Champion "Flyin" Mike Faria ended round one with a victory over Aaron Fox.
Burmeister started round two by defeating Hedden for his first win. "Battling" Buck Blair beat Under 21 National Champion Gino Manzares in event 12. Shawn "Mad Dog" McConnell held off Marquez to win the next heat. In a major showdown, Venegas trapped from the outside and kept Janniro at bay for an impressive win over the defending champion. Faria defeated Steve Russell to finish the second round with his second straight win.
Janniro began the third round with a resounding victory over Castro. Burmeister beat former Under 21 National Champion Neil Facchini in event 21. Hedden made a great start from the outside in the next event to get his first win. Jason Ramirez made the best start in event 22 but Venegas used the ample outside cushion to go around the former Youth National Champion for his third straight victory. Fishback made a great start from gate four and held off Blair to end round three with his second win.
Bobby "Boogaloo" Schwartz, who has won the State Championship twice, opened the final round with a win over Tim Gomez. Hedden defeated McConnell for his second straight victory and put himself in a position to possibly qualify directly to the Final. Fishback beat Manzares in event 31 to give himself 10 points and a possible spot in the Final. Burmeister led the penultimate heat and looked to be headed to the Final, but Janniro went around the outside of him at the end of the second lap and then Ramirez went by as well to relegate him to the Last Chance. Janniro's victory put himself and Fishback into the Final. Venegas easily won the last heat and placed himself into the Final while Fox's second place put him into the Last Chance.
Burmeister, Faria, Fox, and Hedden came to the tapes in the Last Chance knowing that only victory would put them in the Final. Burmeister and Hedden raced side-by-side through the first corner but Hedden's chances of victory ended when he bounced off the fence and didn't recover until the field had passed him by. Burmeister led the entire distance to take the final spot in the Final.
Geoff Herkner won both of his heats and put together four smooth laps to win the Industry Invitational Final. Rudy Laurer finished second, "Rattlesnake" Steve Bowen was third, and Kayle LeoGrande was fourth.
After two rounds a three-way tie between Dillon Ruml, Max Ruml, and Broc Nicol meant the final heat would determine the Youth 250 Champion. Dillon Ruml made the best start and didn't turn a wheel wrong en route to the victory. Nicol was second, Max Ruml finished third, Hayley Perrault was fourth, and Dalton Leedy was fifth. The overall results matched those of the final heat.
Braydan Galvin completed his dominant season with a perfect evening including a victory in the Youth 200cc Final. Michael Wells finished second, Maverick Molloy was third, and Courtney Crone finished fourth.
The California State Championship brought a spectacular end to the ninth season of speedway at the Industry Hills Expo Center. A large and enthusiastic crowd was on hand. The riders were provided a well-prepared track and provided the fans with some spectacular racing. The highly successful 13-event campaign was the first under the current promotion and they are looking forward bigger and better things next season.
RESULTS
Youth 200cc Championship Final
45 - Braydan Galvin
214 - Michael Wells
34 - Maverick Molloy
4 - Courtney Crone
Youth 250cc Championship Overall
111 - Dillon Ruml
98 - Broc Nicol
308 - Max Ruml
0 - Hayley Perrault
222 - Dalton Leedy
Industry Invitational Championship Final
208 - Geoff Herkner
182 - Rudy Laurer
177 - Steve Bowen
185 - Kayle LeoGrande
California State Heat Scoring1 2 3 4 T
1 – Billy Janniro 3 2 3 311
6 – Shawn McConnell 1 3 F 26
9 – Mike Faria 3 3 1 18
11 – Bobby Schwartz 1 1 0 35
14 – Eddie Castro 2 0 2 04
23 – Steve Russell 0 2 1 0 3
24 – Gino Manzares 0 2 1 25
25 – Jimmy Fishback 3 1 3 310
26 – Tyson Burmeister 2 3 3 19
30 – Tim Gomez 1 0 0 23
37 – Joe Donaldson 0 0 1 01
39 – Buck Blair 1 3 2 17
40 – Tommy Hedden 2 2 3 310
41 – John Marquez 2 2 0 04
43 – Charlie Venegas 3 3 3 312
46 – Aaron Fox 2 1 2 27
48 – Tyson Talkington 0 1 0 12
66 – Jason Ramirez 1 1 2 26
86 – Neil Facchini 0 0 2 1 3
321 – Russell Green 3 F 1 04
Race Results
1: Venegas, Burmeister, McConnell, Manzares
2: Green, Hedden, Gomez, Donaldson
3: Fishback, Castro, Ramirez, Russell
4: Janniro, Marquez, Schwartz, Talkington
5: (restarted) Faria, Fox, Blair (penalty line), Facchini
11: Burmeister, Hedden, Talkington, Castro (fell, remounted)
12: Blair, Manzares, Ramirez, Donaldson
13: (restarted) McConnell, Marquez, Fox (penalty line), Gomez
14: Venegas, Janniro, Fishback, Facchini
15: Faria, Russell, Schwartz, Green (fell)
20: (restarted) Janniro, Castro (penalty line), Donaldson, McConnell (fell)
21: Burmeister, Facchini, Russell, Marquez (fell, remounted)
22: Hedden, Fox, Manzares, Schwartz
23: Venegas, Ramirez, Faria, Gomez
24: Fishback, Blair, Green, Talkington
29: (restarted) Schwartz, Gomez, Facchini, Castro (penalty line)
30: Hedden, McConnell, Blair, Russell
31: Fishback, Manzares, Faria, Marquez
32: Janniro, Ramirez, Burmeister, Green
33: Venegas, Fox, Talkington, Donaldson
California State Last Chance
26 - Tyson Burmeister
9 - Mike Faria
46 - Aaron Fox
40 - Tommy Hedden (fell, remounted)
California State Championship Final
1 - Billy Janniro
43 - Charlie Venegas
25 - Jimmy Fishback
26 - Tyson Burmeister
Past California State Champions
1968 – Sonny Nutter
1969 – Steve Bast
1970 – Steve Bast
1971 – Steve Bast
1972 – Steve Bast
1973 – Mike Bast
1974 – Steve Bast
1975 – Steve Bast
1976 – Mike Bast
1977 – Mike Bast
1978 – Mike Bast
1979 – Mike Bast
1980 – Alan Christian
1981 – Bruce Penhall
1982 – Lance King
1983 – Mike Bast
1984 – Bobby Schwartz
1985 – Steve Lucero
1986 – Bobby Ott
1987 – Mike Faria
1988 – Sam Ermolenko
1989 – Steve Lucero
1990 – Mike Faria
1991 – Bobby Schwartz
1992 – Mike Faria
1993 – Chris Manchester
1994 – Mike Faria
1995 – Steve Lucero
1996 – Steve Lucero
1997 – Charlie Venegas
EVENT NOT STAGED 1998 – 2005
2006 – Josh Larsen
2007 – Charlie Venegas
2008 – Charlie Venegas
2009 – Ricky Wells
2010 – Billy Janniro
2011 – Billy Janniro
BILLY JANNIRO WINS CALIFORNIA STATE SPEEDWAY CYCLE CHAMPIONSHIP @ INDUSTRY – By Tim Kennedy
Industry, CA., Aug. 29 -- Billy Janniro, of Rancho Cordova, came south Wednesday to race in the Industry Speedway at the Industry Hills Expo Center Grand Arena season finale--the 37th running of the California State Speedway Championship. Riders raced for more than $5,000. The 32-year old 2011 Speedway Cycle National Champion won his third consecutive title in the prestigious event aboard his No. 1 GM 500cc motorcycle. He led all four laps over his close friend Charlie "the Edge" Venegas, of San Bernardino. An estimated 3,000 spectators attended the seventh consecutive California State Championship title race at Industry Speedway. It was the largest fan turnout in nine years of cycle racing in Industry.
Following four rounds of heat racing for all 20-Division 1 riders, the three highest point riders advanced directly to the main event. Venegas, 45, scored a perfect 12 points by winning all four of his heats. Janniro had 11 points for three victories and a second place. Jimmy Fishback, the 31-year old 2011 Industry Speedway track champion, had 10-points for three wins and a third place in his four heats. He was returning to competition at Industry after missing months because of crash injuries earlier this season. Tommy Hedden, from Auburn, also scored 10-points, but he lost the tie-breaker and had to race in a "Last Chance" race from which only the winner advanced to the four-rider feature.
Riders in positions four through seven in addition to Hedden were Murrieta resident Tyson Burmeister (9-points), Carson City, NV rider Mike Faria (8-points), and Aaron Fox (7-points). Fox, from Menifee, won a tie-breaker over Buck Blair, who also had 7-points. Burmeister, 28, led all four laps to secure the final feature berth by out-dueling Faria. Hedden was in third position on lap 3 when he slid to the ground in the third turn, remounted and finished behind Fox.
Main event riders had lane choice by their point ranking. High-point Venegas selected the inside lane one. Next, Janniro picked the outside lane four. Fishback chose the second lane and Burmeister took the remaining third lane. When the starting gate lifted Janniro won the close race to the first turn on the outside with Venegas racing side by side with him out of the second turn. Janniro prevailed and Venegas slotted into second place. He pressured Janniro all four laps before settling for the second place trophy, about seven yards in back of the winner. Third place Fishback was three yards behind Venegas. Fourth place Burmeister trailed Fishback by ten yards. In round two (race 14) Venegas beat Janniro by leading every lap after starting from the outside lane and Janniro on the inside lane in a reverse result of their main event finishing positions.
Janniro earned an estimated $1,000 for his victory plus bonus money for his heat race victories. The top three riders accepted large trophies on a special "Industry Speedway Winner's Circle" podium erected on the front straightaway. A red carpet on the track led to the podium steps. The top three riders posed for the largest contingent of photographers all season. Then they sprayed champagne onto many well-wishers who joined them in the infield for the awards ceremonies. Following the most successful season at Industry, the top three finishers posed on the podium with Carol Perez, Industry Hills Expo Center Operations Manager, and Kelly Inman, Industry Speedway Racing Director. They doused former racer Inman with champagne.
Nine-time 2012 Industry Speedway feature winner Billy Hamill was not present for the title race because he was competing in a road racing event this week at Miller Motorsports Park in Toole, Utah. Hamill raced evenly with Janniro in the 36th California State Speedway Championship until they collided on the third lap in the third turn and fell along with another rider. By rule that race ended with Janniro declared the winner. The race was not restarted because more than 50% had been completed and it was past the 10 p.m. curfew.
OTHER MAIN EVENTS: Twelve support division riders (from Divisions 2 and 3) participated in two rounds of heats for points (also scored 3, 2, 1, 0). An Invitational main for the four highest point riders followed. Geoff Herkner, 34, won both of his heats, earning the maximum six points. He tied double heat race winner Kayle Leo Grande. Herkner, a six-year speedway cycle veteran from Reche Canyon (near Loma Linda), led all four laps for his first feature victory at Industry. During event 17 for support riders, Troy McConnell, son of D-1 rider Shawn McConnell, fell hard in the first turn on lap 1 and reportedly suffered a dislocated shoulder. After several minutes on the ground, he was able to walk to the pits.
Five Youth Division 250cc riders each ran three rounds of heat races for points (4, 3, 2, 1, 0). Dillon Ruml, 13, led all four laps in the feature and defeated Broc Nicol, older brother and frequent winner Max Ruml, 15, and Hayley Perrault, 15. Dalton Leedy, fell on lap 3. Nine Youth Division 200cc riders each raced in two rounds of heat races for points (4, 3, 2, 1, 0). Young lady Courtney Crone, 11, and Michael Wells, each won a heat race. Braydan Galvin, 15, won both of his heats. A Youth 200cc consolation race for the P. 5-9 riders in points went to Dylan Smith, who led laps 2-4. Sterling Martin, from Salinas, led the first lap on his No. 31 and finished second on his first night of racing at Industry. His fraternal twin brother Adam, age 7, placed third on his No. 30. Galvin led all four laps of the 200cc feature for the four high-point riders. He received a large trophy. Wells, Maverick Molloy and Crone followed him across the finish line.
Riders in all divisions started races from the starting gate and starting handicaps by different yard lines from the starting gate for more experienced riders were not used this week. Pee-wee and sidecar divisions did not compete. The 39 event racing card ran from 7:30 to 10:00 p.m. in front of an enthusiastic and knowledgeable speedway cycle audience. Industry Hills Expo Center management announced that a special fan appreciation one night of racing will be held Saturday, December 29, 2012 at Industry Speedway.
Wednesday night speedway cycle tenth season, 13-week Industry Speedway race dates were announced in the free printed race program given to fans as they entered. The schedule will be similar to the 2012 season. The first date will be May 29 for all divisions. The 13th and final race date on August 28 will be the 38th running of the California State Championship. July 3 will be dark because of the July 4 holiday. Past California State Speedway Championship winners at Industry Speedway have been: 2006 – Josh Larsen; 2007-08 – Venegas; 2009 – Ricky Wells; 2010-11-12 – Janniro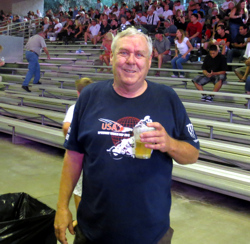 Thank You Carol, Kelly and Howie
That was a helluva show The Grand put on tonight for the California State Championship. The place was full, the field was strong and the track was good. To no one's surprise, in the end it was Billy Janniro. He dropped a couple along the way but in the Main he simply exploded with a powerful ride to the flag.
Some of the best racing of the night though was found in Juniors. Dillon Ruml was huge in the 250s, Braydan Galvin looked good, as always. but I hope everyone there had a good look at the Martin Brothers, Alex and Sterling. 7 years old, on real speedway bikes, and they looked incredible. The Division 2 200cc class at next year's Gumball Rally is going to be quite exciting.
The Grand really put on a great show tonight and full credit to the entire staff for making the night a good one.
Steve Graham - stephenagraham@hotmail.com