Champion Speedway
East River Drive
Owego, New York 13827
East Coast US National Championship Qualifier
July 20, 2013 - Champion Speedway, Owego NY
Story by Jason Bonsignore
Photo of Tuff McBride by Brian Walsh
McBride wins East Coast US National Qualifier
Veteran star and David Meldrum earn spots in US National!
East Coast Speedway Icon, Tuff McBride, rolled back the years with an unbeaten, vintage, performance to win the US National Qualifier at Champion Speedway and along with 10 year, British League veteran, David Meldrum, now of Lakeland, Florida, who took second, earned a direct birth in this years $20,000.00 plus Monster Energy US National Championship in Costa Mesa, CA in October!
As the youth and amateur heats were in progress a torrential down pouring of rain hit the track and the program was halted. Approx 30 minutes later and the track was nearly a pond with standing water all the way around. Several people worked feverishly with brooms to push water off the corners of the track then a tractor tire was dragged around, followed by a beam then lastly the track drag for about an hour. Miraculously the surface was saved and although slightly challenging for the first round of speedway it actually went on to become an excellent race surface!
Brian Hollenbeck kicked it off with an outside pass and win over Corey Brookes. Andy Crawford edged out Shawn "Steamboat" Engel for third. Dave "Shark" Clark rode well to take heat two after the second start. Dave Oakden made an excellent gate in the first try but everyone got tangled up in turn one and went down. Jerry Harman would get second and Keith Hawkins third while Oakden slid out going good on the outside. Jesse Diem passed Gene Bonsignore on the outside to grab three points in the next heat. Bonsignore held down second with Jeff Garlinghouse in third and Josh Carr coming home fourth. Meldrum looked to have the final run of the opening round in the bag after two laps but his clutch went away and McBride was able to sneak through along with Ron "Reaper" Walker. Meldrum snuck across the line for one point and Russ Cornell was just behind.
Meldrum got in the winners circle in the next outing with a good win over Hollenbeck. Harman then went onto a good battle with Bonsignore in which he eventually got the nod on the great outside line the track was producing. McBride showed fine form for three points in the third heat of round two although Crawford put some good pressure on him from the outside for two laps. Clark rode strong to hold off Diem in the last heat.
Harman continued to be impressive in round three with a win against Hollenbeck who was going fast. McBride kept his string alive with a solid gate and smooth ride, getting to the finish ahead of Diem. Clark was also having a good night and handily won his next heat. Meldrum was getting better each race and won again to close out the round but a great shoulder to shoulder race between Bonsignore and Oakden went on behind him for second with Oakden just getting it.
The final series of heats began with a good three point haul from Diem against Hollenbeck on the second try. Hollenbeck was leading the first attempt but hooked up violently and crashed. He came from the penalty line to nail second. Meldrum ended Clark's winning ways in the following race. Bonsignore jumped out in front in the second to last event but was called back from anticipation of the start then got mistakenly sent to the penalty line when the rule called for a warning. Hawkins made a nice start and led wire to wire after and Crawford got second. McBride finished up with a fairly uncontested win over Harman and Garlinghouse was third.
The top five riders of the evening in points went to the grand final and McBride clearly led on twelve points and chose the inside gate. McBride led into the first turns and it appeared Clark's front wheel got into McBride's footpeg as McBride led exiting turn two which brought them down and stopped things. A full restart was ordered and McBride again leapt into the lead on his Scotts Headers, ARAI, Polito, Justice Bros, Oury, Silkolene, Joker, Tripp - backed Jawa and rode the inside line hard. Meldrum, on his Advocare, Cobra's Mahal, Gulf Coast Hurricanes- backed GM had also made an excellent gate and was now challenging McBride on the grippy outside nearly getting by on lap two! Medlrum just couldn't quite get him and dropped in for second while McBride took the checkered flag!! Meldrum and Clark concluded tied on 14 points for second overall but the final and earlier head to head win for Meldrum were used to decide the tie breaker fairly in Meldrum's favor as is done often in one night championships.
Brian Bailey impressively scored the victory in the Division 2 final as did up and coming Roger Roberts in Division 3!
The next event at Champion Speedway is July 27th, followed by another August 3rd! The turnout of riders and racing has been excellent this year!
East Coast US National Qualifier
1. Tuff McBride
2. David Meldrum
3. Dave Clark
4. Jerry Harman
5. Jesse Diem
Division 2 FINAL
1. Brian Bailey -10
2. Alex Heath -40
3. Mike Clark -0
Dan Oakden DNF
Spencer Portararo DNF
Division 3 FINAL
1. Roger Roberts
2. Jim Sanchez
3. Jeff Spencer / Brandon Bruzek DNF
4. Pat Farrell DNS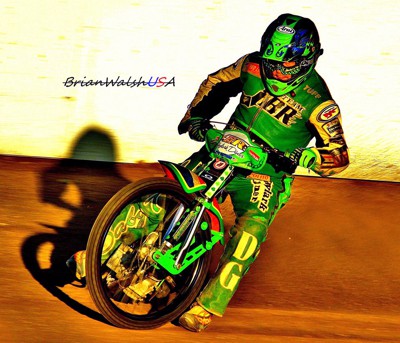 Congratulations to Eastern Speedway Icon, Tuff McBride, who rolled back the years with a vintage unbeaten performance and plans to head to CA to take part in his 6th US National Championship!
Also congratulations to David Meldrum, 10 year British League vet now residing in Florida and racing in NY, who is really starting to get back in shape and is showing why he was a professional! He put on an excellent show, almost passing McBride in the final on the outside and taking second overall! He will be a great addition to the Monster Energy US National Championship at Costa Mesa! Thanks to the Oxley family for this opportunity! We had an excellent turnout of riders and some great racing.
It was a miracle we got the event in, the weather was terrible all day long. We started the event and then got poured on to the point where the track was a standing water pond at about 8pm. We worked our tails off to save it, several of us used brooms to do the entire turns then Russ dragged with the tractor tire, then beam, then drag!! It was a long delay and the first heat round was a challenging track but it then ended up as probably the best track we have ever had at Champion!
Outside passing and great racing was abundant! Dave Clark rode hard and he and Meldrum were actually tied for second overall at 14 points but the final and head to head result in which Meldrum edged him in both determined the tie breaker. We want to thank Dave Clark though for his efforts to contest the West Coast Qualifiers this far too and for acting as a good representative!
Congratulations to Division 2 winner, Brian Bailey and Division 3 winner Roger Roberts as well! Full report coming soon!
1. Tuff McBride
2. David Meldrum
3. Dave Clark
4. Jerry Harman
5. Jesse Diem
East Coast Speedway Promotions eastcoastspeedway@hotmail.com
Tuff McBride Wins!
Scott's Headers and Mufflers would like to congratulate all of the East Coast Speedway Racing Teams for their US National Championship Qualifier efforts! And, against a stout field of competitors. A Star did shine! And set himself apart from the rest! That was Tuff McBride!
The restaurateur, Pro-Speedway rider has thrilled crowds this year with some incredible riding skills, and some spectacular crashes! So Congratulations Tuff Mcbride, Winner of the East Coast Qualifier, and goes directly to The Monster Energy 45th US Nationals at Costa mesa Speedway in California, Oct 5th, 2013.
Going along with McBride, will be second place winner David Meldrum, who also receives an automatic berth in the finals. Tuff rode the Scott's Headers and Muffler's "Horsepower pipe and muffler system" at the qualifier!
Thanks to Tuff McBride, Congratulations too, go to Jason Bonsignore, the promoter. And Champion Speedway, the fine venue for the event.
Torch Redlew migtig06@yahoo.com