Big Time Speedway
Prairie City OHV Park
Rancho Cordova, California
Golden State Speedway Series
Round 1: Prairie City Dirt Track - May 10, 2014
Story and Photos by Karen Gould / Checkered Flag Photography
YouTube Video - By Anthony Bernardi
Walking through the pits at the Prairie City Dirt Track a mixture of vehicles including lawn mowers, flat track modern bikes, vintage flat track bikes and speedway bikes of all sizes were preparing their equipment for the evenings racing.  The track, newly prepared with 7 tons of decomposed granite was perfectly groomed.  The speedway riders thought maybe a bit deep, the flat trackers happy to see the cushion.
The program, run speedway fashion for everyone, included 3 heats for each class and points were awarded according to each finish, the winner earning 4 points the 2nd place earning 3 points etc. Each race with four riders.  At the end of the night 42 heat races had been run and points were combined for each event.
Classes included Pee Wee, flat trackers, 150cc and 250cc speedway bikes, the Billy Janniro Challenge, Division 1, 2 and 3 speedway, a flat track class, and a lawn mower class.  Although Janniro ran with the Division 1 riders his winnings don't count for points in the series.
Clearly a family event parents, grand parents, siblings and friends were all gathered enjoying the excitement of racing.
At the end of the night Division 1 riders PJ Byrne, Bryce Starks, Dan Faria, and Colton Duncan all tied with 14 points.  However, Billy Janniro put on a show starting from the 4th corner in each heat and finishing first.  Janniro is not riding for series points.  Division 2 rider #233 Nick Dion took the most points in that class and #222 Kurt Kornchuk captured the series lead in Division 3. Dylan Wagner is the point leader in the 150cc speedway class.
The youngsters riding pee wee's had a great time as did the newest speedway riders, Sammy "the Bullet" Waddill, Timothy Dion and Speedway Charlie Trana, all who have taken part in the Janniro speedway school. 
Waddill and Dion finished one two in points for the Pee Wee class. 
Kevin Keeran leads the flat track class with 12 points followed by John Proto and Rick Schafer. 
Robert "The Iceman" Curry took the Billy Janniro Mini Challenge this night.
Round two of the Big Time Speedway Golden State Challenge series will be held at Prairie City on July 26.
Round 1 Pro Points:
Colton Duncan (14)
Dan Faria (14)
J.T. Mabry (14)
Bryce Starks (14)
Dave Fonts (12)
P.J. Byrne (11)
Tyler M. Warren (11)
Kyle Marsalla (10)
Jamison Dilkey (9)
Thomas Reich (9)
Nick Dion (7)
Jim Lewis (7)
Deven DeFreece (2)
Photos by Karen Gould / Checkered Flag Photography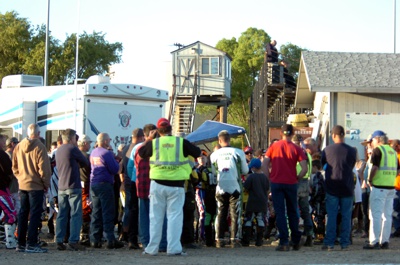 The riders' meeting Big Time Speedway Golden State Challenge.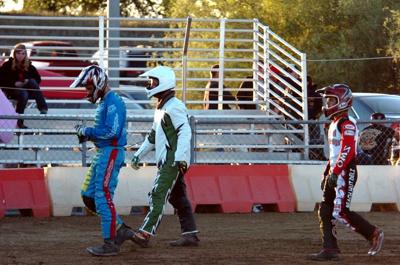 Riders check out the track.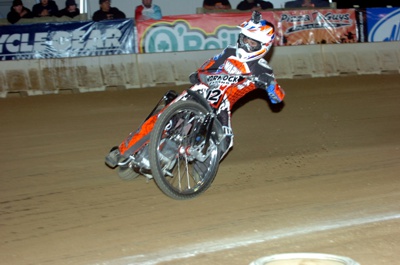 Luke Becker (12) 250cc Youths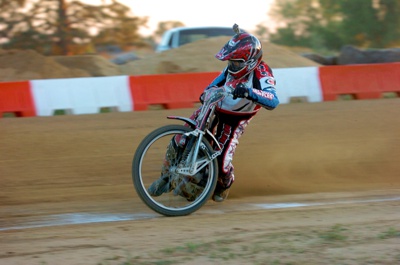 Billy Janniro (14)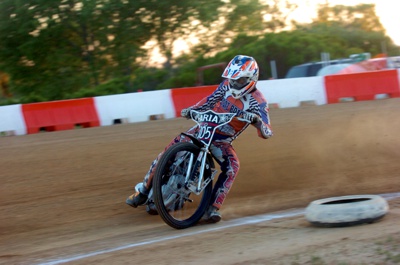 Dan Faria (105).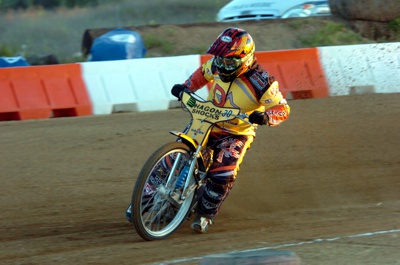 Deven DeFreece (30)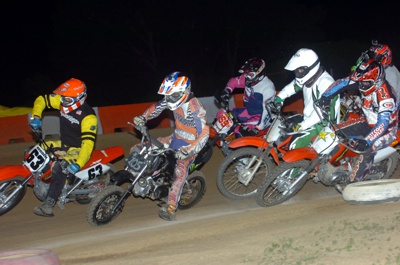 Billy Janniro Mini Challenge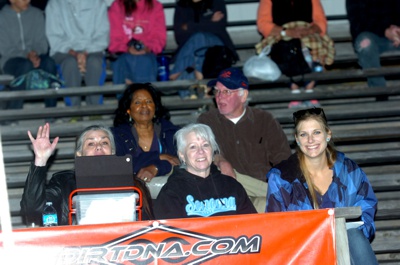 Big Time Speedway Officials