2014 Costa Mesa Speedway
Race Results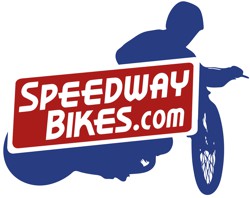 Costa Mesa Speedway
Orange County Fairgrounds
Costa Mesa, California
2014 AMA Speedway National Championship Series, Round 1
June 7, 2014 - Costa Mesa
By: Steve Evans, AMA National Series Coordinator
Photos By Paul Flanders
Full Report is Continued below...
Billy Janniro wins AMA National Speedway Championship Opener at Costa Mesa, CA, June 7th, 2014
Four time AMA National Champion Billy Janniro laid down a marker after a perfect 7 win display in Round 1 of the 2014 Series. It was the first time in 5 years that a round had been staged at the world famous Costa Mesa Speedway, and if this event was anything to go by, it will be tough to bet against Janniro in the 4 race series. He heads into round 2 with a maximum 21 points. The chasing pack provided much close and exciting racing, but the fact that they all took points off each other throughout the night means that Janniro has a 6 point leading heading to round 2 at Ventura on June 28th.
Tyson Burmeister came 2nd in the Final to Janniro in one of the best performances of his career. Had it not been for a first race fall, Burmeister would have finished on 18 points rather than 15. In Heat 17 he gave Janniro his toughest challenge with a lightning fast start, but the National Champion soon hit the front once more. Charlie Venegas won four of his heats, but a third place in his other heat gave ground to Janniro. A last place in the final meant he stayed on 15 points, but is placed 2nd in the standings on virtue of more race wins on the night than Burmeister. 4th placed rider last year Max Ruml recovered from a slow start with three heats wins. His third place in the final puts him 4th in the points whilst Buck Blair, with 12 points from his heats and a third place in the semi finals is right behind and in striking distance of a podium spot on 13.
Northern California's veteran Bart Bast rode smoothly all night for 6th place overall whilst wild card Shawn McConnell gave a steady display for 7th. Tommy Hedden rounded out the qualifiers for the semi finals with 6 points.
The race meeting had several incidents along the way, as could be expected in such a prestigious event. Former champion and Veteran Mike Faria blew an engine on the run into the line in his first heat, ruling him out for the night. Youngsters Austin Novratil and Bryce Starks had two collisions in Heat 3. Novratil eventually won the race but two more falls meant that injury would rule him out of three of his rides. Starks meantime surprised many with his confidence building race by race and very credible 6 points.
The series, for the first time ever, has 4 rounds at four venues. Round 2 is at Ventura Raceway on June 28th. Round 3 visits Industry Raceway on August 19th with the series concluding at Fast Fridays Speedway in Auburn on September 19th. Once more the FIM Grand Prix race format and scoring system is duplicated. The draw for round 2, which will include run offs for 2 wild card spots 90 minutes ahead of the main show, will be made on Monday June 16th.
Heat Points – Janniro 15, Venegas 13, Blair 12, Ruml 11, Burmeister 10, Bast 10, McConnell 8, Bast 7, Hedden 6, Starks 6, Nicol 5, Castro 5, Schwartz 5, Green 4, Novratil 3, Talkington 3, Ramirez 3, Faria 1, Scopellite 0, Leedy 0
Semi Final #1 – Janniro, Ruml, McConnell, Bast
Semi Final #2 – Burmeister, Venegas, Blair, Hedden
Big Final
1 - Billy Janniro
26 - Tyson Burmeister
5 - Max Ruml
43 - Charlie Venegas
2014 AMA National Speedway Series Round 1 Standings (Unofficial)
1. Billy Janniro 21 points
2. Charlie Venegas 15
3. Tyson Burmeister 15
4. Max Ruml 14
5. Buck Blair 13
6. Bart Bast 10
7. Shawn McConnell 9
8. Tommy Hedden 6
9. Bryce Starks 6
10. Broc Nicol 5
11. Eddie Castro 5
12. Bobby Schwartz 5
13. Russell Green 4
14. Austin Novratil 3
15. Tyson Talkington 3
16. Jason Ramirez 3
17. Mike Faria 1