Industry Racing
The Grand Industry Hills Expo Center
City of Industry, California
Salute to the Military
June 25, 2014 - Industry Racing
Report from Industry Racing, race report photos from Craig Hashey of Speed Trap Photography.
Special Thanks to Ryan Evans.
Other Photos by Dorcey Wingo
Results from Industry Racing and are Continued Below...
| | | |
| --- | --- | --- |
| | Dorcey Wingo Photos | |
| | | |
| In the "Salute to our Military Night," Davey Shaw heads for the Grand Arena with Old Glory streaming. | Pee Wee action: #25 Travis Horn and #99 Adam Csanyi | Pee Wee action: Travis and #13 Tanner Richey |
| | | |
| Pee Wee Main Event, with two more on the 50 yard line. | Tanner passes #5r Rachel Schnakenberg for the win. | 150cc 2nd Division action: #11 Tristan Britt and #96 Andrew Russell in turn three. |
| | | |
| 150cc 2nd Division Main Event, with Britt on the 40 yard line. | "Lightning" Luke, taking 2nd place. | Tristan Britt, taking his victory lap. |
| | | |
| 150cc 1st Division Main Event, with three riders out of view. | Jake Isaac came in 2nd place. | Sebastian Palmese, winning it from the 60 yard line. |
| | | |
| 250cc action: Braydan Galvin and Courtney Crone in turn three. | 250cc action: Gage Geist (in blue) tries to hold off Dillon Ruml. | 250cc Main Event. |
| | | |
| Courtney Crone, hanging tough for 2nd place. | Dillon Ruml took 1st place in the Junior 250 Main Event. | 3rd Division Main Event. |
| | | |
| #227 Wade Whitcomb takes 2nd place. | #244 Lewis Hughes for the win. | 2nd Division action: Ron Davis and Mike Wiley (right) in turn three. |
| | | |
| 2nd Division Main Event. | Brad Moreau (inside) and Ron Davis. | Brad Moreau, taking 2nd place. |
| | | |
| #101 Mike Wiley, taking his victory lap. | 1st Division action: Blair and Leedy in turn one. | Max Ruml (inside) and Blair in turn four. |
| | | |
| 1st Division Consolation. | Broc Nicol takes the Consolation. | 1st Division action: Buck Blair, Dalton Leedy, and Travis Henderson in turn one. |
| | | |
| Blair (inside) and Venegas fight for the lead. | Max Ruml (inside) and Blair in turn four. | Sidecar Main Event, 1st Start. |
| | | |
| Bryan Motis/Josh Bennett took 2nd. | #007 Dual Anderson/Robert Dent, winning on a borrowed bike. | 1st Division Main Event. |
| | | |
| | Main Event Action: Venegas and Blair, taking 1st and 2nd. | |
---
Charlie "The Edge" Venegas Races to First Win of the Season at Industry Racing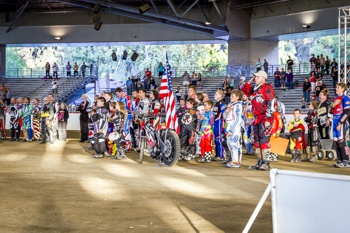 The riders honor the military.
CITY OF INDUSTRY, Calif. (June 25, 2014) – As the 2014 season reached its halfway point, the motorcycle speedway community paid respect to our soldiers this past Wednesday night as Industry Racing hosted a "Salute to the Military." All the service men and women on hand were greeted and thanked for their service by a standing ovation from the grateful crowd. With two previous Scratch Main Event winners Billy Janniro and Billy Hamill absent from the action, the biggest race of the evening hosted a new mix of racers, crowning the third Scratch Main Event winner in the 2014 season. There was exciting racing in every division with crashes, consistency and aggression combining to produce the kind of action one can only see at speedway.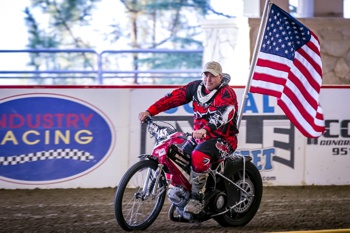 Davey Shaw brings the flag.
The absence of previous winners Billy Janniro and Billy Hamill led to a final four of riders looking to seize the opportunity in the Scratch Main Event. With Charlie "The Edge" Venegas on the pole, Russell Green in Gate 2, Buck Blair in Gate 3 and "Mad" Max Ruml on the outside, the tapes rose allowing Venegas to grab the early lead. The current California State Champion made his experience known, fending off the competition as Blair and Green each made attempts for the lead. The strong effort put forth by Venegas gave him his first Scratch Main Event win of the season. Blair ran a strong race in second, as Green captured third. Max Ruml took home the fourth position.
Scratch Main Event
1. #43 – Charlie Venegas
2. #39 – Buck Blair
3. #321 – Russell Green
4. #5 – Max Ruml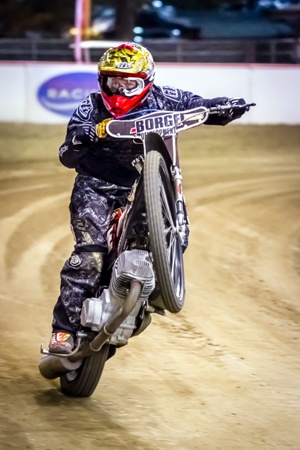 Venegas celebrates his big win
The Scratch Consolation featured Broc Nicol and Tyson Talkington battling for the early lead. Talkington eventually fell victim to a mistake and went down without contact, permitting Rocco Scopellite to slip into second place. Despite Scopellite's best efforts, it was the No. 100 of Nicol who was able to power down and hold on to his position to take home his second Scratch Consolation and become the first repeat winner of the event this season. Scopellite followed in second with Jason Ramirez third, while Talkington remounted and finished fourth.
Scratch Consolation
1. #100 – Broc Nicol
2. #126 – Rocco Scopellite
3. #66 – Jason Ramirez
4. #48 – Tyson Talkington (fell, remounted)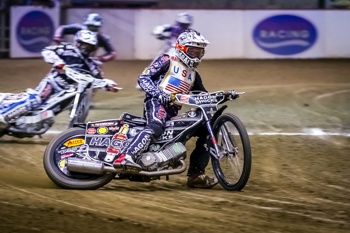 Nicol became the first repeat winner in the Scratch Consolation
The Sidecar Main Event brought forth exciting battles as crashes made for multiple restarts. The first rise of the tapes required a red flag as the duo of Dual Anderson and Robert Dent made contact and collided with the undefeated pair of Chris Jones and Johnny Glover. Jones and Glover were put at fault for the accident but were let off with a warning as all the racers made their way back to the starting gate. However, following the incident Anderson and Dent were forced to start the two-minute window allowed for repairs to their bike. Making it back before time ran out, the four pairs lined up again and awaited a restart. The second attempt drew Anderson and Dent into the lead with Jones and Glover trying to make a pass attempt around the outside. After switching to the inside, Jones and Glover were able to complete the pass with Bryan Motis and Josh Bennett hot on their heels. Unfortunately, the battle for the lead caused the two frontrunners to tangle, allowing Anderson and Dent to sneak by and capture their first win of the season.
Sidecar Main Event
1. # 007 – Dual Anderson/Robert Dent
2. #2 – Bryan Motis/Josh Bennett
3. #1 – Chris Jones/Johnny Glover
4. #21 – Heather Rowe/Ducky Hovanec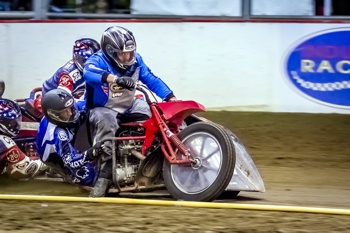 Anderson and Dent won a wild Sidecar Main Event.
In the Second Division, Ron Davis started on the pole with Mike Wiley on Gate 2. The Main Event start triggered Wiley to quickly get out front of Davis and hold a steady lead early in the race. Brad Moreau was able to get into the mix late, challenging both Wiley and Davis for first place. Despite the early pressure, Wiley was able to slowly check out and take his first win of the season.
Second Division Main Event
1. #101 – Mike Wiley
2. #153 – Brad Moreau
3. #163 – Ron Davis
4. #176 – Carl Gazafy
The Third Division Main Event is always full of captivating competition as the rookie division. On Wednesday this budding talent went bar-to-bar in the battle for the win. Lewis Hughes was fortunate to get a good start as Wade Whitcomb and Steve Brown chased in a battle for the second position. Hughes was able to lay down four consistent laps and ride smoothly ride to his second straight Main Event win.
Third Division Main Event
1. #244 – Lewis Hughes
2. #227 – Wade Whitcomb
3. #211 – Steve Brown
4. #215 – Greg Willis
5. #277 – Thomas Rishton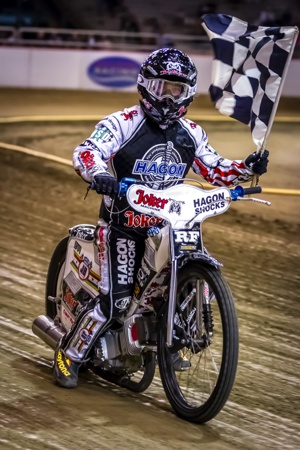 Hughes has won back-to-back Third Division Main Events.
In the Junior 250 Main Event, Dillon Ruml started on the outside gate, getting the jump and clearing the pack. Gage Geist soon challenged Ruml and the pair were wheel-to-wheel until Geist took a spill and went down. Courtney Crone ran strong in second, but was unable to catch Ruml as he checked out to claim Main Event win for the fourth week in-a-row.
Junior 250 Division Main Event
1. #1 – Dillon Ruml
2. #4 – Courtney Crone
3. #214 – Michael Wells
4. #10 – Gage Geist
5. #45 – Braydan Galvin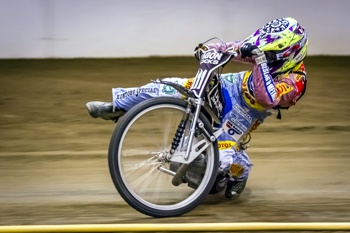 Ruml continues to dominate the Junior 250 Division.
The Mini 150 Division Main Event has seen Sebastian Palmese dominate in previous weeks. As a result, Palmese started this Wednesday's Main Event with a large handicap over the other riders, beginning the race near the back wall. Off the start Jake Isaac got the jump, but was quickly challenged by Palmese, who made his way up the inside and quickly moved through the pack of racers. Isaac was able to hold off Palmese for a couple of laps, but a late move allowed Palmese to take the top spot and bring home his fourth Main Event win. Palmese will be absent from the next few weeks at Industry Racing as he will travel to Britain and tour Europe to showcase his talent alongside European youth.
Mini 150 First Division Main Event
1. #1 – Sebastian Palmese
2. #16 – Jake Isaac
3. # 31n – Sterling Martin
4. #28 – Slater Lightcap
5. #115n – Landon Norton
6. #30n – Alex Martin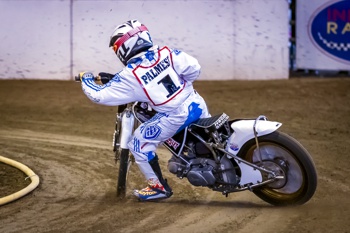 Palmese wins again in Mini 150 First Division.
The Mini 150 Second Division Main event featured another racer that was given a handicap to begin the race. Tristan Britt was forced to start behind the main pack as the tapes rose for the final Mini 150 Second Division race of the evening. Catching the lead group by the second corner, Britt used the outside to his advantage maneuvering through the crowd, taking over the first position and moving on to the checkers. Luke Whitcomb managed to keep Britt in his sights, but it wasn't enough and Whitcomb crossed the line in the second position.
Mini 150 Second Division Main Event
1. #11 – Tristan Britt
2. #27 – Luke Whitcomb
3. #96 – Andrew Russell
The Pee Wee Main Event has been a showcase of the talented future of speedway throughout the 2014 season. On Wednesday, Rachel Schnakenberg got the upper hand early as she got a strong start and began to pull away from the group of young racers. Cameron Titterness held the second position, with the No. 13 of Tanner Richey closing in quickly. Richey continued his run to the front, passing each of the first two positions to take over the lead. Three-time winner Travis Horn put on a late-race charge in hopes of grabbing his fourth victory of the season, but it wasn't enough to get past Schnakenberg and Richey out front. Richey became the third different Pee Wee winner of the 2014 season.
Pee Wee Division Main Event
1. #13 – Tanner Richey
2. #5r – Rachel Schnakenberg
3. #25 Travis Horn
4. #281 – Cameron Titterness
5. #99 – Adam Csanyi
6. #5 – Conner Salazar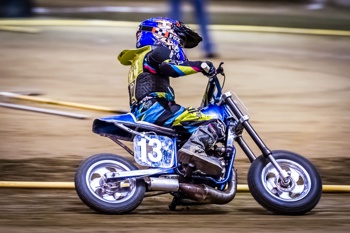 Richey became the third Pee Wee Division winner this season.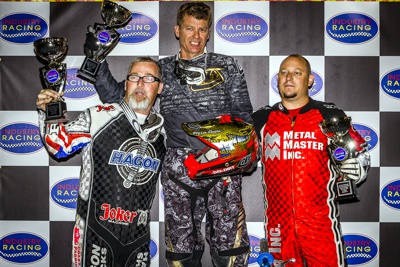 Next week Industry Racing will be dark in observance of the 4th of July holiday. The 2014 season will resume on Wednesday, July 9, for what is sure to be another great night at Southern California's only fully AMA-sanctioned speedway facility. Gates open at 6 p.m. PST while racing kicks off at 7:30 p.m. PST. Tickets are just $10 for adults and $5 for kids and seniors.
Connect with Industry Racing through its Social Media Channels
Twitter: @IndustryRacing
Facebook: Facebook.com/IndustryRacing
Instagram: @IndustryRacing
About Industry Racing
Industry Racing is based on the grounds of the Industry Hills Expo Center in the City of Industry, California. Races are hosted inside the property's Grand Arena, making Industry Racing the only speedway racing facility covered by a roof. Speedway events at Industry Racing are hosted every Wednesday throughout the summer with racing scheduled to start at 7:30 p.m.
Industry Racing has risen to prominence in recent years thanks to the introduction of the Monster Energy World Speedway Invitational and internationally sanctioned AMA/FIM Youth Silver Cup. As of 2014, Industry Racing serves as the only track in Southern California fully sanctioned by the AMA.