Rick Woods
June 11, 1948 - September 1, 2012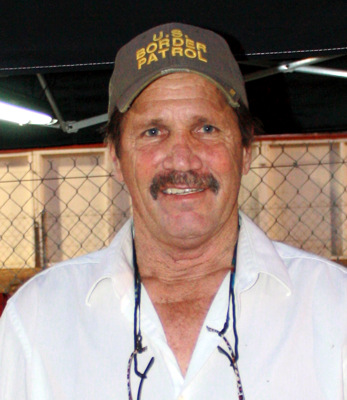 U.S. National Champion 1968, 1970, 1972
Nickname: "The Rocket"
Rider Number: 54
Hometown: Costa Mesa, California - USA
Place of Birth: USA
Birthdate: June 11, 1948
Started Speedway: 1967
Brother: Gene Woods
Top Photo by: Dorcey Wingo
One of speedways most beloved riders Rick Woods dies unexpectedly.Rick had been having health/cancer issues for years but medical treatment went well and the common perception was that his cancer treatment had been successful.In 2007 his younger brother Gene Woods organized a benefit auction to help defray medical costs.It was well supported by the Speedway community.
"We're still all in shock.We had no clue this would happen" Gene told me.Rick was home when he slouched over.Wife Robin tried to revive him but to no avail.A autopsy is planed to determine the exact cause of death.Plans for a memorial service or gathering have yet to be decided on.
A ruff and tumble rider from the early days of Speedway the battles between Rick Woods, Danny Becker and the Bast Brothers, Steve and Mike, are legendary and have long ago become Speedway lore.
Our condolences to family members and those who knew him.The Speedway community mourns the passing of Rick Woods.
God Bless.
Howie - RAZ Video - howie@razvideo.com
Gene tells me that brother Rick Woods was last on a motorcycle when he rode on the back with him at Industry a couple of years ago. Funny how that works as Gene's first ever motorcycle ride was on the back of a Yamaha 80 with a Git Kit at Huntington Beach. We feel for you brother. Hand in there brother.
---
I am very sorry to hear of the passing of Rick Woods. Our thoughts & prayers are with Gene & his family. Never like to hear about the passing of a member of the Speedway family. Even though Rick was a great rival of mine & my brothers in the '70's, over the last 20 years Rick & I had spoken on the phone & had some great conversations about the past. I remember as a kid starting out in speedway, if you beat Rick Woods you felt like you had just beat the world champ. He was a true legend of Speedway!! Mike Bast
---
Message from Bruce Penhall regarding the loss of Rick Woods - "Rick was my inspiration, my mentor and I would have never ridden a Speedway bike if it wasn't for him. My life has been blessed up until the last 5 months, lately life sucks. Our heart aches. RIP RW #2....#1. You were my Hero!!!! ...BP"
Bike: Jawa
Tracks Ridden:
USA: Bakersfield Speedway - Costa Mesa Speedway - Victorville Speedway - Ventura - Inland Motor Speedway - Whiteman and many others.
Achievements:
1972 - US National Champion
1970 - US National Champion
1968 - US Champion Whiteman (This is listed in the Van Nuys paper as a US Title, Sep 19, 1969)