Action Park East Speedway
RIP Action Park East
1983-1989 / 2002-2010
*** Action Park East Is CLOSED ***
It will be replaced by Seneca Speedway in Watkins Glen in 2011***
119 River Valley Lane
Greene, New York 13778
East Coast Speedway Promotions <eastcoastspeedway@hotmail.com>
Thursday, October 28, 2010 9:49:29 AM
Action Park East has seen its last speedway race and has been officially sold. While it was a sad moment to see the closure of a facility that was an important piece of NY Speedway history it marks the beginning of an awesome and exciting opportunity for the sport. (See also Action Park Web Site)
I have purchased a new property in Watkins Glen, the capitol of racing in NY State, and have already been approved by the town board to build a new speedway track there to replace Action Park. The property in Watkins is an existing family fun park with mini golf, an arcade, 2 go-kart tracks and bumper boats plus a nice wooded area for a scrambles course and a pond big enough for winter ice races. The property is just 2 MILES STRAIGHT ON THE SAME ROAD AS THE NASCAR TRACK! This could be huge for our sport and I hope to raise enough funds to be able to have the new speedway track ready for opening this summer.
While I am sad to see Action Park go and apologize to those who will miss it, I am proud we were able to bring it back to life for 9 years so that those in the modern generation of speedway could say they raced there and enjoyed it. We had a lot of great times up there!!! In its early years of its second life it thrived on a Sat night but over the past few years when Champion Speedway had to switch back to Saturdays again the two facilities were bumping heads for Saturday nights and it was just not making sense anymore. Racing at the new facility will be Friday nights and the upside potential is just much more than what we could do with APE.
I want to thank all of the people who supported APE over the years and especially thank Tim Mathewson who worked very hard to help keep it going the past few seasons. Rick Redpath also put a lot of heart and soul into it and I thank him! My enthusiasm for the place had been drained slightly since being burned in a big way financially by former tenants of the bar and a tenant of the track but those guys kept their energy up! Its new future will be as a baseball driving range and training ground so at least a high rise will not be built over it and sports will continue. Ironically, Tuff McBride was the tracks first Champion in 1983 and Adam Mittl was its last, both of whom are still racing and took one two in this years overall points chase. The last event ever was this years US Open round and we had a nice crowd and a lot of fun, memories will live on forever!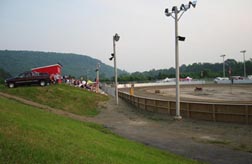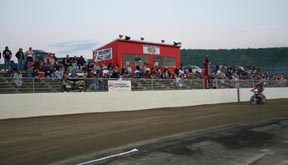 Professional Speedway Motorcycle Racing plus ATV and Dirt Bike Flat track and TT racing
both Youth and Adult, Go-Kart's and Microds welcome
Directions: Take NYS Route 81 to RT12. Head East on 12 to Airport Rd in Greene, take a right at Airport and head back a 1/4 mile. Track is on right.
Gates open at 5:30pm Races at 7:00pm.
Ticket Prices: $10.00 Adults, $3.00 Kids 6-12, kids under 6 are free. ** Indicates Special event admission prices.
Parking and Programs FREE!
Mailing Address: 2152 Edgemere Dr., Rochester, NY 14612
For Information Call: (585) 723-9746
E-mail: Eastern Speedway Promotions eastcoastspeedway@hotmail.com
Website: www.jbrspeedway.com - Batavia Motor Speedway - Monroe County Fairgrounds
Check out more New York Speedway at Champion Speedway and Batavia Motor Speedway.
UPDATED 2010 Action Park Schedule
OCTOBER 17 at 2PM The FALL Classic Race at Champion Speedway in Owego! Gates open at Noon, Racing at 2pm!
*DECEMBER 3 * POSTPONED until FEB or MAR- INDOOR ICE RACE AT THE BROOME COUNTY ARENA in Binghamton
2 0 1 0 Action Park Schedule
May 29 - Patrick Ahlund Memorial Spring Classic
June 26 - New York State Championship Round 1
July 23**- Friday - King of Speedway Championship Round 1
The July 24 event at Action Park is being switched to FRIDAY, July 23 at 8PM.
As a result the planned Sunday July 25th meeting at Champion Speedway is going to be changed to the Saturday, the 24th at normal 7pm start time.
September 4**- US Open Speedway Championships Round 2
There may be one more event added to final schedule
** Special Event Pricing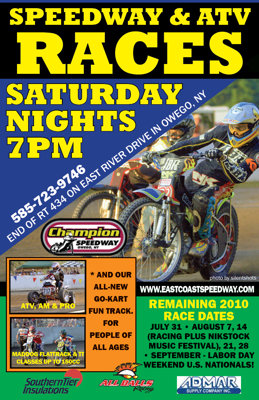 Download the poster above in JPG format
Download the poster above in PDF format
2009-2010 Winter Schedule
RD 1 Binghamton, NY BROOME COUNTY ARENA Nov 7, 7pm
RD 2 Utica, NY UTICA AUDITORIUM Dec 20, 2pm
RD 3 Syracuse, NY ONCENTER Dec 27, 2pm
RD 4 Albany, NY TIMES UNION CENTER Jan 17, 2pm *US NATIONAL CHAMPIONSHIP
RD 5 TBA Feb 5
RD 6 TBA Feb 19 or 20

RD 7 FT Myers, FL GERMAIN ARENA March 7 2pm
RD 8 & 9 Rochester, NY ESL SPORTS CENTER April 3 & 4
May 8 NEW YORK STATE CHAMPIONSHIP - The NY State Ice Championship has to be moved to May 8th because of problems with the Chenango Ice Rink hockey schedule. I know this is late in the season but also knew that many people were looking forward to it so we want to give it a shot. Hope everyone will be willing to come inside for one night to see some great racing this Spring!
* There is a possibility of several more dates which will be announced soon
2 0 0 9 SCHEDULE
May 23 - Patrick Ahlund Spring Classic Rd 1
June 27 - NY State Championship RD 1
July 25 - King of US Speedway Championships Round 2
August 22 - Freestyle Motocross Jumpers Show - Full program of speedway and ATV
September 5 - US Open Speedway Championships Round 2
November 7 (Saturday) Round 1 North American Indoor Ice Speedway Motorcycle and ATV Championships at The Broome County Arena, Binghamton, NY 7pm start
2008 Action Park Results
2007 Action Park Results with 2006, 2005 schedule and results
TRACK SPONSORS
All Balls Racing
Southern Tier Insulations
The Ramblin Pig at The Trackside Lounge
Coca-Cola
Cole's Construction
SpeedwayBikes.com
Budget Fence
Works Enduro Rider
G&L Auto Supply
Carriage Auto Center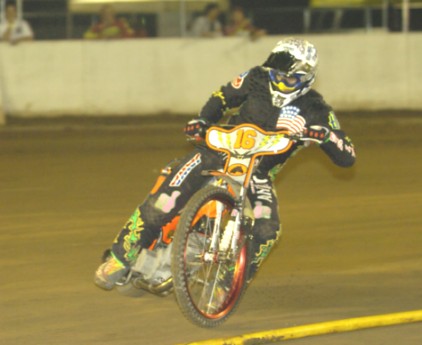 2004 Track Champion and 2004 NY State Champion Jeremy "Darkhorse" Parsons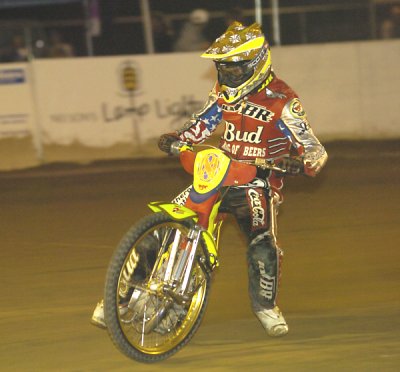 2002, 2003 Track Champion and 2002 NY State Champion Tom Sephton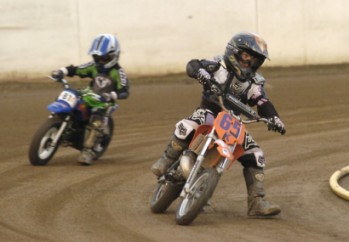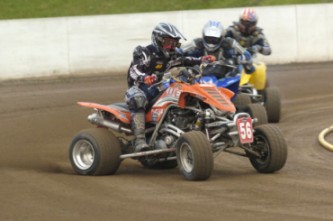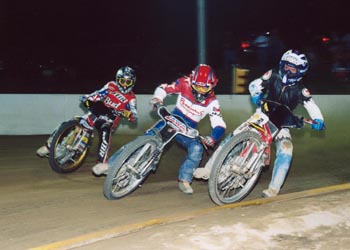 Three across at Action Park East, 2002: Tom Sephton (outside), David Oakden (middle) and John Cook on the inside