1999 North America Speedway History
Californian Billy Janniro in Australia
Golden Helmet round 1
(Nov. 21, 1999) As most will already know, Billy Janniro made his Australian debut at Maryborough in Queensland, Australia last night. As expected, it was a tough start for the youngster. He was suffering mechanical problems as well as having to ride a very different type of track to what he is used to.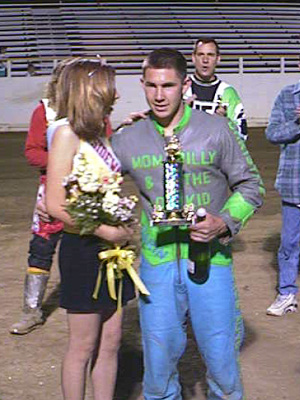 - Lee Morris LWMORRIS@bigpond.com.au
"I spoke to Billy in the pits before the meeting. What a pleasant young gentleman. I passed on special good luck wishes from a devoted American fan by the name of Linda Love. He was tickled pink to think those back home were following his progress. Unfortunately, Billy didn't have the best of nights. He failed to register a point in his 3 rides before withdrawing from his 4th outing. His 3rd race was his best by a long shot. He gated in front of all the others and led them for 1 lap before they eventually forced their way past. He certainly showed enough to demonstrate that he can hold his head up in this auspicious company."
"What an unselfish lad Billy is. Pre-meeting he was working on just about everyone elses machine except his own. Lee Richardsson's brand new Jaweso wouldn't fire at all - but guess who was able to give it the kiss of life. Please pass on some of these glad tiding to the American list as you certainly have a great ambassador for the sport in this lad."
- Brett Garrigan
Please tell Billy "The Kid" Billy Janniro to keep it up. Watch this guy he is going to impress the world. He has the balance of a cat and the heart of a gold! I have seen "The Kid" come out of a corner sideways with the front wheel in the air riding his Jawa like a bronco!
Tell Billy J hello from all of the Carrillo's at Team Coyote...:')
Teamcoyote@aol.com
England's Lee Richardson powered his way to a mighty win in the first round of the '99 'Ivan Mauger Golden Helmet Series' at Maryborough, just north of Brisbane. Aboard a brand spanking new factory Jaweso, Richardson lifted too high out of the gate in the all important Final and entered turn one near last place. However, the World U/21 Champion wound up the power and pegged off each opponent one by one to emerge a clear winner. He was totally dominent throughout the night after a first up third placing in Aleksandr Luyatosinskyy from the Ukraine, showed consistant form during the night scoring second places in all bar one of his 6 rides and emerged runner up to Richardson in the Final. Lukas Dryml (Czech Rep) returned to the Australian Series after a very successful European season and showed the huge crowd on hand just how much an improved rider he is. In stark contrast to his Maryborough round last year, Lukas scored two heat wins amongst his four rides, a fighting second place in the Semi-final and an excellent third for the Final. Lukas edged out equal top pointscorer of the heats, Sergie Darkin (Russia) into fourth place for the Final. Polands Krzysztof Cegielski was very impressive with his unique riding style, hanging off the back of the bike in a bid to extract as much drive as he could on a slick track. He took out the Consolation Final, but should be worth watching throughout the series. Most successful of the Australian Riders was Brisbane's Scott Smith who has been in great domestic form of late and snared a terrific second in the Consolation. Smith lead home Sweden's Daniel Nermark, who could consider himself unlucky to be placed in such a tough Semi-final earlier, against Richardson and Lukas Dryml. Dave Watt of Brisbane rounded out the top eight finalist's, earning his place with some strong rides in the heats. The 'One of Those Nights' awards easily goes to '98 Maryborough round winner Ales Dryml. The World U/21 runner-up could not make a gate all meeting and found chasing from behind was a tough task on such a slick track. And then there was the 'Hard Luck' award which was unfortunately forced onto young American who spent most of the meeting trying to sort out clutch problems, however was able to display his prowess on a Speedway Bike in two rides before succumbing to his predicament. With round two pencilled in for Gosford NSW next saturday night and round 3 at Tamworth the following day, the Overseas riders chosen to contest the series showed tremendous value for money and augers well for the remainder of the rounds. Overall, the Series opener was a great success and continues Ivan Mauger's tradition of putting on a great display for the masses.
Round 1 details...............
Lee Richardson; 1,3,3,3=10
Christian Henry; 0,1,0,0=1
Daniel Nermark; 3,2,2,1=8
Aleksandr Lyatosinskyy; 2,3,2,2=9
Billy Janniro; ef,-,0,-=0
Lukas Dryml; 3,1,2,3=9
Sergie Darkin; 1,3,3,3=10
Dave Watt; 2,2,1,0=5
Ales Dryml; 1,1,1,2=5
Krzysztof Cegielski; 3,2,1,1=7
Scott Smith; 2,f,3,2=7
Todd Groves; 0,0,0,1=1
Trent Leverington res.; -,-,-,0=0
1st Semi; Richardson,L.Dryml, Cegielski, Nermark
2nd Semi; Lyatosinskyy,Darkin,Watt,Smith fell.
Consolation Final; Cegielski,Smith,Nermark,Watt
Final; Richardson,Lyatosinskyy,L.Dryml,Darkin.
Peter Henderson
Gold Coast, Aus
http://www.users.bigpond.com/PLHENDERSON/index.htm
'Speedway Bikes of Oz
---
Subject: Golden Helmet round 3
From: "Peter David Henderson" PLHENDERSON@onaustralia.com.au
After a miserable round 1 start to the series, Ales Dryml (Czech) has serged back to his best as he took out the third round of the 'Ivan Mauger Jack Daniels Golden Helmet' series at Tamworth in central NSW. Ales equal top scored in the heats with 11 points, went on to win the 1st Semi-final, then the Final. Sweden's Daniel Nermark also finished his heats on 11 points and followed home Ales in the Semi, however could only manage a 5th place in the 6 rider Final.
Aleksandr Lyatosinskyy (Ukraine) has kept his momentum going with a superb second placing in the Final after qualifying for and placing 3rd in the 2nd Semi on 10 points. The much improved Lukas Dryml (Czech) continues to impress and raced to a steady third in the Final and leads the overall points tally by 3 points. Russia's Sergie Darkin was fourth with Australia's Peter Pono crashing out in a nasty looking incident.
Krzysztof Cegielski (Pol) won the Consolation Final from Chris Szauter, Adam Shields, and Ben Shields, all Aussie riders, then Billy Janniro (USA) and Darren Wade rounding out the six.
Englands Lee Richardson was again plagued with engine problems from heat one, eventually finding a faulty ignition the culprit. The World U/21 Champ won his last heat, however with his 4 heat points, was placed 13th for the day, and out of contention for the Semi's.
The troupe now travel to Whyalla in South Australia this Friday, then the following night, Sat., will 'Double Bill' with the Australian Longtrack Championship band at Pt. Pirie (SA), just north of Adelaide.
Round 3 details........
5 rider heats...Heat points........
A. Dryml 11, Nermark 11, Lyatosinskyy 10, L. Dryml 9, Cegielski 9, Darkin 8, Szauter 8, Pono 7, B. Shields 7, A. Shields 5, Billy Janniro 5, Darren Wade (Aus) 5, Richardson 4, Daniel Mason (Aus)3, Leigh Fernance(Aus) 3, Lee Herne (Aus)3, Dean Wiseman (Aus)3, Dave Booth(Aus) 3, Chris Watson (Aus)3, Shane Haggerty (Aus)3.
6 rider 1st Semi.....A. Dryml, Nermark, Pono, Cegielski, B. Shields, Billy Janniro
6 rider 2nd Semi....Darkin, L. Dryml, Lyatosinskyy, A. Shields, Szauter, Wade.
6 rider Consolation...Cegielski, Szauter, A. Shields, B. Shields, Billy Janniro, Wade.
6 rider Final....A. Dryml, Lyatosinskyy, L. Dryml, Darkin, Nermark, Pono.

Total series points after 3 rounds....... L. Dryml 32, Lyatosinskyy 29, A. Dryml 27, Darkin 23, Nermark 22, Cegielski 20, Richardson 16, Billy Janniro 4

Peter Henderson
Gold Coast, Aus
http://www.users.bigpond.com/PLHENDERSON/index.htm
'Speedway Bikes of Oz
---
Subject: Fwd: Golden Helmet round 4 extra
The Ivan Mauger troupe arrived at Whyalla, a steelworks and ship building city on the north-west coast of the Spencer Gulf of South Australia, on Thursday dec. 2nd to 42 degree stifling heat. Very heavy rain fell overnight, with Friday dawning clear, windy and very cold. Conditions remained throughout the day and into the night with the meeting run under clear skies.
The track was quoted by Ivan Mauger as being one of the best he had seen, and, with an excellent crowd to match, a round of the 2000 Series could almost be pencilled in for Whyalla from now!
Highlights of the meeting were the last to first place ride of Lukas Dryml in the Consolation Final where the young Czech rider was absolutely desperate for points, and the almost 'dead-heat' for second place in the Final between Aleksandr Lyatosinskyy and Sergie Darkin.
Semi-Final #1....A.Dryml, Lyatosinskyy, Dave Watt, Daniel Nermark
Semi-Final #2.....Cegielski, Darkin, L.Dryml, Nigel Sadler.
Consolation.....L.Dryml, Nermark, Sadler, Watt
Final.....Cegielski, Lyatosinskyy, Darkin, A.Dryml.

Round 4 points.....Cegielski 12, Lyatosinskyy 11, Darkin 10, A.Dryml 9, L.Dryml 8, Nermark 7, Sadler 6, Watt 5, Tony Primmer 4, Russell Harrison 3, Billy Janniro 2, Ford Keane 1.

Lyatosinskyy has springboarded to equal first place overall with Lukas Dryml on 40 points, Ales Dryml is right with them on 36 and Krzysztof Cegielski jumps up to within 1 point of Darkin. Points after 4 rounds......Lyatosinskyy 40, L.Dryml 40, A.Dryml 36, Darkin 33, Cegielski 32, Nermark 29, Richardson 16, Billy Janniro 6.
Englands Lee Richardson did not ride.
The Fifth round will be run tonight, Saturday, on the opposite side of the Spencer Gulf, at Pt. Pirie, in conjuction with the Australian Longtrack Championships. Could the 3 time Ukraine Longtrack Champion Lyatosinskyy create a fifth different round winner in this intriguing series?
Peter Henderson
Gold Coast, Aus
http://www.users.bigpond.com/PLHENDERSON/index.htm
'Speedway Bikes of Oz
---
Subject: Golden Helmet round 5
The Ukraine's Aleksandr Lyatosinskyy has broken through as the fifth rider to claim a round win in the '99 'Jack Daniels Golden Helmet' series at Pt. Pirie in South Australia . The series round shared staus with the running of the Australian Longtrack Championships and consequently was held using a 'points only' outcome rather than a 'Finals' result.
Russia's Sergie Darkin could feel hard done by as he was set for a maximum, until a chain break in his final heat while in the lead, which prevented a certain round win. The Czech brothers Ales and Lukas Dryml finished the night 3rd and 4th respectively. Australian Longtrack specialist and European visitor earlier this year Daniel Mason rode very well to snare 5th place and Billy Janniro of the USA had his best round to date ending with 6th for the meeting. Previous round winner Krzysztof Cegielski (Poland) finished 8th, just behind Aussie Tony Primmer in 7th.
Meeting details........
Lyatosinskyy 14 points........round 5 points, 12
Darkin 13.......11
A.Dryml 12.......10
L.Dryml 11........9
Mason 11..........8
Janniro 10.........7
Primmer 10........6
Cegielski 9........5
Rusty Harrison 8.......4
Strider Horton 7.........3
Darren Wade 7........2
Daniel Nermark 6 ........1

Series points after 5 rounds
Lyatosinskyy 52, L.Dryml 49, A.Dryml 46, Darkin 44, Cegielski 37, Nermark 30, Lee Richardson (Eng) 16, Billy Janniro 13.

Lee Richardson flew to Monte Carlo for the FIM World Champ presentations and WILL return for the next round at Labrador Speedway this Saturday night.
Peter Henderson
Gold Coast, Aus
http://www.users.bigpond.com/PLHENDERSON/index.htm
'Speedway Bikes of Oz
---
Speedway Practice Track in Northern CA.
(Nov. 22, 1999) I just confirmed (After talking to the owner) of a place to practice Speedway in Northern CA. This is the information I can offer: Mike Martin of Lincoln, CA has a 1/8 mile track approximately 780' on the outside, 35' wide, 140' straight away.
Decomposed Granite surface. It has banked corners, with a drainage system to pump the water out. The track has lights. The track was set up for carts and only had a few other Speedway riders out on the track. Mr. Martin tells me that he has a starting gate, but I do not know if it is operational yet.
We have not had the opportunity to get out to see the track yet, But after talking on the phone with Mr. Martin he tells me that the track is smooth and if enough Speedway riders show up he will groom the track to suit our needs.
Now all we need to do is get a dome over it and we can practice all year long (wishful thinking)!

His Phone number is: 916-645-3709 ask for Mike Martin.
Keep it sideway!
Steve, Donna, Kevin, Eric and Mark Carrillo
Team Coyote - Teamcoyote@aol.com
---
Ice Racing 2000
We have outdoor ice racing all winter, any one that would like to come race up here should email me.

Trevor Reynolds - president of the ISRA
E-Mail: trevor.reynolds@premisys.com
---
John Cook Speedway Academy
There will be a John Cook Speedway Academy on Sunday November 28, 1999 from 8am to 2pm. From 3pm to 5pm there will be an open practice. The $125 cost for the school includes the practice session. Price for the practice is $20 per rider. Students for the school must register before hand by contacting Dave Joiner at 530 878 7223 or Emailing him at fastfriday@aol.com
This is obviously contingent on suitable weather.
Cancellation of School and Practice Session.
Due to a problem with the Fairgrounds, the practice at Fast Fridays this Sunday November 28, 1999, has been cancelled. They hope to arrange practice sessions for future dates, throughout the winter. I will post future plans when available. - Gary Roberts
---
Year 2000 California Updates
Provisional plans for year 2000:
Fast Fridays season opener May 5
The American Final will be at Auburn on May 26
Overseas Final will be June 18.

Billy Janniro left on Saturday for Australia. His first race is next Saturday, then he has at least one event each week until December 18. Good luck, Billy! I will forward any results I receive.

- Gary Roberts - groberts@iee.org
---
Speedway! 8:00 p.m. on NBC
"I just saw a commercial during the NASCAR race on NBC advertising "World's Most Amazing Videos" and it showed Kevin Rubio's crash at Costa Mesa Speedway, on the commercial. It's pretty spectacular! I didn't see it in person, but after seeing the clip on TV the crash was wilder than I thought! The show will air at 8:00 p.m. on NBC here on the West Coast tomorrow night (November 15, 1999). "
Ryan Evans
sideways31@aol.com
---
Argentine Championship needs a rider from North American
I am Guillermo Sahagun, secretary of Automoto Club Bahia Blanca. Last year Chris Hesmer was in my house in Bahia Blanca. I would like to know if there is any American or Canadian riders, interesting in coming to Argentine to ride (division one). The 45th Annual Argentina Championship runs from December 15 to February 28. The rider has to complete all of the championship series.
See Chris Hesmer's reports for more details.
Guillermo Sahagun E-Mail: gsahagun@impsat1.com.ar
---

The 1999 Season's Race Results
---
Hot News
Harry McGill has passed away.
Harry was the father of 1st Division rider Ron McGill who rode in the 70's - early 80's. He was the Grandfather of Steve McGill, a 2nd division rider in 1994. He helped prep the track in Auburn in the early 80's and helped Mike Rooney at Cal Expo in 1988-89. He was the northern California Jawa dealer . He sponsored many riders through the years. He owned Harry's Shop for 48 years where he was a diesel mechanic. He died on October 26, 1999. Friends are invited to attend his Memorial Services on Saturday, November 6, 1999 at 2pm at:
Reicherts Funeral Chapel
7320 Auburn Blvd.
Citrus Hieghts, CA
---
Speedway's season is not over yet!
There is a big track event in California and a new track in New York!
Temecula California
From: TMGRACING@aol.com
Looks like some first Div riders will be at Temecula on October 23rd 1999. Here is your chance for some long track riding on a good track with alot of dirt. As stated earlier gates open at 300pm and racing is at 600pm dont forget to bring your fast gears.
From: TeamEstes@rampageusa.com
To update the info about Temecula, gates open at 3 practice is at 5 and races begin at 6:30 pm. the directions are hwy 15 to winchester turn right to diaz turn right and follow to track. to add to the 1st division guys, GT is coming with us.
If you need directions or other info the phone # for the SanDeigo Flat Track Assoc. is (619)277-1591.
There is lighting at Temecula now and the track is better than the one last year.Tall gearing is a must.The last I talked to the Fishers,Ryan used a 55 gear and he was definately flying out there running 2 seconds faster than the 600cc rotax bikes per lap.
From: Brent Smith
I can't speak for everyone but I'm going to try to make it to Temecula!
---
From: "timothy marsh"
Hey, gotta' run somewhere during the "winter doldrums". And Temecula is a heckuva lot closer than anywhere up north. 'sides, it's a big track, and after my postiive experience at Ventura in June, I think it'll be fun!
Tim #222
---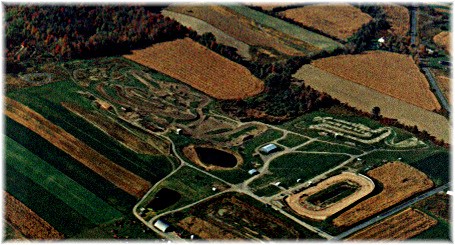 Frozen Ocean Motocross Park, Inc.
RD#2 Vanderstouw Rd., Auburn, NY 13021
PHONE: (315) 784-5517 or 784-5466
FAX: (315)784-5904
E-MAIL Sue at: mad@baldcom.net

Celebrating its 10th year in motocross racing, arena-cross and kart racing. Lessons available. April-Oct.
Also has an oval track suitable for SPEEDWAY. New York riders can contact rider Jerry Harman for details of practices in October 1999!
From: "Timothy J Mathewson" TMATHEWSON677@prodigy.net
"This is not a practice track. We did practice there but this could be the real deal! The promoter is extremely interested in getting speedway going there. He already has AMA affiliation through Supercross, Arenacross and Motocross. "
"The track is a 1/5 mile clay deal that is more than functional for speedway bikes though some "pureists" will whine aboout lack of dirt. The track was built for Karts and was extremely smooth the day we rode. Unfortunately, there was a steady 30 mph cross wind that day and the track dried out making it extremely slick."
Frozen Ocean is located outside of Alburn, NY. about an hour and a half from Owego but it is close to the NYS Thruway and Syracuse.
Check their web site for more information!
---
Junior Bikes
Teamcoyote@aol.com writes:
For anyone who is interested the 1999 Jawa 125 Jr Speedway bikes are in stock at Codys.Bill has 2 bikes that came in from JAWA and there pretty cool.The cost of the bike is 2,500 ready to go.
For more info contact Cody Racing at 714-638-5951 or e-mail TMGracing@aol.com and we will help you get one of these new bikes.Heres our chance to start to rebuild SO CAL JR SPEEDWAY.
From what I understand is that Oxley wants a rear wheel size of 18" and the front 19" From what I have seen is that the Jawa 125 has full size wheels and chassis...
Unless Oxley is changing his rules? Where is someone down south going to race one of these? Check out the web site and tell me what you think: www.jawa.cz
We are not going to keep trying to run at CM.We have to face the fact that they are not really interested in real junior racing.They just want what is getting imposible to find as far as bikes are concerned.I am going to start a program at Maelys for the winter for the kids that want to ride.I will start out with two classes a 125cc class for the beginners and a 250 class for the bigger more advanced kids and I will let you guys up North when the dates are final if you guys want to join in.
TMGracing
---
From: Adam Jennison
Sent: 21 October 1999 07:09
Subject: [speedway] Hull lost..
Hull lost at home to a very determined Coventry side..
It was about 49-41 or maybe 54-42 .. I was looking after my little girl so never had a prog to fill ..
The main reason for this mail to inform everybody about Sam Ermolenko (right) and Stuart Robsons (left) freak crash in heat 1.
It was a very cold night at craven park and the wind only added insult to injury. Sam gated well from gate 2 to take the lead. Jason Lyons had packed up with engine problems on the opening turn and left the way open for a HULL 4-2.
On the last turn of the last lap Sam drifted slightly wide, but not that much, as he cam towards the start finish tapes his handle bars got caught in the chain mail fence. The bike stopped instantly and he was thrown over the bars with the bike hitting him from behind. Stuart didn't have any time to react and rode over the bike and Sam. Stuart tumbled down the track followed by his bike, taking a few serious looking knocks from his angry machine. When all came to rest (this happend in front of the main stand) the crowd got to there feet. Sam was just befor the tapes and stuart was about 20yrds past them. Both riders stayed down for what seemed like an eternity before both limped back to the pits.
It was later relayed to the crowd that both riders would take no further part in the meeting, Sam was taken to hospital with neck injurys while Stuart has broken one finger and discolated an other.
Sams rides were taken by Gary Stead who, up against it, scored 2 points on behalf of Sam.
Sam was meant to be riding tommorow for the US and on Sunday for the Sheffield Hi-Peak classic. Lets hope both riders recover from on of the nastiest looking spills at Craven Park.
Adam
---
England vs. USA, Eastbourne UK, Sept 18, 1999
On Saturday night I was pleased to spend the last night of my late UK season visit at Eastbourne to see what should have been the second leg of the England vs. USA test match. I was all set for attending the first leg at Ipswich two nights earlier, but good old English weather took care of that one. To most of us, it looked very likely that the Eastbourne event would be called off too, since it was raining practically everywhere in the rest of the country, all day long.
The England vs. USA test series was an annual tradition from 1980 until 1994. Since then there have been insufficient Americans but this year, the USA managed to field a team of European based Americans, a very good one, at that.
The Eastbourne track length is 275 metres, slightly larger than Auburn, about the same size as the old Glen Helen track, so was well suited to the Americans.>
Dean Barker, David Norris and Josh Larsen ride for Eastbourne this year, so benefited from track familiarity. Track conditions started out absolutely perfect, and with two tractors coming out to groom it between each race, it stayed that way all evening. Also helping was a damp atmosphere. For the entire evening it looked like being on the verge of heavy downpour.
An observation I made during this trip was that the crowds seem to have found their way back to British Speedway tracks. The crowd 4 days earlier at Poole was the largest I have seen there in 20 years. One would have expected a bumper crowd for Eastbourne's top international event, but not the case. The stands were very lightly packed. This was undoubtedly because of the weather.
Unofficial results
England
Chris Louis 3 2 2 1 1 9
Lee Richardson 1 0 0 – 1 2
Joe Screen 2 3 3 0 0 8
Dean Barker 0 2 1 2 2 7
Paul Hurry 1 1 0 2 0 4
David Norris 2 2 2 1 1 1 9
USA
Greg Hancock 2 3 0 3 3 11
Josh Larsen 0 0 2 0 2 4
Sam Ermolenko 3 3 3 3 3 15
John Cook 1 1 1 2 3 8
Ronnie Correy 3 1 3 3 2 12
Brent Werner 0 0 1 0 0 1
England captain, Chris Louis started the evening with a win over Greg Hancock, breaking the track record in the process.
For the early part of the event, competition was very even. There was never more than a 2 point difference. After 10 races the score was a 30-30 tie, but in the remaining 5 heats, the Americans transformed it into a convincing 51-39 win.
In heat 11 Joe Screen fell while in second place, but it was only in the last two heats where England lost. John Cook and Josh Larsen had a convincing win over David Norris and Paul Hurry, then Ermolenko and Correy finished off with another 5-1 over Louis and Screen.
Billy Hamill, who was still recovering from damaged ligaments to his right thumb, sustained in the AMA National Championship at Auburn on September 3, was unable to ride. Missing from the England squad through illness was Mark Loram. I made the assumption that each absence cancelled out the other.
American captain, Sam Ermolenko was clearly the star of the show. A 15 point maximum in any British League meeting is a great achievement, but in such class company, his performance was nothing short of outstanding. To ensure he made a lasting impression, he even broke Chris Louis' new track record.
Ronnie Correy and Greg Hancock put on good performances, but the man who impressed me was "Cowboy" John Cook. The last time I saw him ride was well over a decade ago, in the company of the Morans, Lance King and Rick Miller. Now riding with a new generation of Americans, John was still consistently fast out of the gate and retained the same style that established him as a world class performer. Since those days he has become one of the world's top jet ski racers, then in 1992 returned as a regular competitor in the Swedish Speedway League. This year he has ridden for Smederna, the same team as Billy Hamill. He mentioned that he will be competing in the Costa Mesa US National Championship next month.
Summarizing, I really enjoyed this event. It was a good win for the Americans and a good show by both teams. There were numerous demonstrations of sportsmanship, with opposing sides shaking hands on the slowdown lap, just the way it should be. And finally what better way to round up the evening and my visit than a couple of pints of nice English beer. A great evening.
Gary Roberts - groberts@iee.org
---
For Immediate Release
Indiana State Speedway Championship
September 24, 1999 Sign up @ 5pm
Practice @ 6:30pm
Racing @ 8pm
This will be the last event of the year @ Lawrenceburg Motorcycle Speedway. We have verbal commitment from several Canadian riders - possibily as many as 12 will compete.
As of right now it looks like we will have a first and second division championship. Of course, this is dependent upon the number and caliber of riders in attendance. With the Canadian season concluded we do exspect a good turn out. This in addition to the 8 local riders should make for a great program!
The event will be followed by a track side barbeque and trophy presentation. In addition, an open practice session will be held on saturday complete with a clinic for second/third division rider conducted by Patrick Reynolds. All this at no charge to the participants.
Tire rule for L.M.S. Indiana State Speedway Championship: tires allowed - kenda, trackmaster, barum (16 and 18). No exceptions to this rule.
Rain date : Saturday Sept. 25 @ 10am (it's the following day after the scheduled race)
Pay off is as follows: 1 division - 100.00 (american)
2 division - 60.00 (american)
3 division - 35.00 (american)
This is a straight pay off with no purse. If you compete and make all your heats, this is what you will make regardless of how you finish. Your riding level will be determined by previous performances and experience.
A very nice trophy with "Indiana State Speedway Championship" ingraving will be presented to both divisions: this should certainly be a big plus for the riders resumes who win this event. It of course will also be posted on the internet complete with pictures.
Come join the fun and excitement, and experience the southern hospitality Lawrenceburg Motorcycle Speedway has become famous for.
For more information contact Patrick Reynolds @ (606) 293-0405.
---
1996 World Champion, Billy Hamill will be riding at Fast Fridays on August 8. He is coming to check the place out in preparation for his visit the following month to compete in the 1999 AMA National Championship. It will be Billy's first ride at Auburn since riding for the South team during the 1995 Civil War.
---
"Real TV" is broadcast on Network Television nationally, not just in the Sacramento area. It is a shame that the only way to get national coverage is with crashes, but that is what "Real TV" is all about (crashes and mishaps). A lot of non Speedway people saw Pat Linn's crash at Sideways Saturdays on "Real TV", came to the races, learned what Speedway is and liked what they saw.
It sound like we owe a big thank you to Pat. Who's going to volunteer to ask him to come along and do it again sometime?
---
Jim Hedrick Speedway Memorial
Lawrenceburg Motorcycle Speedway July 30, 1999
See the details on the Lawrenceburg page!
---
The Canadian National Speedway Championship was rained out after one heat at Welland on Saturday night (July 24th) and has been re-sheduled to August 7th (the same night as the USA vs. Canada night at New Champion Speedway in Owego!!
---
Fast Fridays - North vs. South The CIVIL WAR OF SPEEDWAY - rider lineup
C.C. Speedway is CLOSED !
(July 20th) TJ Fowler in hospital.
(July 20th)Update on Billy Janniro's broken leg.
(July 19th)Update on Len Dillon recovering from his crash.
Fox Sports Speedway Interview
Kris Slabon (Canada) is the only rider from North America in the World Under 21 Championship Final
See Marcin's web site for the reports: NOTE-Marcin Closed his site dowwn.
3rd in World Under 21 Championship Qualifier May 9,1999, Prelog CRO
4th in World Under 21 Championship Semi Final July 11,1999, Stralsund D
August 7,1999, Vojens DK, World Under 21 Championship Final
Speedway Promotions in New York
Ventura County Fairgrounds - Sunday, June 27
Want a Speedway Track near San Diego?
There's a big track just waiting for speedway riders to come out and ride on it. The track is in Temecula California. A couple of the division 1 guys have tried it and they seem to like it. The question is would they promote a race there? I'm sure they would if more guys show some excitement about it. I beleive it is run by the San Diego flat track association. They race about once a month and welcome speedway riders if the riders show up.
GARY E-mail: TMGRACING@aol.com
---
Fast Fridays - North vs. South
The CIVIL WAR OF SPEEDWAY
Rider Teams for July 23, 1999
South
Bobby Schwartz
Scott Brant
Charlie Venegas
Dukie Ermolenko
Chris Manchester
Andy Northrup
Gary Hicks
Randy DiFrancesco
Team Manager: C. Doolin
North
Bart Bast
Ian Ferris
Bobby Hedden
Tommy Hedden
Jim Sisemore
Billy Janniro
Mike Faria
Ryan Fisher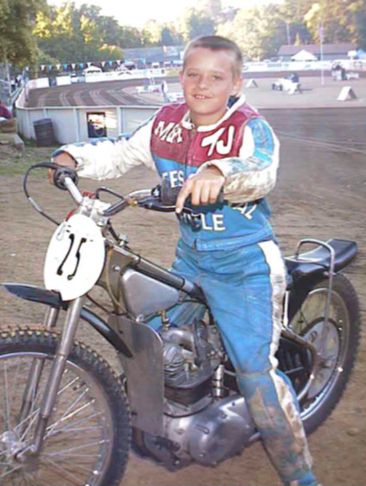 (July 20th) TJ Fowler, started racing in Northern California division 3 Junior Speedway on June 4, 1999 and in the following weeks he had some very impressive results. On July 9, he suffered a severely broken leg and is now in Auburn Hospital, 70 miles from his home in Oroville, CA. He will be in traction for 4 weeks, then in a body cast for 8 to 10 weeks. His main concern at this point is to get well so he can get back out on the race track.
If his fans want to send him a card send it to:

Sutter Auburn Faith Memorial Hospital
Room 105
11815 Education Street
Auburn, CA 95602
or give him a call and say hi,
1 - (530) 888 4500 ext 105.
---
(July 26, 1999) I have talked to Billy Janniro's father, who gave me some rather bad news.
Billy has a broken leg just above the ankle and a broken ankle bone. Both have been screwed and plated and he has no other injuries. But this has come at a bad time in the season as we are less than 6 weeks away from the AMA National. Billy is hoping to be fit and the doctor agrees that if Billy is feeling OK then, he should be ready for the National. But 6 weeks taking it easy in no way matches up to the 6 weeks of gruelling practice that he was hoping for. If last season is anything to go by, Billy seemed to get faster every week at the end of the season.
Billy layed it down on Saturday and spun around to miss hitting Chris Manchester. His machine landed on his foot. To me, Billy must be the extreme definition of the tough kid. He is very fit, never complains, frequently falls down, bounces off the walls, gets run over, but is the first one back up and away again.
This accident followed an outstanding performance in the Civil War, the night before at Auburn. He was unbeaten all night and really was the star of the winning Northern California team.
I am sure everyone joins me in wishing him a fast recovery and looking forward to seeing him back racing soon.
- Gary Roberts - groberts@iee.org
---
C.C. Speedway is CLOSED !
Circuit Fermé
Pas De Course en 1999!
Due to events beyond the control of Gaetan Carignan (Track Manager), C.C. Speedway in Quebec, will not be operating the race planned for July 31. The track is being demolished, but there is hope for a NEW track to be built next season.
---
Fox sports interviewed Ryan Fisher and Bobby Schwartz last week.
The interview of both riders will air on 7-19-99. Fisher qualified Friday night to race North vs South. He will ride for the North team. Rumors are that both Hamil and Hancock will race in North vs South and sources say they will be at Auburn on 7-16-99.
From: TMGRACING@aol.com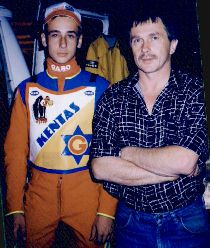 ---
World Under 21 Championship Semi Final in Germany
1. Scott Nicholls (14)
2. Nigel Sadler (13)
3. Frankov (Cz - 12)
4. Kris Slabon (Canada - 11)
5. Charlie Gjedde (10, including a tapes exclusion)
6. Hans Andersen (Denmark)
7. Kevin Doolan
8. Simon Stead

Reserve for the final is Jack Gunderstrup of Denmark, who beat Ronnie Weiss of Germany in a run-off
Regards,
Jeff
jeffpovey@clara.co.uk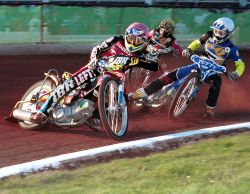 ---
Chris Manchester - BACK IN THE USA!
( see the EXCELLENT photos by Ian Charles! )
---
---
Speedway Promotions in New York
Ventura County Fairgrounds - Sunday, June 27
From Ryan Evans - Sideways31@aol.com
This will be the first speedway race at Ventura since the 1994 American Final. (won by Greg Hancock) Speedway was held at Ventura on Tuesday Nights from 1972 until 1987 (?) and was known as the "Commotion by the Ocean". The track is normally used for sprint car racing, but the Oxleys have convinced promoter Jim Naylor to have speedway on the 1/5th mile oval. Harry Oxley was the original promoter of Ventura and the track was a carbon copy of Costa Mesa. He eventually turned over the reigns and the track went through more than one promoter before Naylor. Over the years the track steadily got bigger and bigger until it reached its current length.
There will be speedway, sidecars, and 600cc dirt trackers. This race will be a 3:30 p.m. start. So if you plan on going please make a note of the time. For those who aspire to ride a big track, this may be the only chance this year!!!!!!
I'll be there to see how the guys go on the big track!
2001 World Cup Grand Pre Series may be coming to the USA!
(July 2, 1999) The Grand Prix Series received a major boost today when it was announced that English company BENFIELD SPORTS INTERNATIONAL, who are a motor sports consultancy company, are to pay ($25 million) to sponsor the GP series for the next five years....

The deal also includes the Media and Commercial rights, in addition to the sponsorship rights....

BSI hope to take the GP series Global in 2001, by extending the Series to include rounds in America, Australia , and New Zealand....The company also hope to be able to attract further big money sponsorship into the GP Series.....

The deal was officially announced at todays Wroclaw Grand Prix, although it was also made public in some British Newspapers this morning.....

Jeff Povey
Chris Manchester bids his farewell
On Friday Night, 25th June, 1999, Chris Manchester bid his farewell to Belle Vue and British Speedway. After a spectacular 1996, he suffered two horrendous crashes and had a nightmare 1997 season. After spending 1998 at home, where he raced when he wanted to, and qualifying for the Overseas Final, Manny capped off his season at home with the East Coast National title. He returned to Manchester and Belle Vue, in the hope that he would regain the form he had three years ago, but struggled to score and his average dropped dramatically. At a tearful press conference after the meeting, Manny announced his retirement to the assembled media. "More or less, it's a financial decision, I left here in 1997 £10,000 (about $16,000) in debt, now it's more like £16,000 ($25,000). "And to be honest, it's also about down to being scared - the fear of being hurt and pushing myself into a wheelchair. It's hard to pinpoint where the problem started, I soon got back into the groove after the Middlesborough crash, but it was a really bad one in Australia. "That is what I think first did it, because it was a first corner incident, and that has been my problem ever since. "My strength was my edge gating, in being aggressive in the first turn and getting clear. But as that gating edge slipped further and further away, I got into a first corner routine of Shutting off, backing out, Chickening out - however you want to call it - and it got programmed inside me. It just happened,even if I didn't mean it to. "I have a Serious girlfriend, Daelyn, and I have to make sure I can provide for her, and make sure that I am safe for her. "I've had a lot of support and help from people at Belle Vue. "I went out with a win - there's an old saying that you're as only as good as your last race. I was extremely desperate to win my last race, and that's all I wanted to do." After the meeting, John Perrin and John Hall tried to talk Manny into staying, and Perrin admitted that he had been prepared to keep Manny at Kirkhamshulme Lane to the end of the season, but Manny had made his mind up. It is sad that a rider as obviously talented as Manny should end up quitting the sport he loves, and I'm sure that Britain's loss is America's gain. I look forward to travelling there and seeing him with the #1 on his leathers. Attached are photos from Manny's last meeting, including the last ever shot of Two JBR riders in the same British Meeting.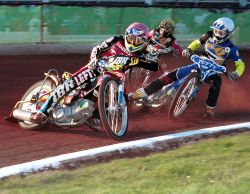 Wolves EL-04: Chris Manchester leads Richard Juul(white helmet cover) and Craig Taylor (Yellow)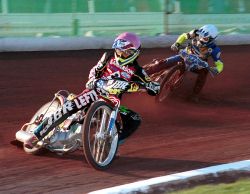 Wolves EL-05: Chris Manchester Leads Richard Juul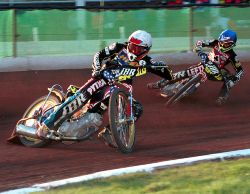 Wolves EL-16: Josh Larson leads Chris Manchester - the last time two JBR riders will be seen in the same race in the UK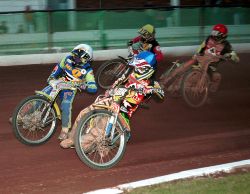 Wolves EL-32: Chris leads his final race, from Charlie Gjedde (white), Craig Taylor (yellow) and team mate Jason Hawkes (blue).
PHOTOS BY IAN CHARLES
(c) 1999
PLEASE CREDIT WHEN USED
366 Blackley New Road, Blackley, Manchester M9 8FR
Tel:(+44)0161-720-8895

E-mail: ian.charles@freeuk.com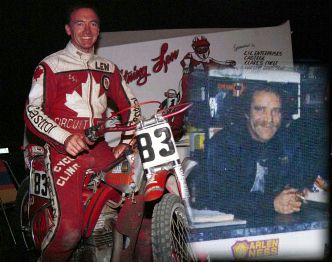 Len Dillon and Guy Fafard out for Season!
In the first event of the Canadian Speedway season, we have lost two of our top riders. Three weeks after the crash, Len and Guy are now home from the hospital.

At a long track (half mile - 120 miles per hour! ) event run in Quebec by Buddy Ford, Guy and Len tangled, launching Len off the track. both suffered a broken arm, Guy has two broken collar bones and 7 ribs, and Len received a broken nose, and a skull fracture. These are veteran riders, with over twenty years experience in speedway, and won't be healing fast. They had both talked of retiring from speedway this season, so they won't be back after this major accident.


Noreen Dillon writes:
(updated June 25,'99) "I can take better care of Len now at home than they can at the hospital, and its easier for me. He's doing better but is very weak and 30 lbs or more lighter. He can now swallow food now, and is making up for lost time! His eyesight is still double but seems to be improving. His neck is of course immobile for the time being and we are not sure what the future will bring in that area. His spirits are pretty good and he's determined to get better. For now I'm getting homecare help and various therapists are coming in to work with him until outpatient rehab has an opening for him. (Hopefully by the end of June) Well, I better go now, as Physio will be here shortly to assess him. Thanks for all the messages of cheer, cards, and visits as we were going along. They helped us both to keep on going through the long haul. Our aim is to send more personal notes later to you. Visitors are of course welcome, but it would be better to call as we will have various appointments both in home and with Drs and rehab. We wouldn't want you to waste your time coming and find us not here."

(updated July 19,'99) Just a quick update to let you know that Len is really doing great. He came off oxygen last Monday and is eating and drinking only by mouth. The feeding tube came out last Thursday. This week-end, we had a wedding (Mich and Peter- Len's neice) and we attended both the wedding ceremony and the reception. It was a beautiful wedding, the Bride beautiful and the groom handsome and Len danced. He danced with me, Kim, the bride, his Mom and his eldest sister. He even did a little faster paced dance. It was wonderful to see and we all cried. Kim said " I haven't cried since this all started, but as soon as I saw you dancing the flood came" We stayed at the wedding till midnight and even got to the bride's parents for brunch. A big week-end. Oh, I forgot the other biggie. On Friday, he got on the riding lawn mower and cut the back yard. (over my protestations).

We plan to go to the Welland Speedway National ( where he won all his championships) this Sat, the 24th. He hopes he can stay the night. He even told me to work the event. Well I had better get going as My house is a mess and company is coming for supper. I just had to spread the good news around a little farther. Hope tp see you all soon or a least most of you.

Love
Noreen and Len
Overseas Final - Sunday June 13,1999
Rider lineup:
1. Mike Faria USA
2. Mark Loram Poole & England
3. Scott Nicholls Poole & England
4. Paul Hurry Oxford & England
5. Jason Lyons Belle Vue & Australia
6. Nathan Murray New Zealand
7. Josh Larsen Eastbourne & USA
8. Bart Bast USA
9. Stuart Robson Coventry & England
10. Todd Wiltshire Oxford & Australia
11. Sean Wilson Sheffield & England
12. Frank Smart Newport & Australia
13. Gary Havelock Poole & England
14. Carl Stonehewer Workington & England
15. Nigel Sadler Peterborough & Australia
16. Jim Sizemore USA

RESULTS:
Mark Loram of England won it. The Brits all did well. The Americans did not do well at all. None qualified.
Josh Larsen 6 points
Mike Faria 2 points
Jim Sisemore 2 points
Bart Bast 0 points

Qualifiers were:
Loram
Nicholls
Lyons
Stonehewer
Wiltshire
Havelock
Wilson
Hurry

(6 Brits, 2 Aussies)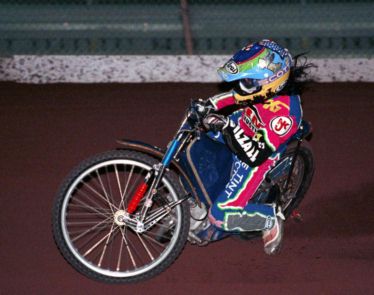 Photos from: Ian Charles ian.charles@freeuk.com
"I took these photos of Mike Faria (top) and Jim Sizemore (below) at Belle Vue when they practised for the overseas final. "
See more photos by Ian on the Gallery Viewer page!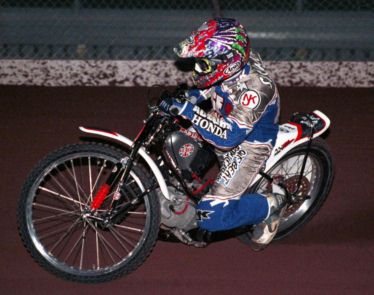 World Speedway Champions
The second Speedway book by Gary Roberts is on sale!
It is now available at Eddie's Book Store, and at the Peterborough, Kings Lynn, Ipswich, Wolverhampton, Sheffield, Coventry Speedway and Hull Speedway Track Shops for 11.95 UKP.
In the USA it is available for $18.50 at several Speedway Tracks. See the mail order page.
A great gift idea for FATHER'S DAY!
NOW 53 NEW PHOTOS!!
1998 Champion Speedway Photos !!!
PHOTOS BY IAN CHARLES (c)1998 Conkers@iconsterdine.freeserve.co.uk

Sorry for problems that have been happening on the viewer page. E-mail me, and tell me the browser you are using if you still have trouble seeing the photos on this new page!
---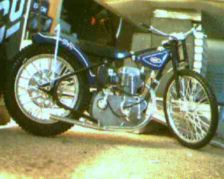 Always wanted your very own speedway bike? Here is your chance. Toy Racing has a speedway bike Model Kit. Click on the photo for more info!
1999 Budwieser Intermountain Speedway Racers Assoc.
Idaho & Montana Dirt Track Series Schedule !!!
We have 29 Races for this season for Speedway Racing !
North American Riders in Europe
Josh Larsen signed the contract with WTS Wroclaw and will be seventh North American rider racing in the Polish League this year. The other six are: Sam Ermolenko, Greg Hancock, Billy Hamill, Chris Manchester, Biff Waczynski (Wanda Krakow), and Canadian Chris Slabon.
In Poland they take speedway seriously: Slabon was, after one of the preseason races, beaten senselessly by the oposite team's fans. He lost consciousness, and three teeth, and was taken to the hospital.
From: SLAWOMIR WOJTURSKI, e-mail: AWSPEEDWAY@email.msn.com
---
The 1999 Race Calendar Page is now up to date.
---
Greg Comstock has a new track in Wisconsin. The first Speedway School is Sun. May 16, 1999.
Canada News
Noteable changes in Paris Speedway: All races will be CMA sanctioned, and admission price has increased this year to $5 for adult, $2 for child.
---
The CSRA Speedway Awards Banquet will be in Paris Fairgrounds October 16, 1999. Tickets are now on sale for $20 each.
---
Wheatly (near Windsor) Ontario will reopen it's race track to speedway this summer.


Anthony Barlow
from Merseyside, England, has won the 1999 WORLD INDOOR ICE SERIES CHAMPIONSHIP in Johnstown, Pennsylvania March 20,'99
Click HERE for the race report.
AMA New Rule
Riders must have a front number plate. One company that supplies number plates is Tuff Plates. Their web page is www.tuffplates.com . They also sponsor Northern California rider Chad Felicio. In addition to front number plates (which are well described on their web site, they also make side panels for Speedway bikes.
- Gary Roberts
---
New photos of Ken Maely's NEW track!
I was at Maely's on Sunday and took pictures of Ryan Fisher. Ryan rode in the Costa Mesa Spring Classic, ( Read the Race Report ) and it was surprising the number of people who had never heard of him. He rode in many Junior Speedway events in Southern California at Victorville and Glen Helen, but since they closed his ultra dedicated family does the 500 mile journey up to Auburn every 2 or 3 weeks for the last few summers. Since he seems to be practicing at Maelys every time I go there, and since he has won the Junior National every year for the last 3 years, it was no surprise that he did so well in the Spring Classic. Infact, it would have been a surprise if he didn't. As well as being an outstanding rider, he is also a nice kid. - Gary Roberts
AMA'S BILL BOYCE
DIES AT AGE 79
Bill Boyce, the senior AMA official responsible for American Speedway, passed away suddenly. This is a sad loss to all Speedway people who knew Bill. I knew him from the annual Speedway planning meeting, where he did an outstanding job. I hope, for the future of American Speedway that the AMA is able to assign as capable a replacement.

- Gary Roberts

Read the AMA Press Release about Bill Boyce on their web site.
---
Costa Mesa's 1999 SPRING CLASSIC, March 20th results are posted on the Raz Video's "SPEEDWAY From Turn Two"Site, and
HERE by Gary Roberts!
1999 Speedway Promotion Events in New York
North California Awards Banquet
Friday January 29, 1999
Fast Fridays Speedway of Auburn is pleased to announce our First Annual Awards Cereomony Crab Feed, to honor the top riders in each division. All racers, families, fans, sponsors and guests are welcome. There will be a raffle for many great prizes to benefit the Junior Speedway program.
Time: Doors open at 6.30, crab feed dinner at 7.30
Place: Gold Country Fairgrounds Sierra Building.
Adult tickets at $19.00
Kids 6-12 at $9.00
Kids under 6 free.
Mail checks payable to:
Fast Fridays
PO Box 37
Weimar, CA 95736
Locals can buy their tickets from Affordable RV, at 1070 Hwy 49, Auburn.
---
California Speedway Racer Bob Peters, Shot
(Dec. 31,'98) Gary Roberts: "It is with deep regret that I have to announce the death of Northern California Speedway rider, Bob Peters. The articles from the Sacramento Bee have been appended to Bob's page. "

From Vicky Peters:

"I would like to convey to everyone my thanks for their wonderful concern for myself and my family in regards to Bob's death. It was wonderful to see the amount of people that showed up for his memorial service and the e-mails that I received after his funeral. Thank you all."

"Bobby loved what he did and took life to the edge in everything he did. He was very much loved by his family and I will miss him very much. Thank you all again for being his friends, I dont think he really knew how many lives he touched in his short time on this planet. God love and bless you all."
---
Outdoor Ice Races in Montana!
Flat track and speedway!
Jan 10th - RESULTS, Jan 23rd, Feb 13th and 14th
The races are being held on Seeley Lake , Montana, located 30 miles west of Kalispell on U.S.-2
signup---9am to 11am
practice-- 11-12
races start at 12
race info----MT H-D---1-406-721-2154
MT hotshoes--1-406-549-0750
Accomodations at Wapati resort--1-800-867-5678

This info from Brendan Fennessy
---
Speedway in Wichita Falls, Texas?
"There is no speedway on any kind here in Texas."
( Editor's note: There sure IS ! The ICE series just ran four indoor events to over 8,000 fans each night! )
"I have a oval track on some land that I own. It was built for 1/4 scale radio controlled car racing, it is high banked and paved. I no longer used the track and I am thinking of making it into a small 1/10 mile flat track, I allready have lights, restrooms and grandstands. I would need to run gokarts, short track, and maybe some form of speedway."

If you know of speedway riders in Texas, contact Bill Todd. E-mail: wtodd@webtv.net
East Coast Speedway Newsletter
Follow the details of the Mini-Speedway Project!
---
THE GREATEST SPECTACLE ON ICE
Coming to a hockey coliseum near YOU!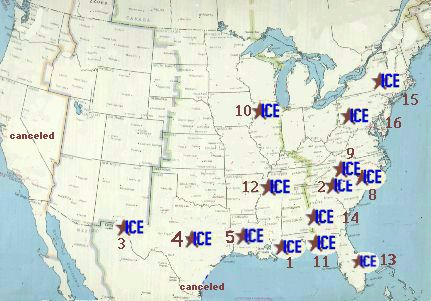 1999 I.C.E./WSRA WORLD CUP
ICE SPEEDWAY SERIES SCHEDULE
16 weekends of grinding combat, covering 10 states, from November 27th to March 20, 1999.
Biloxi Mississippi (ICE) Friday and Saturday Race Results!
Greenville Race Results!
Texas Race Results!
Florence, South Carolina!
Fayetteville, North Carolina
NEW! See the new PHOTO PAGE for 60 pictures of this event!! NEW!
Greensboro, North Carolina
Memphis, Tennessee
Moline, Illinois
Unofficial results of World Championship in Fort Lauderdale:
#7 Matt King WINS.
See the ICE Speedway Page for details!
---
Canadian Champion riding in Argentina!
Read Chris Hesmer's reports!
December 19, 1998
December 27, 1998
January 3, 1999
January 10, 1999
---
Speedway League in North America
Donavon D. Dorsey has started this idea. Have you got any comments, or ideas you want to add?
---
Orland Indoor Short Track
Come and join us at the Glenn County Fairgrounds in Northern CA.
Pits indoors, Camping available, All classes
February 6th & 7th
February 13th & 14th
February 20th & 21st
February 27th & 28th
Call for more information at 530-476-3001 ask for Ted Taylor
---
Racers needed in Portland Oregon.
Contact Mike Kelly mgkelly@concentric.net
New track announcement:
---
1998 AMA Speedway Meeting Dec. 12, 1998 - by Gary Roberts
---