North American Indoor Ice Racing Championship Series
Round 1 - Broome County Arena
Binghamton, New York
Bully Dog North American Indoor Ice Racing Championship Series
Adam Mittl Ices the Competition in Bingo - Round 1 - Broome County Arena
By Jason Bonsignore - Eastern Speedway Promotions
Photo by Silent Shots
November, 7, 2009 - Binghamton, New York, USA
The new kid on the block in American Indoor Ice Racing, the Bully Dog North American Indoor Ice Racing Series (NAIIR), got off to a successful start for 2009-2010 with a good crowd and some great racing in Binghamton, NY on Nov. 7. It marked the first time that the Broome County Arena had hosted a Speedway ice race since 1979. Two riders in this years field, Gene Bonsignore and Tuff McBride, actually competed in the event 30 years prior! Professional ATV and Flat-track racing were also thrown into the program and Kold Kutter helped sponsor extra cash prizes.
Round One of speedway competition began with Dave Clark showing good form. He leapt out of the gate and held off a strong challenge from the current NY State Ice Champion, Shawn "Mad Dog" McConnell, to take the win. McConnell was second, Mikey Buman third and Josh Carr was fourth. McBride was a standout in the next heat as he outdistanced himself from the reigning NY dirt Speedway Champion, Adam "The Missile" Mittl. Mittl would take 2 points for second while Jerry "Beufford" Harman was third and Aaron Hesmer of Canada was last. Russ "Doctor Dirt" Cornell took the checkered flag in the last heat of the round with Bonsignore runner-up, Shawn "Steamboat" Engel in third and Keith "Hawkeye" Hawkins in fourth.
The second round opened up with heartbreak for McBride. He was on fire again and winning quite comfortable after 3 laps but thought the white flag was the checkered and pulled over which allowed Hawkins to sneak by. McBride could not recover and actually got stuck in last. Hawkins won with Carr second and Cornell third. McConnell got revenge on Clark this time out as he led from start to finish and took three points. Clark still collected valuable second place points while Hesmer took one for third. Harman was at the back. In a tough match-up, Mittl was able to take a victory over Bonsignore, Buman and Engel in that order.
The final heat series began with an important race for McBride to try and get back in the hunt. It turned out to be an awesome race as he and McConnell and Cornell were so tight for two laps that you could throw a blanket over them. They swapped the lead several times but in the end McConnell was the victor and moved Cornell over en route. McBride was third which was not enough for him and Harman was fourth. Mittl stayed hot at this stage with another win. Hesmer was right behind him in second with Buman third and Hawkins fourth. To close things out Clark rode well again to hold off Bonsignore for first. Engel was third and Carr behind him.
When points were tallied there was a tie between Bonsignore and Cornell for the final position in the A-Final with McConnell, Mittl and Clark. Bonsignore defeated Cornell in a two lap runoff.
Final order in the C-Main was Harman, Hawkins, Carr and Engel. The B-Main was led by McBride for three laps but a yellow caution flag from a crash with Buman and Cornell led him to make a mistake and Hesmer capitalized by taking the chance to pass and winning. McBride was second with Buman third.
In the A-Main things were undecided early on as Mittl, Bonsignore, McConnell and Clark were all dicing off the start but Mittl pushed through to the front with McConnell in pursuit. Mittl rode away with it though in his Bully Dog/Polito/Justice Brothers/NGK Jawa. McConnell was second overall while the 61 year old Bonsignore, making his first appearance on a bike since a serious broken wrist and surgery in June, rode his Scott's headers and mufflers Jawa to third. Clark had a great night and grabbed a respectable fourth.
A-Main
1. Adam Mittl
2. Shawn McConnell
3. Gene Bonsignore
4. Dave Clark
B-Main
1. Aaron Hesmer
2. Tuff McBride
3. Mikey Buman
4. Russ Cornell
C-Main
1. Jerry Harman
2. Keith Hawkins
3. Josh Carr
4. Shawn Engel
Support Main
1. Bunk Harris
2. Don Wheeland
Junior Speedway
1. Spencer Portararo
2. Roger Roberts
3. Zach Peters
4. Dakota Crone
Mad Dog Flat Track
1. Jake Oakley
2. Tony Oakley
3. Jeff Oakley
4. Mike Williams
5. Cam Rafferty
6. Brett Livingston
7. Jay Shelton
ATV Pro
1. Sean Neal
2. Carl Bartlett
3. Rick Ganoung
4. Dan Hawk
5. Tom Kuhn
Mini Quad Pro
1. Jordan Hawk
2. Cameron Banks
3. Lucas Vymislicky
4. Braxton Ray
5. Timmy Rogers
Mini Quad Am
1. Jilian Vymislicky
2. Dylan Hagerman
3. Dylan Hawk
4. Colin Tarsia
5. Alexis Comperetta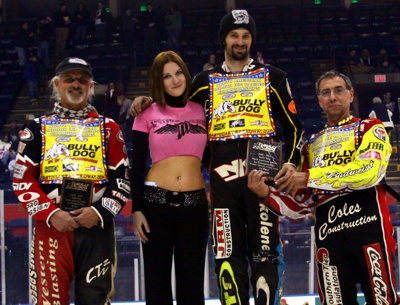 Mittl, McConnell and Bonsignore
Photo by Silent Shots - Podium