2011 IMS Speedway
Race Results
Inland Motor Speedway
National Orange Show
San Bernardino, California
Gumball Rally
March 5 and 6, 2011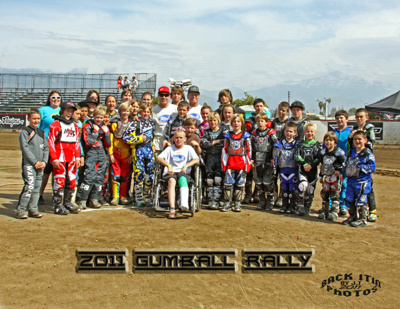 By: Ryan Evans
Photos by: Paul Flanders
Photos by: Dorcey Wingo
Photos by:Jim Thorn
Gumball Rally Video provided by Xtreme Speedway Action and Trick Video
You can also order the Gumball Rally DVD from the link above.
YouTube Scratch Main Event
YouTube Event 30 200cc Div 2 Main
YouTube Event 31 200cc Div 1 Main
YouTube Event 32 250cc Main Event (below)
Max Ruml had to do it three times, but the 13 year old persevered through the drama and restarts to win the prestigious Gumball Rally for the first time at Inland Motorcycle Speedway in San Bernardino. (Video above)
Ruml would've entered the main event undefeated, but a mechanical failure while leading his first heat prevented him from having an unblemished score. He trapped from the outside on the first start and was leading comfortably when Samuel Ramirez went down and brought out the red flag. The second try was a carbon copy as Ruml trapped from the outside again and was in control when Dominic Manzares went down and halted the race. Ruml made the best start on the third attempt and was chased by Ramirez into the first corner. Ruml wouldn't allow Ramirez to gain ground, though, and stretched his lead with each lap. He was first to the checkered flag and clinched the title. Ramirez settled for second, Nicky Reimer finished third, and Manzares was fourth.
Nicholas Varner entered the Youth 200cc First Division Main Event undefeated, but experienced bike problems just as he pulled up to the tapes. He desperately tried to get his bike restarted, but was unable to and, in the most heartbreaking moment of the day, had to watch the main event from the infield. Dillon Ruml made the best start and led through the first corner and on to the back straight. He drifted a little wide and Kurtis Hamill made a great cutback move to charge underneath for the lead on the front straight. Dillon Ruml stalked the leader the rest of the way, but was unable to find a way past. Kurtis Hamill crossed the line first, Dillon Ruml settled for second, Hayley Perrault was third, and Ryan Vaughn finished fourth.
Colton Hicks led the Youth 200cc Second Division Main Event for two laps before Gino Scopellite went down and brought out the red flag. Hicks led the second attempt, but had Scopellite breathing down his neck. Scopellite tried the inside and the outside but couldn't force a mistake from the leader. Hicks held him off for the victory. Scopellite finished second, Maverick Molloy was third, Sebastian Palmese finished fourth, and Brian Pintear was fifth.
Summer Fehrman led the Powder Puff Main Event but Cassi Novratil, Ally McGrath, and Margi Hamill all charged past on the back straight and the trio of ladies waged an epic four-lap battle for the win. Novratil held the lead, but McGrath tried several times to pass her on the inside while Margi Hamill remained in the hunt and hoped for a mistake as well. Novratil maintained her composure, withstood the pressure, and held on for the victory. McGrath finished second, Margi Hamill was third, Hayley Perrault finished fourth, Kylie Ayers was fifth, Fehrman finished sixth, and Kylee Evans was seventh.
Braden Sauer put together four very smooth laps and ran away with the victory in the Open Pee Wee Main Event. Summer Fehrman finished second and Justin Hanson was third.
Keelan Venegas dominated both his heats and was flawless en route to victory in the Pee Wee Main Event. Luke Jones finished second, Jack Jones was third, Austin Betor finished fourth, Matthew Casey was fifth, Dakota Shockley finished sixth, and Austin Evans was seventh.
The Gumball Rally has become one of the biggest events on the American speedway calendar. 1996 World Speedway Champion Billy "The Bullet" Hamill has promoted the event since reincarnating it in 2003. This year's event marked the first time that it was held at IMS. Hamill holds a special place in his heart for the Gumball Rally because his first ever speedway race was at the inaugural Gumball Rally held at Ken Maely's Ranch in Corona in 1983.
Former World Champion Greg Hancock capped a fantastic evening of racing by winning the Big Kids Gumball Rally at Inland Motorcycle Speedway in San Bernardino.
Hancock was joined in the Scratch Main by 1996 World Champion Billy "The Bullet" Hamill, who was competing for the first time in nearly three years, current National Champion Billy "The Kid" Janniro, Tommy Hedden, and Aaron Fox.
Hamill, who promoted the entire Gumball Rally Weekend, led into turn one and turned hard to remain on the blue groove. Hancock, who started in gate five, went straight to the dirt to try to find traction. It looked like Hamill's line would prove superior, but Hancock found enough grip to launch himself in front of Hamill just enough on the back straight that he was able to drop in front of his former Cradley Heath teammate as they entered turn three. Hancock's momentum carried him to the outside again and Hamill stuck to the low line while Janniro was trying to get into the fight for the lead. Hancock stretched his lead and Hamill switched his attack to the outside the second time through turns three and four, but when he failed to gain ground he returned to the inside. The superstars continued their battle over the final two laps, but Hancock's lead proved to be insurmountable and the eight-time National Champion was first to the checkered flag. Hamill settled for second, Janniro finished third, and Fox was fourth, and Hedden finished fifth. Hancock and Hamill, neither of whom had ever raced at the current IMS facility prior to the evening, treated the crowd with side-by-side celebratory wheelies just as they did after their numerous 5-1 heats as teammates in England.
Fox started at the front of the six-rider Handicap Main field, but all eyes were on the 50 yard line where Hancock would try to get through five competitors in six laps. Mechanical gremlins eliminated Hamill and Janniro in their Handicap Heats, so Hancock was the only competitor starting from the back marker. Fox led the field at the start with Michael Raines right behind him. Hancock took a couple laps to get into third but had a lot of ground to make up on Fox and Raines. Fox led comfortably and Raines was securely in second at the end of four laps while Hancock searched high and low for enough traction to gain on both of them. His effort would go in vain. Fox was just as smooth on the final two laps as he was on the first four and cruised to the victory. Raines finished second, Hancock was third, "Fast" Eddie Castro finished fourth, Greg Ayers was fifth, and "Flyin" Mike Faria finished sixth.
Rohn Zellner was the initial leader of the Second Division Main Event but Geoff Herkner charged into the lead and quickly opened up breathing room on the field. Herkner was never seriously threatened and went on to the victory. Zellner finished second, Marvin Sonnier was third, Johnny Lupo finished fourth, Damon Barry was fifth, and C.J. Sanborn finished sixth. In a private ceremony after the races, Herkner was presented with Gordon Hamill's special trophy that he awards to a competitor at every Gumball Rally.
Mitch Pierson led from start to finish and captured the Third Division Main Event. Billy Vaughn was second, Gene Stone finished third, Rod Requejo was fourth, Kevin Smith finished fifth, and Chanse Vaccaro was sixth.
The Big Kids Gumball Rally capped a full schedule of events on the first day of Gumball Rally Weekend. The day began with the Billy Hamill Adult Speedway Academy and was followed by an open practice before the evening's event. It marked the first time that all divisions of 500cc racing were part of Gumball Rally Weekend, which has traditionally been focused on the youth division and has included just First Division racing in the past.
The next event at IMS will be their third Winter Series event on Sunday, March 20. The racing will begin at noon and will include all divisions of speedway and Pee Wees.
| | |
| --- | --- |
| Photos Below by:Jim Thorn | |
| | Youth 250 cc win #308 "Mad" Max Ruml, #22 Samuel Ramirez #12, Dominic Manzares outside rear |
| | Youth 200cc win #104 Kurtis Hamill inside, #111 Dillon Ruml outside |
| | Youth 200cc 2nd Division win #24 Colton Hicks leads #7 Gino Scopellite |
| | Pee Wee Open win #21 Braden Sauer, #991 Justin Hansen outside |
| | Powder Puff win #288 Cassi Novratil inside, #186 Ally McGrath outside |
| | Pee Wee 50cc win #43 Keelan Venegas, #8 Austin Evans, #11 Luke Jones outside |
| | #104 Kurtis Hamill, Trophy Girl, and Billy Hamill |
| | #308 "Mad" Max Ruml gets a kiss from the Trophy Girl and the Official Gumball Trophy from Billy Hamill |
| | #22 Samuel Ramirez, #127 Ryan Vaughn inside, #12 Dominic Manzares outside |
| | #308 "Mad" Max Ruml |
| | #24 Colton Hicks, #7Gino Scopellite, #18 Sebastian Palmese, #34 Maverick Molloy |
| | #111 Dillon Ruml, #0 Hayley Perrault, #127 Ryan Vaughn, #104 Kurtis Hamill outside |
| | #104 Kurtis Hamill inside, #111 Dillion Ruml outside |
Photos Below by: Paul Flanders

Riders meeting for the Big Boys Gumball Rally. Billy Hamill barking out the riders instructions.

Riders meeting for the Big Boys Gumball Rally.
Photos Below are by Dorcey Wingo
Injured Youth Rider Broc Nicol checks up on his dad, Doug the Destroyer in the IMS pits.
2010 US National Champ Billy Janniro enjoys the sunshine Saturday with pretty wife Cristina and their daughter.
Former World Champion Billy Hamill gets no help pushing back to his pit area.
Once upon a time, he had plenty!
Youth Rider Kurtis Hamill demonstrates how to skateboard on dirt near the pit entrance at IMS.
First Division veteran Doug Nicol gets in some hot practice laps as former World Champ Billy Hamill looks him over.
Youth riders line up for eight practice laps in the Saturday warm-ups at IMS.
Former World Champ Billy Hamill directs riders onto the infield at IMS in the Saturday practice phase.
Youth riders wait for Billy Hamill to signal them onto the track.
#18 Sebastian "Big Daddy" Palmese gets an assist from his dad after a tiring workout at IMS.
Freshly healed First Division Under 21 Star Austin Novratil blasts his way through turn two at IMS.