Fast Fridays Speedway
Gold Country Fairgrounds
Auburn, California
AMA U21 Speedway National Championship
Fast Friday's Motorcycle Speedway, Gold Country Fairgrounds
Max Ruml Makes it Three
By Michael Kirby (Story & Photos)
AUBURN, CALIFORNIA, August 28, 2015
YouTube Video - by Anthony Bernardi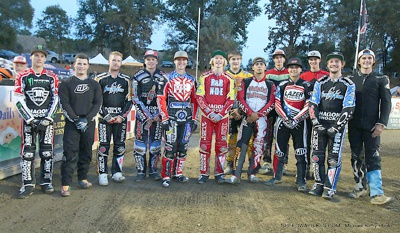 The Under 21 riders in Friday night's competition at Fast Fridays (left-right) Kurtis Hamill, Jeremy Estes, Austin Novratil, Broc Nicol, Dalton Leedy, Dillon Ruml, Jamison Dilkey, Tyler Warren, David Mersaroli, Luke Becker, Louie Mersaroli, Max Ruml and PJ Byrne.
If anyone had fears of what lies ahead for the future of speedway motorcycle racing in America, rest assured we're in good hands. Twelve of the best young riders and the future of speedway in America rolled out on the Gold Country Fairgrounds track at Fast Fridays Motorcycle Speedway in Auburn Friday night and put on a heck of a show. The Under 21 AMA National Championship was won for the third time in a row by speedway racing phenom Max Ruml. Already the holder of numerous speedway honors Ruml currently is also sitting in second place in the AMA National Speedway Championship Series after three rounds. Watch out for this young man, he is one of the brightest stars in speedway today.
Ruml 18, of Huntington Beach was perfect for the night, never losing a race and winning the final championship race with a convincing margin. Riders rode in 12 heat races to accumulate points; three points for a win, two for a second place finish and three for third. The top eight riders after the heat races were seeded in two semi-final races with the top two finishers from the semi-finals moving to the U-21 national final. The winner of this race would be crowned U-21 AMA National Speedway Championship. "This year was the toughest, the competition was really stiff with all the kids coming up, you can't take anything away from them," said Ruml.
Ruml faced stiff competition in the final winner take all race-all riders champions themselves. Broc Nicol came into the final with 11 points, Luke Becker rolled in with 12 points and Kurtis Hamill had eight, each finishing first or second in their semi-finals. "This year anyone on that starting line could have won the main event, any of us could have made that start, I came out of a good gate and rode four solid laps," Ruml said. High scorer Ruml chose the inside lane one, Nicol took three, Becker took two and Hamill was left with four. From the gate it was Ruml's to lose, he grabbed the inside on turn one and held the lead, increasing his distance with each lap. The race was for second was hot as Nicol and Becker went at it pretty hard. In the end Nicol finished second, Becker third and Hamill fourth.
With the win Ruml earned an opportunity to compete in the U-21 World Speedway Championship qualifier next year if he chooses to go overseas. "I have won it three years in a row now and I haven't done a qualifier yet, so next year is definitely an opportunity to go over and do it, especially to get that racing experience," Ruml said.
Along with the U-21 championship program, Fast Fridays staged a full regular program of racing. Bart Bast picked up another win in the Division I scratch main event. Bast having an slight advantage over Billy Janniro on the slick well used track Friday night, put it all together for the win. Tommy Hedden was second, Janniro was third, and Broc Nicol, riding in both programs finished fourth. Tommy Hedden, having an exceptional night, won the handicap main event. Auburn's Hedden, is a fierce competitor at Fast Friday's and should never counted out, edged out Bast who finished second and Bob Hicks who finished third.
Shawn Eldredge was first in the Division II main event, followed by Nick Dion and Michael Achilles. In an interesting race, Aaron Sorani finished on top in Division III winning the main event. Peter Pecorilla, in a great debut season, was second and Tim Dion third. Sebastian Palmese, second in the AMA Youth National Championships two weeks ago, won the Youth A 250cc main event. Palmese was able to hold off youth national champion Colton Hicks for the win. Hicks finished second and Kyle Cunningham was third. In his debut race on a 250cc bike, Auburn's Cameron Krezman was victorious in the Youth 250cc B main event. Krezman won his heat race and transferred to the main. Sammy Tetrault was second and Rich Vandermeeden was third.
Enzo Sorani topped the Youth A 150cc main event, making a father-son winners event night. Sorani's father Aaron Sorani won the Division III main event. Colton Nelson won the Youth B 150cc main event.
Next week Fast Fridays presents the final appearance of the Extreme Sidecars for a special night during the Gold Country Fair. The Challenge Elimination Series Championship will also be run. September 4 will also be the final points night for riders in all divisions.
Fast Fridays Results for 8-28-15
U-21 Final
1. Max Ruml
2. Broc Nico
3. Luke Becker
4. Kurtis Hamil
U-21 National Speedway Championship
1. Max Ruml 3 3 3 3 3 3-18
2. Broc Nicol 2 3 2 2 2 2-13
3. Luke Becker 3 0 3 3 3 1-13
4. Kurtis Hamill-1 2 2 1 2 0-8
5. Austin Novratil 2 3 3 3 1-12
6. Dillon Ruml 3 2 2 2 0-9
7. Tyler Warren 2 1 1 2 0-6
8. Jamison Dilkey 0 2 1 1 1-5
9. Louie Mersaroli 1 1 1 0-3
10. Dalton Leedy 0 1 0 1-2
11. David Mersaroli 1 0 0 0-1
12. PJ Byrne 0 0 0 0-0
Division I Scratch Main Event
1-Bart Bast, 2-Tommy Hedden, 3-Billy Janniro, 4-Broc Nicol
Division I Handicap Main Event
1-Tommy Hedden, 2-Bart Bast, 3-Bob Hicks
Division II Main Event
1-Shawn Eldredge, 2-Nick Dion, 3-Michael Achilles
Division III Main Event
1-Aaron Sorani, 2-Peter Pecorilla, 3-Tim Dion
Youth A 250cc Main Event
1-Sebastian Palmese, 2-Colton Hicks, 3-Kyle Cunningham
Youth B 250cc Main Event
1-Cameron Krezman, 2-Sammy Tetrault, 3-Richie VanderMeeden
Youth A 150cc Main Event
1- Enzo Sorani, 2-Timmy Dion, 3-Landon Collins
Youth B 150cc Main Event
1-Colton Nelson, 2-Aidan McNutt, 3-Sammy Waddill
Photos By Michael Kirby
| | |
| --- | --- |
| | Max Ruml holds his third AMA U-21 National Speedway Championship number one plate after his victory Friday night. |
| | Max Ruml takes a victory as a three time U-21 national championship. Ruml was perfect for the night winning every race he was in. |
| | The start of the U-21 national championship final race. The four top riders in the program made the final (left-right) Kurtis Hamill, Luke Becker, Broc Nicol and eventual winner Max Ruml. |
| | U-21 National Speedway Championship winner Max Ruml (center), second place finisher Broc Nicol (left) and third place finisher Luke Becker (right) celebrate their wins. |
| | Max Ruml rides in winning form during a perfect night for the three time national champion. |
| | Cameron Krezman won both his Youth B 250cc races, his first night on a 250cc bike in competition. |
| | Auburn's Bart Bast (left) picked up another Division I scratch main event Friday night. Pictured here with Austin Novratil (right) in a heat race. |