Industry Racing
The Grand Industry Hills Expo Center
City of Industry, California
2016 Gumball Rally
February 21, 2016 - Industry Racing
Thanks to Ryan Evans
Photos by Dorcey Wingo Photos and RC Jones
Results from Industry Racing and are Continued Below...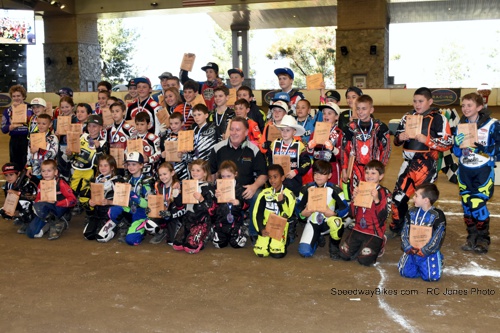 ---
---
AMA Junior National Champion Colton Hicks won a wild main event to take home the prestigious Gumball Rally trophy for the second consecutive year.
Sebastian "Big Daddy" Palmese entered the Junior 250 Gumball Final with a perfect score. However, when he dropped the clutch his bike went nowhere due to an engine failure. Hicks led Kyle Cunningham and Michael Wells on the first lap. Cunningham remained in second but wasn't out of contention. Wells fell in turn four and was unable to get out from underneath his machine. The red flag came out just as Hicks went wide and Cunningham charged underneath. The race would have to be restarted because all four laps weren't completed. However, Wells was excluded for causing the stoppage and Palmese couldn't restart because he wasn't on the lead lap. This left just Hicks and Cunningham at the tapes to battle for the title.Hicks made another good start and comfortably led all four laps for the victory with Cunningham getting second. Wells was credited with third. Although he was disappointed with his terrible luck Palmese was gracious in defeat and showed tremendous class and sportsmanship.
The Martin Brothers each gained a victory on the other in their heats and would have a sibling showdown in the Mini 150 First Division Final. Joining them in the Final was Enzo Sorani and Landon Collins. Alex Martin made the better start from gate two and clamped down Sterling as they entered turn one with Sorani and Collins right behind them. Alex led through the first lap as Sterling, the current AMA Mini 150 National Champion, searched high and low for a way past his twin brother. Sterling kept applying the pressure and hoping to force a mistake but Alex didn't flinch. Alex Martin was first to the checkered flag, Sterling Martin had to settle for second, Enzo Sorani finished third, and Landon Collins was fourth.
Sammy Waddill made the best start in the Mini 150 Second Division Main Event and had Timmy Dion right behind him.Dion went by the leader as they exited turn four.Dion appeared to be wrapping up a perfect day with a victory in the Final but Andrew Russell closed in on him as they took the white flag.Dion left room coming off turn two and Russell blasted by on the inside to take the lead.Russell led the final half lap to take the win.Dion finished second, Waddill was third, and Dakota Shockley was credited with fourth.
Travis Horn won all four races and claimed the overall victory in the Pee Wee Modified class. Colton Nelson and Levi Leutz had identical scorelines so a runoff was required to settle second overall.Nelson was victorious in the runoff, thus earning second overall while Leutz got third overall.
Horn dominated the Pee Wee Stock class as well by going four for four to win the overall title in that class as well. Gavin Dryfka was second overall and Kristian Daniel Jr. finished third overall.
Brianna Jones won three of the four races to win the Powder Puff title. Bailey Richey finished second overall and Hannah Jones, Brianna's sister, was third overall.
The Gumball Rally was created in 1983 and the Gumball machines that go to the winners have been a prestigious trophy for America's youth speedway racers. The event was originally held at the legendary Ken Maely's Ranch in Corona and many of America's greatest speedway racers of the past 33 years have competed in the event, including future world champions Greg Hancock and Billy Hamill. The Gumball Rally was expanded to an entire weekend of events, including the Big Kids Gumball Rally held on Saturday Night, has become a must-attend event for racers and fans alike.
The next event at Industry Racing will be its first regular season event of 2016, the Connor Penhall Memorial Cup on Wednesday, June 1.The Industry Racing season will include an AMA National Championship Round, the AMA/FIM Youth Silver Cup and will conclude on Wednesday, August 31 with the 41st California State Championship.

RESULTS

Powder Puff Scoring1234T
14 – Gracie Janniro 213410
27 – Bailey Richey 334313 *2nd Overall
116B – Brianna Jones 545519 *1st Overall
116H – Hannah Jones 451F10 * 3rd Overall
917 – Mikaela Broad 12227

Pee Wee Stock Scoring 1234T
3 – Levi Leutz 66FxF12
5 – Conner Salazar 333413
6 – Gavin Dryfka 445518 *2nd Overall
25 – Travis Horn 777728 *1st Overall
41 – Zerek Krezman 21227
46 – Kristian Daniel Jr. F56617 *3rd Overall
523 – Owen Williams 524314

Pee Wee Modified1234T
3 – Levi Leutz 343212 *3rd Overall
16 – Cole Ayers 4FFxE4
25 – Travis Horn 555520 *1st Overall
45 – Colton Nelson 234312 *2nd Overall
48 – Jose Navarrete 12249

Runoff for 2nd Place Overall
45 – Colton Nelson
3 – Levi Leutz

Mini 150 Second Division1234T
5 – Rachel Schnakenberg 11114
17 – Timmy Dion 333312
33 – Gavin Geist 11226
45 – Colton Nelson 03115
48 – Jose Navarrete 1F001
51 – Greg Moore 32128
52 – Sammy Waddill 233311
76 – Nick Dunn EEEE0
96 – Andrew Russell 22239
117 – Wilbur Hancock 20226
419 – Dakota Shockley 32319

Mini 150 Second Division Gumball Final
96 – Andrew Russell
17 – Timmy Dion
52 – Sammy Waddill
419 – Dakota Shockley (fell)

Mini 150 First Division 1234T
1 – Sterling Martin 332311
2 – Alex Martin 133310
22 – Enzo Sorani 22228
27 – Luke Whitcomb 11013
28 – Slater Lightcap 22E15
43 – Keelan Venegas 00101
66 – Charlie Trana 01304
91 – Landon Collins 3F126

Mini 150 First Division Gumball Final
2 – Alex Martin
1 – Sterling Martin
22 – Enzo Sorani
91 – Landon Collins

Junior 250 Heat Scoring 12345T
1 – Colton Hicks 3320311
8 – Skylar Schnakenberg 022116
14 – Sara Cords 3113210
14n – Dylan Wagner 120317
16 – Jake Isaac 223Fx29
16n – Anthony Dion 213219
18 – Sebastian Palmese 3333315
26 – Cameron Krezman 2212310
28 – Aidan McNutt 111115
42 – Sammy Tetrault 010102
63 – Logan Hedden 100225
115 – Landon Norton R 33F28
210 – Richie VanderMeeden 101103
214 – Michael Wells 2323010

Junior 250 Gumball Final (restarted)
1 – Colton Hicks
35 – Kyle Cunningham
214 – Michael Wells (fell, excluded)
18 – Sebastian Palmese (engine failure)


Ryan Evans
Nice and tidy.
---
Quick Results from the Gumball Rally.
RESULTS
Powder Puff Overall
116B - Brianna Jones
27 - Bailey Richey
116H - Hannah Jones
Pee Wee Stock Overall
25 - Travis Horn
6 - Gavin Dryfka
46 - Kristian Daniel Jr.
Pee Wee Modified Overall
25 - Travis Horn
45 - Colton Nelson
3 - Levi Leutz
Mini 150 Second Division Final
96 - Andrew Russell
17 - Timmy Dion
52 - Sammy Waddill
419 - Dakota Shockley (fell)
Mini 150 First Division Final
2 - Alex Martin
1 - Sterling Martin
22 - Enzo Sorani
91 - Landon Collins
Junior 250 Gumball Final (restarted)
1 - Colton Hicks
35 - Kyle Cunningham
214 - Michael Wells (fell, excluded)
18 - Sebastian Palmese (engine failure)